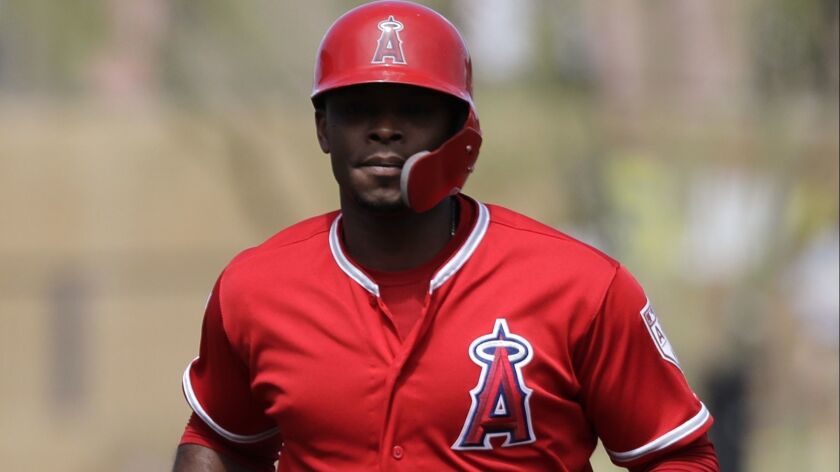 Things are finally on the come-up for Angels outfielder Justin Upton.
Upton, out all season because of a sprained left big toe, has ramped up his rehabilitation activities exponentially in the last week. Now he is headed for a rehab assignment at Class-A Inland Empire, manager Brad Ausmus said Thursday at Angel Stadium. Upton, who was limited to 10 plate appearances in major league spring training games because of right knee tendinitis, will play in a game for the first time since late March on Friday.
Asked last week when he might be back in the Angels' lineup, Upton said he would like to return by mid-June but couched his response.
"I barely had spring training," he said. "It's been such a long layoff I'm going to need some at-bats."
Players typically need 50 to 60 at-bats to be ready for a season, but Upton will likely fall short of that, Ausmus said. Regardless, Upton will have plenty of time to prepare himself. Rehab assignments for position players can last up to 20 days.
Upton faced pitchers in simulated at-bats Thursday for the second day in a row. In 17 plate appearances, he has three home runs and otherwise "actually looks good swinging the bat," Ausmus said.
Ausmus also said catcher Kevan Smith, who has been on the concussion list since May 22 after taking a foul tip to the facemask, will be activated Friday.
Showdown is on
The anticipated matchup between Shohei Ohtani and Yusei Kikuchi could happen this weekend.
Ausmus said Thursday, one day before the Seattle Mariners come to town for a three-game series, that Ohtani should be in the lineup Saturday for Kikuchi's scheduled start.
"Unless something happens between now and then," he said.
Kikuchi, 27, is three years older than Ohtani. Both played at Hanamaki Higashi High School in the Iwate Prefecture in Japan but were not teammates. They faced each other five times during their Nippon Professional Baseball careers, with Ohtani hitting a single and a double and striking out three times.
Sign up for our daily sports newsletter »
Bedrosian the opening favorite
In instances when the Angels have used an opener for a member of their starting rotation, right-handed reliever Cam Bedrosian has received most of the opportunities to work the first inning. He's been turned to so often he's already collected six starts — and the number will continue to increase.
Bedrosian has rarely faltered when facing the first three batters of a game. The opponent has scored one run against him in the first inning twice. He's faced only three or four batters in his other four outings.
"I like the fact he has the ability to get right and left handed hitters out," Ausmus said of Bedrosian, who has pitched as the Angels' opener twice this week. "You're generally going to see one or two of each at the top of the lineup."
Right-handed hitters have done a bit better against Bedrosian — they have a .652 on-base-plus-slugging percentage and a .226 average — but he has held left-handers to a .135 average and .420 OPS.
Etc.
Shortstop Andrelton Simmons practiced taking groundballs hit straight at him Thursday for the first time since sustaining a Grade 3 left ankle sprain May 20. He joked with Ausmus he could play right away, but that is not realistic. Ausmus and the Angels have continually declined to offer a timeline for Simmons' return because there's a "four-week difference between how long or how short it could be," Ausmus said. Injuries like Simmons' typically take eight to 12 weeks to heal.
---