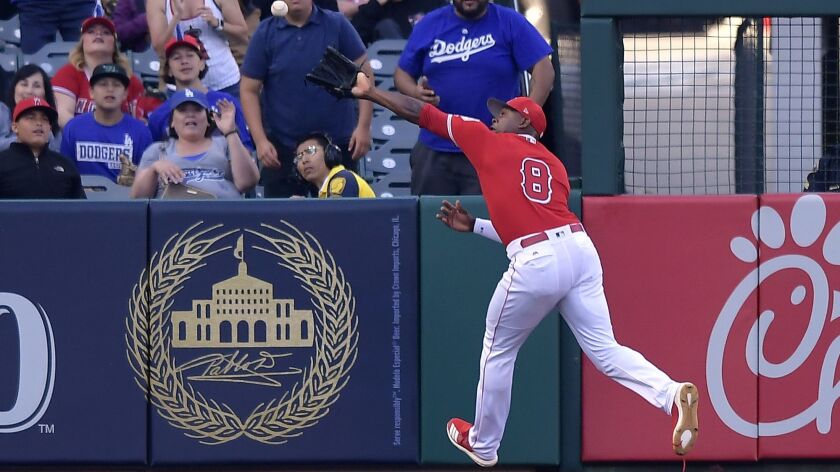 The punishment didn't seem to fit the crime. Angels left fielder Justin Upton has run into plenty of walls with a lot more force than he did in a March 24 exhibition against the Dodgers and escaped unscathed.
This time was different. What seemed like a minor collision with the short wall in the left-field corner of Angel Stadium resulted in a turf toe injury that will sideline the slugger for the first two or three months of the season.
"Yeah, I've hit the wall harder — I just hit it the right way those times," Upton said. "I hit the padding the wrong way. My foot was a little bit sore, but it got worse as the night went on."
Upton, who hit .257 with 30 home runs and 85 runs batted in last season, was diagnosed with turf toe, an injury usually associated with NFL linemen, and will be out from eight to 12 weeks. He'll remain in a walking boot for at least a month and won't resume baseball activities until the toe is healed.
"Yeah, I was definitely surprised," Upton said of the diagnosis. "I've never dealt with this before, so I don't know what the recovery process is like. I'm not a doctor. I just have to take the advice I get and use it."
Bound for Arizona
Nick Tropeano traveled to Arizona on Sunday to begin what he hopes is the final phase of a rehabilitation from a shoulder injury that limited him to 76 innings last season.
Tropeano will throw live batting practice Monday and then begin throwing simulated games, working his way from two to six innings. The process should take about three weeks.
Sign up for our daily sports newsletter »
Like teammate Andrew Heaney, who on Friday vented his frustrations with his numerous injuries and rehabs, Tropeano missed 1½ seasons — the second half of 2016 and all of 2017 — because of elbow ligament-replacement surgery.
"I know exactly what he's going through," Tropeano said. "It sucks because guys don't see how hard we work behind the scenes to get back on the field and to prevent this stuff. It's mentally taxing, but we have to take it one day at a time, trust the doctors and hope everything works out."
Injury report
Infielder Zack Cozart, who is batting .038 (one for 26), came out of Sunday's game against Texas after getting hit in the left forearm by a pitch in the second inning. X-rays were negative and Cozart is confident he will be able to avoid the injury list.
"It's pretty stiff right now," Cozart said after the game. "I couldn't swing a bat. That's why I came out. It locked up on me. I thought it could be a broken bone or something, but luckily it's not."
Kole Calhoun, who suffered a right knee bruise Saturday when he ran into the wall in pursuit of a fly ball, did not play Sunday, but the right fielder said he was available to hit.
Short hops
Albert Pujols' third-inning single was the 3,090th hit of his career, giving him sole possession of 22nd place on the all-time hit list ahead of Ichiro Suzuki. … David Fletcher made his first big league start in the outfield Sunday but moved to third base after Cozart left in the third inning. … Texas slugger Joey Gallo, who hit a two-run home run in the second inning, has hit more home runs (92) than singles (84) in his five-year career.
---