Angels catcher Kevan Smith on injury: 'It just felt like my jaw went into my ear'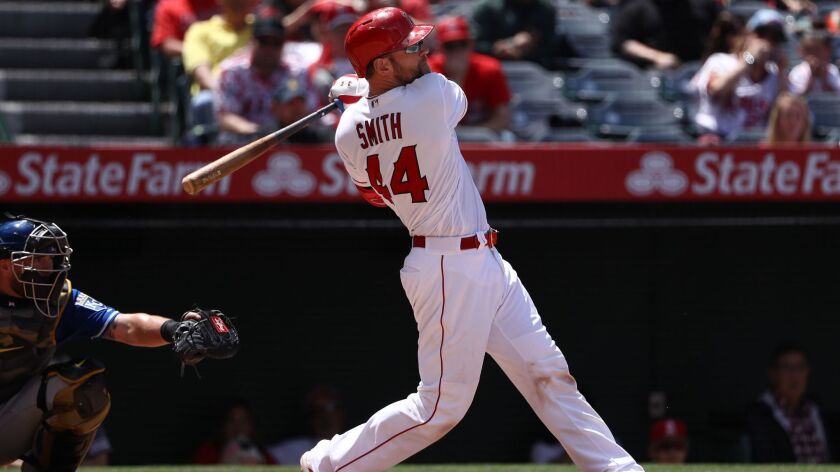 Reporters gathered around Kevan Smith's locker as the Angels' backup catcher described the feeling of taking a foul ball off the face mask, a blow so severe it sent him to the seven-day concussion list.
"It felt like I got punched in the jaw," Smith said Friday. "It just felt like my jaw went into my ear. I don't know if you've ever had that feeling before."
No heads nodded.
"I was in a fog and it was getting progressively worse," said Smith, who played football and baseball at the University of Pittsburgh. "It's scary. I knew something was off, and if I took another hit, where would that leave me?"
That still didn't stop Smith, who caught four hitless innings from Trevor Cahill on Tuesday night, from finishing the top of the fourth and taking an at-bat in the bottom of the inning. Smith grounded out to third and was removed from the game.
"I felt like I was on a cloud during that at-bat," Smith said. "I wasn't really spinning, but the first pitch, I wanted to argue that it was a ball, because he called it a strike, but I didn't even see it, so it was kind of pointless to say anything. After that at-bat, it was an easy call on the trainers' part to get me out of there."
Smith said he slept 13 hours and took a long nap before going to the stadium Wednesday. But his headaches were not severe, and he has not experienced any sensitivity to light or sounds.
"Each day is better, and today I definitely feel my best," said Smith, who is batting .290 with one homer and five RBIs in 22 games. "I'm going to work out, get some blood flowing and see how my head reacts."
When he resumes catching, Smith will experiment with different masks in an effort to find one that better combines safety and comfort. Smith has been using a traditional mask made of titanium, which "apparently is the least absorbent metal, so I'm probably going to avoid using that one," he said.
Smith pointed to an unopened box at his feet. In it, he said, were masks made of steel and magnesium and a hockey goalie mask that many catchers have used in the last two decades.
Sign up for our daily sports newsletter »
Smith, in his ninth professional season, has avoided goalie masks because "they feel like they squeeze my face a lot," but he is open to using one now.
"I have four different options in this box," Smith said. "The longer you play, this is something that happens, and the more you want to understand what's going to be best for your coconut and to keep you on the field for as long as you can."
Short hops
Manager Brad Ausmus said left-hander Andrew Heaney, who has been sidelined all season by elbow inflammation, will make his debut Sunday against Texas. Ausmus wouldn't list the starters for a three-game series that starts in Oakland on Monday but said there's a "possibility" the Angels will try a six-man rotation. … Right-hander Jaime Barria was recalled from triple-A to add bullpen depth Friday. Reliever Taylor Cole, who threw 2-1/3 innings in Thursday's loss to Minnesota, was optioned to Salt Lake. … Outfielder Justin Upton (left big toe sprain) has been cleared to take batting practice on the field and has been jogging on a treadmill at 100% of his weight.
---
Get the latest on L.A.'s teams in the daily Sports Report newsletter.
You may occasionally receive promotional content from the Los Angeles Times.