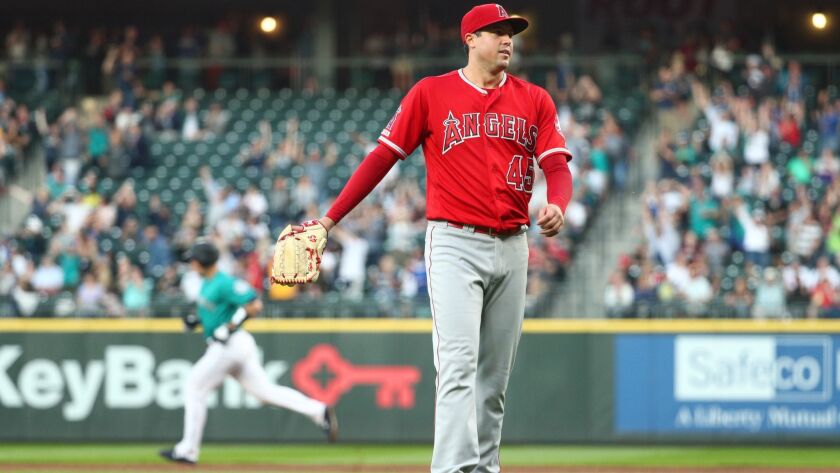 Reporting from SEATTLE —
Tyler Skaggs had excellent command of his fastball and changed speeds effectively on his curve Friday night, throwing his signature pitch between 72 and 78 mph. The Angels left-hander lasted seven innings against the Seattle Mariners, striking out eight and walking one, saying it was "the best I looked this year."
The results did not match his self-assessment. Mixed in with so many good pitches were two bad ones, a 1-and-2 curve that Tom Murphy belted for a two-run home run to right in the fifth inning and a 1-and-2 fastball that Jay Bruce drove for a solo homer to center in the seventh.
Those two long balls, along with a superb start by Seattle right-hander Mike Leake, were the difference in the Mariners' 4-3 victory over the Angels before 32,164 in T-Mobile Park.
"It's extremely frustrating," said Skaggs, who fell to 4-5 with a 4.50 ERA. "I thought I threw my ass off today. I thought I was really, really good. The results didn't show up, but at the same time, there were a lot of positives. I want to keep it rolling into the next one."
Leake used a six-pitch mix — sinker, changeup, knuckle-curve, cut-fastball, slider and four-seam fastball — to limit an Angels offense that racked up 21 runs and 31 hits in the previous two games to two runs and five hits in seven innings, striking out two and walking none.
"He never shows you the same look twice," Angels manager Brad Ausmus said of Leake. "He uses all of his pitches to both sides of the plate on righties and lefties. He changes his arm slot on the curve at times. He doesn't light up the radar gun, but he's a very smart pitcher who has command of all his pitches."
Murphy dug out a 92-mph fastball below the strike zone and lined it off the left-center-field wall for a double in the third inning and scored on Dylan Moore's RBI single for a 1-0 Seattle lead.
Bruce walked with two outs in the fifth and Murphy drove a low curve over the wall in right for a 3-0 lead, the first time Skaggs gave up an opposite-field home run on his curve, according to Statcast.
"You've got to tip your cap, he was ready to go today," Skaggs said of Murphy.
"I thought the first pitch [on the double] was not a bad pitch. The second one, the curve hung up on me. I haven't given up an opposite-field home run on a curve in a long time."
Leake blanked the Angels on two singles through 52/3 innings until Mike Trout stepped into the box with two outs and the bases empty in the sixth.
Leake tried to sneak a 2-and-2 changeup past Trout. It did not go well. The pitch hung over the middle near Trout's knees, just where the Angels slugger loves off-speed pitches.
Trout smoked a line drive off the scoreboard beyond the left-center-field wall for his team-leading 13th homer, cutting Seattle's lead to 3-1. The ball left Trout's bat at 114.4 mph and traveled 440 feet, tied for his third-hardest-hit homer since Statcast began tracking information in 2015. His hardest-hit homer is 116.8 mph.
Sign up for our daily sports newsletter »
It was also Trout's 21st homer in Seattle, extending his all-time lead among visiting players in Safeco Field/T-Mobile Park.
Shohei Ohtani drove Leake's next pitch, a sinker that caught too much of the plate, over the left-field wall for his third homer of the season, cutting Seattle's lead to 3-2.
Brian Goodwin singled with one out in the seventh and took off for second on a hit-and-run play with David Fletcher at the plate. Fletcher swung through the pitch and Goodwin was thrown out at second by Murphy.
The Mariners pushed their lead to 4-2 in the bottom of the seventh when Bruce drove an over-the-middle fastball from Skaggs over the center-field wall for his 300th career homer and 14th of the season.
"He's a good hitter, even though his numbers may not show it this year," Skaggs said of Bruce. "I thought I could have thrown a changeup to get him off the fastball-curveball. Hindsight is 20-20. I didn't, and it ended up being the dagger that lost the game."
The Angels trimmed the deficit in the eighth when Luis Rengifo walked and Trout walked with two out. Ohtani stroked a down-and-away slider through the shortstop hole of a shifted infield single to score Rengifo to make it 4-3, and Kole Calhoun walked to load the bases.
Jonathan Lucroy lofted a ball into the gap in left-center, but it hung in the air long enough for Domingo Santana to make a running catch.
"I guess initially I thought it might drop," Ausmus said, "but it had a little too much air under it."
---