Mike Trout 'ready to go' as Angels enter key stretch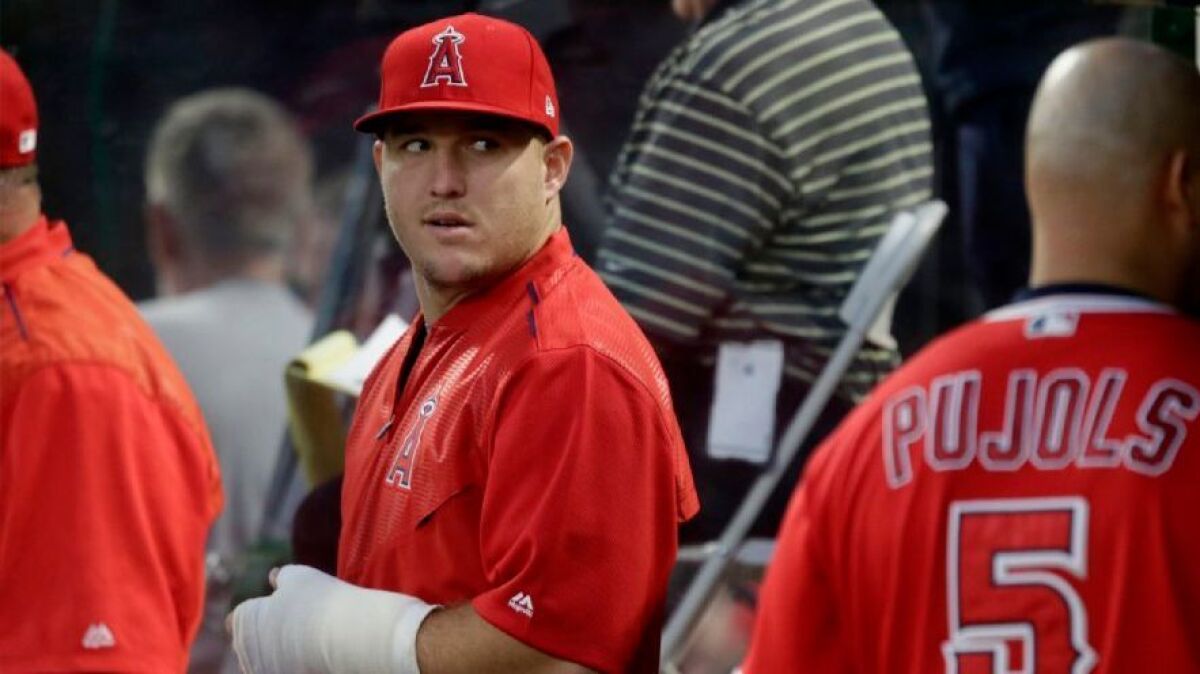 After a ligament in his left thumb was torn when he slid headfirst into second base over Memorial Day weekend, Mike Trout went five weeks without facing a pitcher.
He then batted 14 times against low-level minor leaguers before concluding Sunday that his timing had returned. He cut short his scheduled rehab assignment and spent the next four days working out normally.
So, when Trout steps into the batter's box Friday night at Angel Stadium after the longest layoff of his baseball life, he expects it will take him some time before he feels right again. But not a lot of time.
"It might take me a few pitches," Trout said. "Maybe an at-bat or two."
Trout, 25, said Thursday he has not felt pain in his thumb for five days. That's unusual. Even players who have returned sooner from similar procedures, including Angels shortstop Andrelton Simmons, reported continued soreness as they returned.
"Every game, every at-bat, it got better," Trout said. "I'm ready to go."
Though the Angels played better than expected while Trout was out, they need him to be his normal self if they are to avoid a precarious position at the July 31 non-waiver trade deadline.
With a record of 45-47 — 19-20 without their best player — they sit three games behind Tampa Bay for an American League wild-card slot as they prepare to host the Rays this weekend.
Because the Angels' first half was devoid of days off, there are only 14 games between now and the deadline. A superb or substandard stretch in that span could prompt the team to either buy or sell.
"Every game you play, every series, is just more information," Angels general manager Billy Eppler said Thursday. "As you gather more and more information, it just helps your decision-making. We'll just watch, see how the club does, see how guys respond, how the lineup clicks with Mike back in there."
While Trout expects to require little buffer time, the club has tried to lower expectations in the first days of his return.
"There's only so much you can accomplish in the minor leagues on rehab," Angels manager Mike Scioscia said. "You can see velocity, you can see spin. But you could take 100 minor league at-bats and there would still be an adjustment period in the major leagues. The quicker you get that process started, the quicker you'll be productive.
"Mike has shown his thumb is totally healthy. His legs are ready. His arm is ready. He's done everything you want to see somebody do."
Trout said he weighs the same he did before the injury and remains as strong as he was. Eppler said Trout has been clocked with the same speed. So, soon, he should be back to normal. And his normal has been great.
In 47 games, Trout hit .337 with a .461 on-base percentage and .742 slugging percentage. All would be career highs over a full season, and all led the American League at the time of the injury.
His return supplies his teammates hope that they can overcome the opponents in front of them in the wild-card standings. Houston, the American League West leader, is entirely out of reach, yet the Angels could still be in position to make the playoffs.
"Obviously, as disappointing as the first half looks, I think there are a lot of positive things that you can take from it," designated hitter Albert Pujols said. "With all the injuries we had, that'll tell you the character of the team that we have here. We have games with those guys that are in front of us in the wild card left. We are pretty excited with where we are right now.
"We'll have Trouty back — the best player in the game, obviously — and healthy pitching. We'll see where we are in September."
The club has again suffered a spate of injuries to pitchers it expected to contribute this season, but its Friday lineup could be identical to its opening-day order, if Scioscia so chooses.
It's no longer a matter of who is able to play, but who is able to play well. Pujols' statistics are at all-time lows, and the Angels have not found reliable options at first base or second base after offseason acquisitions Luis Valbuena and Danny Espinosa struggled through the first half.
"We have to get better if we want to reach our goal. We feel we will," Scioscia said. "We need to hit the ball better. We have some good hitters that haven't done what they can do. We're really confident that we will get better as we move forward, and that's when, I think, you can start to build some momentum."
Short hops
Left-hander Andrew Heaney started Thursday for the rookie-league Arizona Angels. It was his first game since he underwent elbow ligament replacement surgery on July 1, 2016. He is expected to start twice more there and then continue his rehab at other minor league levels. … Left-hander Tyler Skaggs is slated to start a game in Arizona over the weekend. … Eppler said it's fair to say injured right-hander Garrett Richards (biceps nerve irritation) would require six to eight weeks to ramp up his throwing for his return to the mound. Eight weeks from the season's last day is Aug. 6, which means there's little wiggle room left for him to be cleared to throw. Eppler said he remains optimistic Richards can pitch for the Angels this year.
Twitter: @pedromoura
---
Get the latest on L.A.'s teams in the daily Sports Report newsletter.
You may occasionally receive promotional content from the Los Angeles Times.