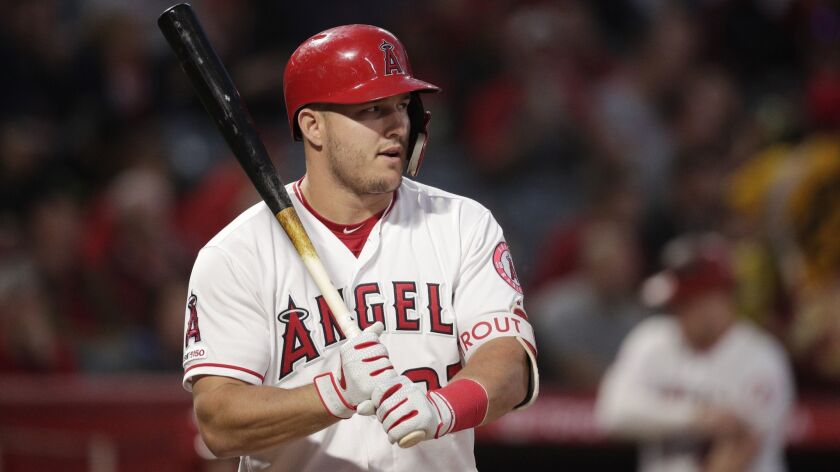 As expected, center fielder Mike Trout was not in the Angels starting lineup for Wednesday's series finale against the Milwaukee Brewers at Angel Stadium.
Trout strained his right groin during the Angels' victory over the Brewers on Tuesday night. He made an early exit with what the Angels referred to as a day-to-day injury.
He appeared to first feel soreness in his groin when he slid feet-first into second base on an inning-ending force out in the second inning. He immediately grabbed his right leg upon standing up, but played one more inning in the field.Trout, who was pulled before the start of the fourth inning, sounded optimistic Wednesday.
He said a night of rest and a day off from baseball activity had allowed the discomfort in his groin to ease.
"There's no sense in going out there and trying to push it and hurting it worse," he said.
Trout said there was a chance that a pregame workout focused on the lower body might have been at the root of the soreness that progressively worsened throughout the game, but he couldn't be sure.Trout was hopeful about returning to the lineup this weekend in Chicago, where the Angels begin a three-game series with the Cubs on Friday after a day off Thursday.
But he said he would be smart about coming back because groin strains can be worsened by being tested before they have healed.
Sign up for our daily sports newsletter »
The Angels are on the cusp of beginning a stretch of 17 consecutive games without a scheduled break from April 12 to 28. Trout, who led the Angels in batting average (.406), home runs (five) and runs batted in (12) through Tuesday, doesn't want to risk sitting out a significant amount of time.
"I obviously want to be out there for that," he said. "So it's just, you don't want to set yourself back trying to push it this early in the season."
Brian Goodwin started in center field and David Fletcher in left field Wednesday, a lineup that may carry into the weekend. The Angels expect to confront unfavorable weather — Chicago's forecast calls for temperatures in the high 40s with a chance of near-freezing temperatures and snow Sunday — that might make it challenging for manager Brad Ausmus to get Trout back in the lineup.
"That would be a consideration when it came to Trout," Ausmus said.
---