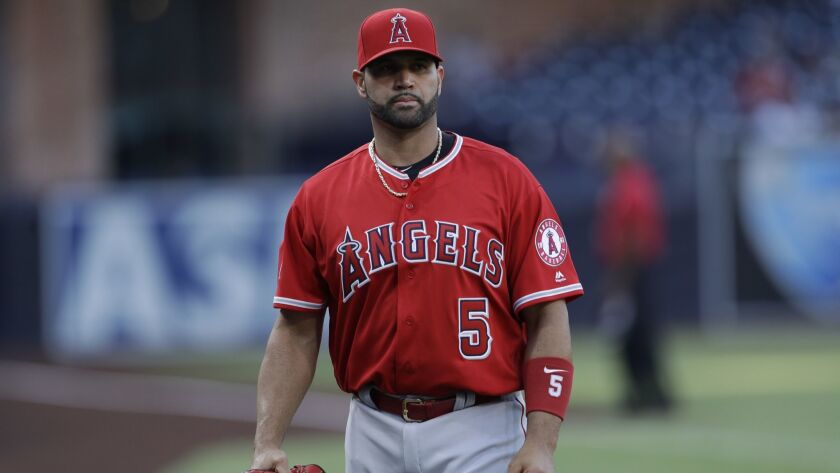 Albert Pujols will miss the rest of the season after undergoing arthroscopic surgery on his left knee Wednesday.
He is expected to be ready for spring training, general manager Billy Eppler said.
Pujols, 38, would finish the season with a .245 batting average, 19 home runs, and a .289 on-base percentage. His 2017 and 2018 seasons were the first times in his 18-year career in which he performed below the league average, according to the OPS+ statistic.
He has three years and $87 million remaining on his contract with the Angels.
Pujols had surgery on the same knee after the 2012 season, his first with the Angels. He had plantar fasciitis in his left foot in 2013, an injury that cost him the final two months of that season but resolved without surgery on his right foot after the 2015 and 2016 seasons.
The emergence of Shohei Ohtani could complicate how often the Angels can use Pujols next season.
With Ohtani used at designated hitter in games he did not pitch, Pujols started 70 games at first base this season, up from 28 last season.
Eppler declined to speculate on how much the extra work at first base might have contributed to the knee injury or whether Pujols might be ready to return to first base next season.
"We'll wait to hear what the doctors say moving forward," Eppler said
However, with Ohtani ranked as the Angels' second-best hitter behind Mike Trout, Pujols' chances to start could be limited if he cannot play first base.
In his rookie season, the Angels have shielded Ohtani from most left-handed pitching. If they continue to do so — and if Ohtani continues to rest on the days before and after his starts — Pujols might end up with a fair amount of playing time.
And, of course, Ohtani is trying to pitch with a partial tear of a ligament in his pitching elbow. The Angels hope he can test his elbow before this season ends. If his non-surgical treatment fails, Ohtani would undergo Tommy John surgery and sit out the 2019 season.
Pujols, a two-time World Series champion and three-time National League most valuable player with the St. Louis Cardinals, is scheduled to return to St. Louis as a visiting player for the first time next June.
Pujols joined the 3,000-hit club in April. He ranks sixth on the all-time home run list with 633, and seventh in runs batted in.
The operation Pujols underwent Wednesday, arthroscopic debridement, is a fairly routine procedure that generally involves the removal of damaged cartilage or bone and any surrounding loose bodies or fragments.
Rivera claimed
Rene Rivera was awarded to Atlanta on a waivers claim. The veteran catcher was a free agent signing in January and missed 76 games with a knee injury. He hit .244 in 30 games with the Angels.
Prospect signed
The Angels reportedly signed Alexander Ramirez, 16, an outfielder prospect from the Dominican Republic. Ramirez is ranked a top-30 international prospect by MLB.com.
Times staff writer Curtis Zupke contributed to this report.
---