Column: As Pujols pulls within one hit of another milestone, he still belongs more to St. Louis than Anaheim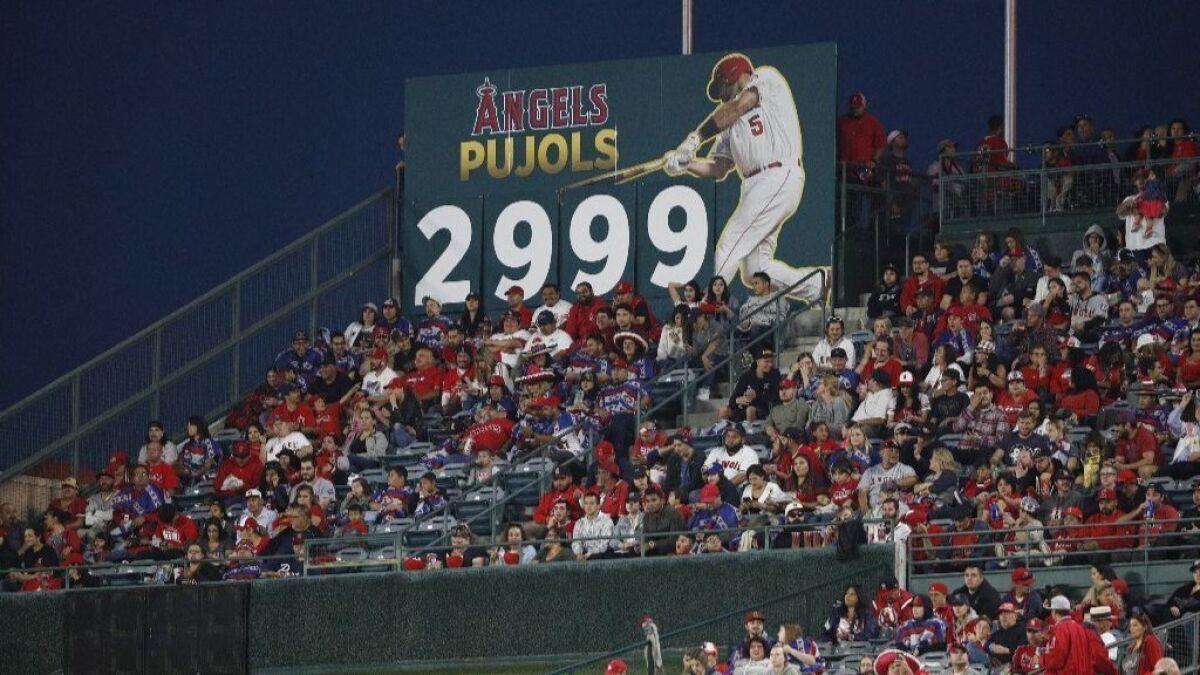 If the Angels are thinking about one day honoring Albert Pujols with a statue, there is something they should know.
There already is one. It is 10 feet tall, bronze and stands outside a Sheraton hotel in suburban St. Louis.
"Lots of people in St. Louis are still excited about what he's doing, and still wishing it could be here," said Brad Thompson, a St. Louis media personality who once pitched for the Cardinals.
If the Angels are thinking about one day retiring Pujols' No. 5 jersey, there is something else they should know.
It's already essentially retired. The Cardinals have not allowed anyone to wear it since he left town for Anaheim seven seasons ago.
"People are hoping he can return to St. Louis after his career ends, come to opening day in a red Cardinal blazer, get a standing ovation, and live happily ever after," said longtime Cardinals fan blogger Scott Wuerz.
As Pujols tantalizingly pulled within one hit of the magical 3,000 mark Thursday night at an increasingly raucous Angel Stadium, one could not escape a sobering reality.
It feels as if the most decorated active professional athlete in Southern California actually belongs to someone else.
He's an Angel now, but, really, he'll forever be a Cardinal. He hit his 500th and 600th homers as an Angel, but baseball history will remember him as a Cardinal. He is known for being a kind and generous contributor to life in Orange County, but he still tugs deepest at the hearts of St. Louis.
Pujols, 38, stunningly left St. Louis in the winter after the 2011 season after one of the greatest 11-season stretches in baseball history.
He came west for Arte Moreno's $254 million — about $54 million more than the Cardinals' offer. Yet in doing so, he left behind a priceless legacy and love that, despite everyone's best efforts, have been unmatched here.
"I will always think of him as a Cardinal," said Nick Wilhelm, a St. Louis real estate investor with two signed Pujols jerseys hanging in his family's basement. "Here, he played for so long with his full dominance in full display. There, he's a guy who plays next to Mike Trout."
It's not that Angels haven't embraced Pujols or that their fans don't love him. They certainly showed it Thursday as he closed in on becoming only the fourth player with 3,000 hits and 600 home runs.
Facing the eight-win Baltimore Orioles, Pujols doubled down the left-field line in the second inning against reliever Miguel Castro, bringing the announced 35,879 fans to their feet holding phones aloft for his final three plate appearances.
In the fourth, after hitting five foul balls, he was hit in the butt by a Castro pitch, drawing a cascade of boos. In the sixth, he fouled out against Mychal Givens. Then, in the eighth against Darren O'Day, he flied out to right to send everyone groaning into the parking lot as the Angels finished a 12-3 victory.
Pujols was the center of attention on this night, but it only figures that he will quickly disappear. The Angels now leave on a five-game trip and he probably will collect the milestone hit in Seattle or Colorado.
For his entire time here, as his skills have slowly declined with age, his presence has been consistently shadowed.
Playing in low-key Anaheim, Pujols has been lost among the many other Southern California sports celebrities.
It hasn't helped that his tenure here began with Mike Trout and is winding down during the first year of Shohei Ohtani. His visibility is even lessened when one considers how the Angels have struggled since he arrived.
"There's not as much romanticism around the Pujols name anymore," said Patrick Rishe, director of the sports business department at St. Louis' Washington University. "Not only did he leave a great baseball market, but he went to a place where they haven't been that good."
Rishe travels to Los Angeles frequently on business, and he recently noted a common observation among Southland sports fans.
"I've heard the name Zlatan more in the last two months than I've heard the name Albert Pujols in the last 10 years," he said, referring to the new Galaxy star Zlatan Ibrahimovic. "You don't really hear people talking about the Angels. And when you do, you heard Trout, then now you hear Ohtani."
Pujols declined an interview last week about these and other topics, relaying that he didn't want the 3,000-hit distraction until he reached it.
But the difference between his tenure here and St. Louis has indeed been startling.
He was a nine-time All-Star there. He's been an All-Star once since.
He won two World Series championships there. He hasn't won a playoff game since.
He won three MVP awards, two home run titles, two Gold Gloves and one batting title there. He's had to be satisfied here with simply the respect of a team that marvels at his work ethic.
Meanwhile, the Cardinals have done just fine since Pujols left, going to the playoffs four times, advancing to the National League Championship Series three times, and appearing in the World Series once.
By saving the $210 million they offered Pujols, the Cardinals were able to afford to keep franchise cornerstones like Yadier Molina and Adam Wainwright while using the
Pujols compensatory draft pick to acquire pitcher Michael Wacha.
Still, lots of folks in St. Louis miss him. Especially now. Especially this week.
"If he were getting his 3,000th hit in St. Louis, it would be an amazing story," Wilhelm said. "People would be going crazy."
The schedule is expected to bring the Angels to St. Louis next season for the first time since Pujols departed. The Cardinals are probably hoping to build a week around it. Folks there say the standing ovation will be memorable.
Considering Pujols signed a personal-services contract that could keep him with the Angels for 10 years past the end of his contract — until 2032 — it might be one of the few times he can feel the love that he left.
Pujols was given a couple of ovations here Thursday night. They were loud. They were fine. They were one hit short.
Get more of Bill Plaschke's work and follow him on Twitter @BillPlaschke
---
Get the latest on L.A.'s teams in the daily Sports Report newsletter.
You may occasionally receive promotional content from the Los Angeles Times.