Shohei Ohtani snaps Angels out of slump with victory against Rays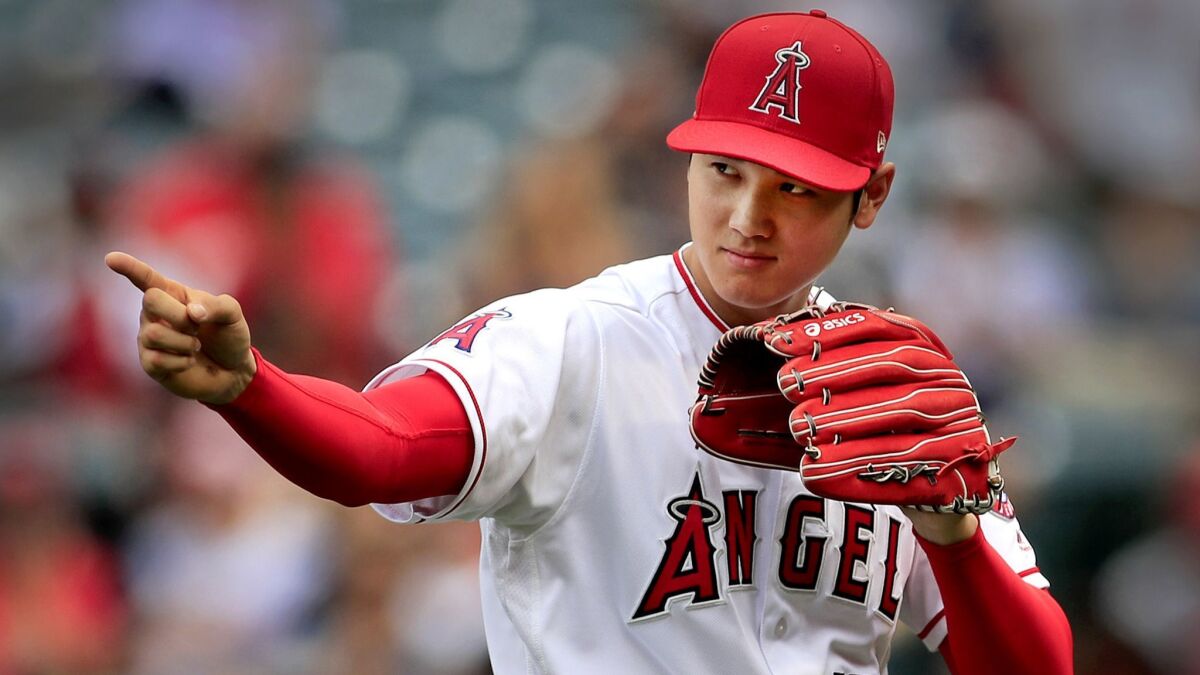 Mike Scioscia is not a big-picture guy, not when he's grinding through the six-month marathon of a season and he's busy trying to squeeze some runs out of a cryogenic lineup and coax a few outs from a beleaguered bullpen.
So it's tough for the Angels' field boss, even with his 32 years in the big leagues as a player and manager, to fully appreciate what two-way star Shohei Ohtani, who has emerged as a dominant force on the mound and in the batter's box, has accomplished in less than two months in the big leagues.
Ohtani threw a career-high 7 2/3 innings and 110 pitches in Angel Stadium on Sunday, limiting Tampa Bay to two runs and six hits, striking out nine batters and walking one in a 5-2 victory that ended the Angels' skid at five games and the Rays' winning streak at six games.
The right-hander with the blazing fastball and devastating split-fingered pitch improved to 4-1 with a 3.35 earned-run average in seven starts, striking out 52 batters and walking 14 in 40 1/3 innings. The Angels are 6-1 in those games.
Oh, and Ohtani, the 23-year-old with the vicious left-handed swing, is hitting .321 with six home runs, five doubles and 17 runs batted in in only 84 at-bats, proving that those "Babe Ruth of Japan" comparisons are warranted.
"Right now, we're trying to see some parts of our club grow and get better, and he's very important to us as a pitcher and a hitter," Scioscia said. "But there's no chance to reflect. During the game, you can really see his talent, but as far as taking in the view from 30,000 feet, no, not yet."
The view near sea level Sunday was pretty darn good. Ohtani's fastball velocity increased as the game went on, from 93-94 mph in the first inning to 97-98 mph by the fourth, and his command of the pitch improved to the point where "he could throw it wherever he wanted to," catcher Martin Maldonado said.
His slider and split-fingered pitch were sharp, the right-hander using the latter to strike out Mallex Smith and Daniel Robertson with a runner on second to end the second inning. Batters are hitting .023 (one for 44) on his splitter this season, according to Statcast.
"What impresses me the most is when people get on second base, I think he's a different animal out there," Maldonado said. "His fastball is different, his split-finger is different, his slider is different. I think a switch goes on, and you don't see those 92-94 mph's, you see 97-mph-plus every time."
After Johnny Field's home run to lead off the third inning, Ohtani retired 12 consecutive batters. He escaped a two-on, one-out jam in the seventh and still looked strong in the eighth.
"There was no real dip in his velocity, and he maintained his breaking stuff late," Scioscia said. "That's a great sign, to throw 110 pitches and still maintain your stuff."
Scioscia doesn't think Ohtani, who struggled on the mound and at the plate in spring training, has improved so much as he has evolved as a pitcher.
"His stuff has been the same since the first day in Oakland," Scioscia said. "You see the talent, the stuff, and the adjustments he makes. If one pitch is not quite there, he has two or three things he can do in any count. I think that's what makes him special."
The Angels needed a strong start on a day their offense, mired in a nine-game funk in which they hit .193 with a .580 on-base-plus-slugging percentage and averaged 2.3 runs per game, mustered only four hits.
But the Angels put on a situational-hitting clinic, scoring four runs on outs, three on sacrifice flies, before Maldonado hit a home run for an insurance run in the eighth.
They took a 2-1 lead in the fourth without a hit. Andrelton Simmons reached on pitcher Matt Andriese's fielding error, Zack Cozart walked, and both advanced on a wild pitch. Luis Valbuena hit a run-scoring grounder to second base and Maldonado hit a sacrifice fly to center field.
The Angels extended the lead to 3-1 in the fifth when Mike Trout walked, stole second and third, and scored with a head-first slide into the plate on Cozart's sacrifice fly to medium right field.
Trout's speed helped generate a tack-on run in the seventh when he walked, took third on Simmons' one-out single to right field and scored on Cozart's sacrifice fly to center.
"We're multidimensional on offense; we can pressure you on the bases," Scioscia said. "When you end up with four hits and manage to score five runs, I think that says a lot about how you can manufacture runs."
Get the latest on L.A.'s teams in the daily Sports Report newsletter.
You may occasionally receive promotional content from the Los Angeles Times.