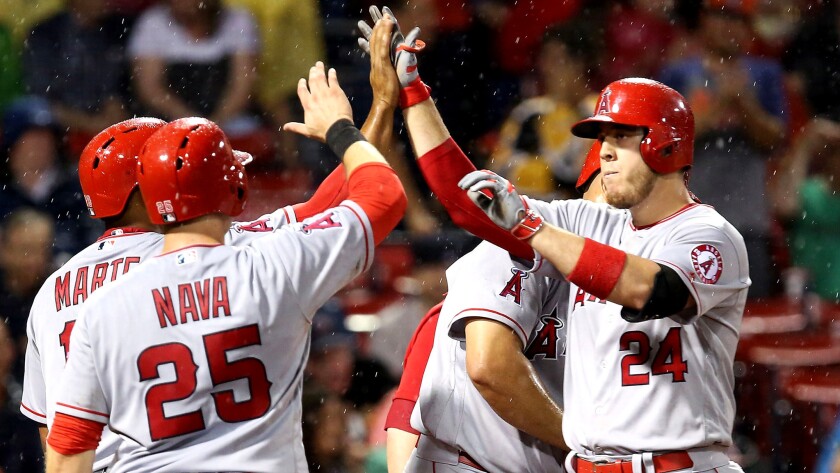 Reporting from Boston —
The ball boomed off Daniel Nava's bat into the right-field corner. Surely, it would allow Mike Trout to gallop home from first base to tie the score in the Angels' Friday night matchup with the Boston Red Sox that had bled into Saturday morning.
Then, ever so slightly, a fan reached over Fenway Park's five-foot wall to catch it. From the umpiring crew's view, it was a ground-rule double, forcing Trout to stop at third base. Replays showed the fan reaching over the wall with reasonable clarity, but the call was upheld on review and determined the Angels' latest frustrating loss, 5-4, to Boston, their 10th defeat in 11 games.
"It's a joke," still-angry Angels Manager Mike Scioscia said afterward. "That fan interference on replay is as clear as it's ever going to be. That's a brutal call for whoever's back in New York looking at it."
Said Red Sox Manager John Farrell: "You might say we caught a break right there."
Added Red Sox slugger David Ortiz: "We played with 26 players tonight."
In his novel "The Names," author Don DeLillo wrote of impending midsummer rain: "There's always a period of curious fear between the first sweet-smelling breeze and the time when the rain comes cracking down."
On Friday night, the breeze began at game's start, and the Angels struggled amid the fear. Only when the rain began to fall did they thrive, and it did not last long enough.
Boston's starter, the knuckle-balling Steven Wright, stymied them until the sixth, when, as it poured, he yielded a leadoff double to Albert Pujols. He then plunked Jefry Marte and walked Nava. Farrell left in Wright to face C.J. Cron, who hammered a fastball 425 feet and above the Green Monster for a grand slam.
The gameplan, Farrell later revealed, was to throw Cron consistent knuckleballs. But with the rain falling and his command worsening, Wright and catcher Christian Vasquez elected to offer a different pace.
Wright, who has nine wins and a 2.42 earned-run average, has starred all season for the Red Sox, even earning consideration as the potential American League All-Star starter. One of his few setbacks before Friday came during another rainy game at Fenway in May, when he yielded five runs to Houston. He told the Boston media he cannot command the knuckleball as well in wet conditions.
"When the rain comes, it's like, 'Oh, my God,' " Wright said. "Here we go again."
Jhoulys Chacin, the Angels' starter, left pitch after pitch over the plate. He permitted a dozen hits while recording only 14 outs. Mookie Betts doubled off him to begin the game and scored on consecutive groundouts.
In the fourth inning, Brock Holt walloped a double, and Travis Shaw snapped a ball down the first-base line, which snuck under Cron's glove. Cron slapped his hand against the dirt as Holt came around to score. Chacin picked Shaw off of second base. Had it not been for that, the inning would've been far more damaging. The fifth still was, as the Red Sox piled on three runs.
The Angels placed runners in scoring position three times early Friday but could not convert. Later, with one out in the eighth, Johnny Giavotella tripled to left field but was thrown out on a subsequent safety squeeze attempt.
The rain delay began at 9:21 p.m. At 10:31 p.m., the Red Sox announced play would soon resume, and it did at 10:56 p.m. The stoppage forced the Angels to remove reliever Deolis Guerra from the game. The right-hander finished the fifth inning for Chacin and would've handled the sixth. Instead, Joe Smith took the mound in his return from the disabled list and pitched a scoreless inning.
In the first, home-plate umpire John Tumpane called Trout out on a questionable third strike. Tumpane has recently had some eventful weeks. On Friday, MLB made him a full-time umpire. A month ago, he ejected Hector Santiago for comments the pitcher was not making to him. Trout complained after Friday's first call, but said nothing thereafter.
Against fearsome closer Craig Kimbrel in the ninth, Trout took a horrendous swing at his first pitch, a knuckle-curve, then took a 99-mph fastball for a strike before watching four straight balls to work an improbable walk. In the 74 instances where he has faced an 0-2 count this season, Trout has been by far baseball's best hitter, batting .338 with an on base-plus-slugging percentage over 1.000.
Friday night, Pujols followed his walks by hammering a fastball to center, but the line-drive out was too shallow for Trout to take second. Marte popped out, and Trout felt he should've taken second on a pitch that bounced off Vasquez's shinguards. He said he misjudged it.
Then Nava lined the drive down the right-field line. Trout had rounded third when the ball was corralled and he would've scored without a doubt, but the ruling forced him to stay at third.
He stayed there until the game ended, when Cron grounded out to third, the Angels' 48th loss of 2016. Saturday will mark the halfway point of their calamitous campaign.
pedro.moura@latimes.com
Twitter: @pedromoura
---