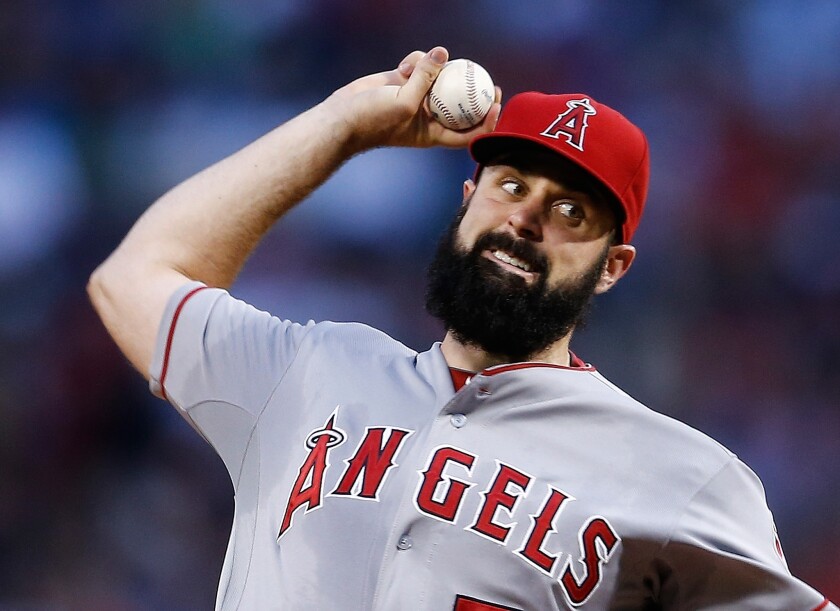 KEY MOMENT: Seven outs away from a no-hitter, Angels pitcher Matt Shoemaker hung a 2-and-2 split-fingered fastball to Will Middlebrooks, who lined a double to left for Boston's only hit. "It was supposed be down, but it was belt-high, middle-in," Shoemaker said. "He roped it down the line. Definitely an unfortunate pitch given the circumstances."
AT THE PLATE: Kole Calhoun singled in the first and scored on Josh Hamilton's double to left. Erick Aybar doubled in the seventh, stole third and scored on Calhoun's sacrifice fly. Aybar and Howie Kendrick each had three hits.
ON THE MOUND: Shoemaker didn't realize he had a no-hitter "until the fifth or sixth inning," he said. Not so for catcher Chris Iannetta. "I was looking at the scoreboard in the third," he said. "I don't pull any punches. I know what's going on. I kept telling myself, 'There's no way he's going to do it, there's no way I'm going to call a no-hitter.' Reverse psychology." Mike Morin got the last out of the eighth, and Jason Grilli retired the side in order in the ninth.
EJECT BUTTON: Albert Pujols complained about a called strike in the sixth and was ejected by umpire Andy Fletcher upon returning to the dugout, his first ejection since 2005 and sixth of his career. "I didn't say anything from the dugout," Pujols said. "I grabbed some water, and they told me I got thrown out." Manager Mike Scioscia got tossed for complaining about the ejection. "He threw Albert out from 80 feet away," Scioscia said. "I thought it was inappropriate."
TRADE WINDS: The Angels acquired infielder Gordon Beckham, 27, from the White Sox for a player to be named or cash. Beckham, who will join the team Saturday, will provide a right-handed-hitting option at second, third, shortstop and designated hitter. He's hitting .221 with 24 doubles, seven homers and 36 RBIs and .309 (30 for 107) against left-handers.
UP NEXT: Left-hander Hector Santiago (3-7, 3.46 ERA) will oppose Oakland right-hander Sonny Gray (12-7, 2.99 ERA) at Oakland Coliseum at 7 p.m. On the air: TV: FS West. Radio: 830, 1330.
---