Rookie pitcher Greg Mahle joins Angels and parents get to share the occasion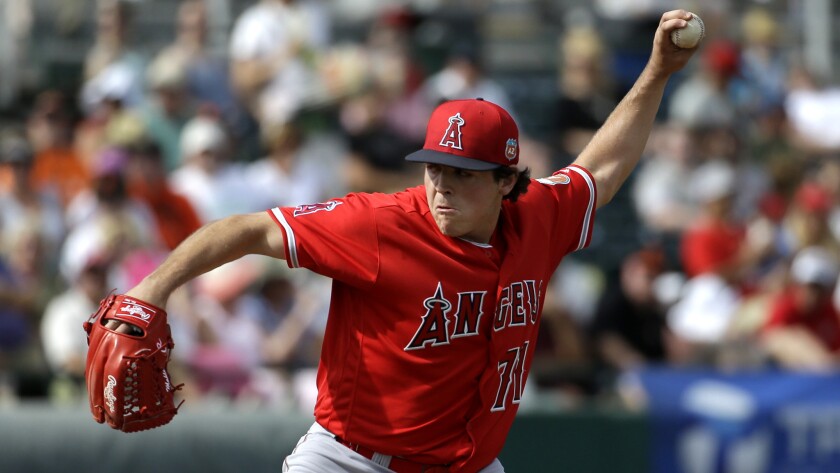 Reporting from OAKLAND —
Greg Mahle walked into the visitors clubhouse at the O.co Coliseum just before 4 p.m. Monday. His new Angels teammates were surprised to see him. He smiled, nodded and asked a group which way was Manager Mike Scioscia's office.
One week after missing out on the Angels' opening-day roster, Mahle was on the team. He will serve as a second left-hander in the bullpen. He pitched once with triple-A Salt Lake — 1 2/3 scoreless innings — and received the call Sunday evening. He replaced right-hander A.J. Achter on the Angels roster.
"I haven't not thought about this a day in my life," Mahle said. "That pressure, I can't wait for that."
Mahle's life has been shorter than most major league rookies, and his journey perhaps less likely. The 22-year-old will be only the eighth player in the 2014 draft class to appear in the major leagues. The seven others were all picked among the top 55 selections. Mahle was a 15th-round choice, 449th overall.
But he had a 2.97 earned-run average in 97 minor league innings and impressed after earning an invitation to big league camp this spring. Oakland's lineup features four left-handed hitters, accentuating the Angels' need for an additional left-hander alongside Jose Alvarez.
When Mahle heard the news from Salt Lake Manager Keith Johnson, he first called his father, also named Greg. The dad raised Greg and Tyler, a Cincinnati Reds Class-A pitcher, as baseball fans and Dodgers devotees, and watched happily as they became prospects.
"He was so shocked that he didn't say much," Mahle said of his father. "He was super confused. I had to spell it out for him."
The elder Mahle arrived in Oakland in time for Monday's game, along with the pitcher's mother, Lissett, who brought with her a suit for her son to wear when the Angels leave Oakland for Minneapolis on Wednesday.
"I hope they have enough tissues," his father said.
Mahle's parents live in Westminster. If he remains in the majors when the Angels return home to face Seattle on April 22, Mahle will stay with his parents.
Short hops
Albert Pujols started at first base for the first time this season. Pujols played the position twice during spring training. The last time he played it in 2015 was Sept. 4. Scioscia would not say how often he plans to play Pujols in the field. … Left-hander Andrew Heaney completed weighted-ball exercises with team physical therapist Bernard Li. Heaney, encouraged by the development, said he has passed several tests since he was put on the 15-day disabled list Wednesday because of a flexor tendon strain.
---
Get the latest on L.A.'s teams in the daily Sports Report newsletter.
You may occasionally receive promotional content from the Los Angeles Times.