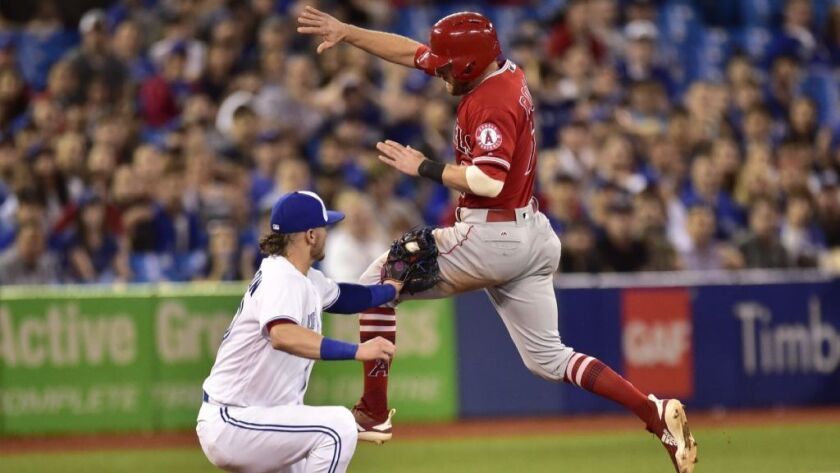 Reporting from toronto —
Wednesday marked the 45th time in 49 games this season that the Angels had one of the most dynamic and dangerous hitters in baseball batting second.
So how come that with Mike Trout positioned so well, this team still has struggled to score runs recently?
Part of the problem is what has been happening immediately in front of Trout.
The Angels are last or next to last in the American League in batting average, on-base percentage and total bases from the leadoff spot.
Before Wednesday, only three AL teams had leadoff hitters who had scored fewer runs than the Angels had, and each of those clubs had a losing record.
"There's no doubt we need table-setters," manager Mike Scioscia said. "We're not terrible in getting guys in scoring position as a team. But we're not where we should be."
Except for two games when Trout hit first, Ian Kinsler and Zack Cozart have shared the spot. Kinsler, the leadoff batter Wednesday, is hitting .190 and Cozart .235.
So far, Scioscia has avoided trying Andrelton Simmons there. Simmons has been one of the Angels' few consistent hitters as evidenced by his .328 average.
In 327 at-bats from the leadoff position, Simmons has hit .223.
"There's no doubt he's swinging the bat well," Scioscia said. "He's in a really good position to hit with guys in scoring position right now. We'll see how the trend goes."
Rene Rivera to have MRI exam
Rene Rivera, on the disabled list because of knee inflammation, was scheduled to have an MRI exam. Pending the results, it remains uncertain how long he'll be out.
Scioscia said the condition "just flared up." Rivera was put on the DL on Sunday.
In his first season with the Angels, the 34-year-old has proven to be a solid contributor as Martin Maldonado's backup. He's batting .259 with three home runs in 22 games and has played steady defense.
Where to watch
The telecast of the finale of the three-game series against Toronto on Thursday will be available only on Facebook Watch.
For this season, Major League Baseball and Facebook agreed to partner to distribute one weekday afternoon game per week exclusively on the platform.
The game will be broadcast on radio.
Short hops
Shohei Ohtani, departing from what has been his between-starts routine, was scheduled to play catch Wednesday rather than throw a lighter session in the bullpen. Scioscia called it "normal recovery." … Keynan Middleton's had elbow ligament-replacement surgery Tuesday.
---