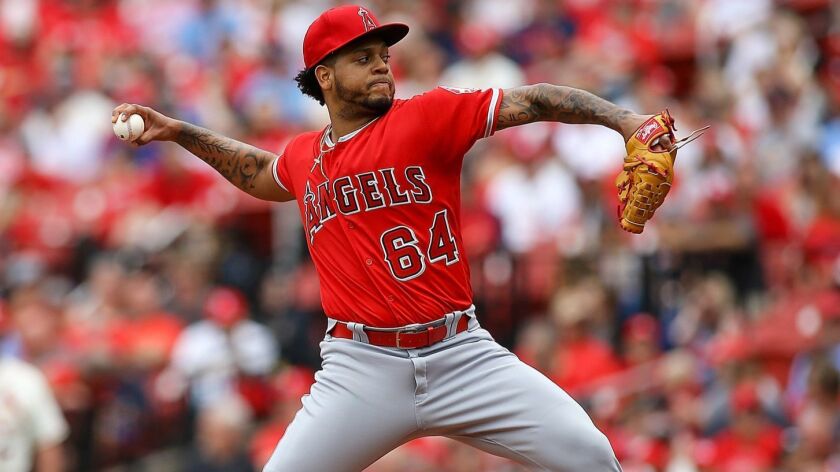 Reporting from ST. LOUIS —
In the aftermath of a four-inning outing that resulted in a 4-2 loss to the St. Louis Cardinals, Angels pitcher Felix Pena did not dwell on the two mistakes that cost him Saturday at Busch Stadium.
The bunt Cardinals starter Dakota Hudson laid down that Pena misfired to third base, leading to two runs and an error in the fifth inning? "I was trying to be too perfect," he said in Spanish.
The 3-2 fastball he threw to Marcell Ozuna that was crushed for a two-run home run one inning later? "I tried to throw a pitch inside but I didn't execute. It stayed middle-middle and I paid for it."
All Pena regretted was not making it through a fifth inning of work.
Staying power has been spotty for the 29-year-old this season. In his last seven outings as a primary pitcher — one who enters after a reliever throws one or two innings, like Noe Ramirez did on Saturday before relinquishing the mound to Pena for the third inning — he has lasted more than four innings just four times.
Despite that, Pena trails only starter Tyler Skaggs in innings (70 1/3 to 65 1/3 innings). Among Angels pitchers considered part of the starting rotation, Pena's 4.68 earned-run average ranks third.
He seems poised to keep the role even with the looming returns of Trevor Cahill and J.C. Ramirez. Pena knows he must become a more stable force like he was when he had a 3.60 ERA in 60 innings over his final 10 starts last year.
"I don't think right at this moment I'm doing as well as I did last year," Pena said. "I was more consistent start to start. For example, I will have a good outing today and the next outing it's kind of average. I need to focus on that. I need to improve every time I go out and try to throw five or six innings or more."
Role change incoming?
It is possible Cahill, a right-hander whose 7.18 ERA is the third-highest among pitchers who have thrown at least 50 innings this season, could join the Angels bullpen when he is reinstated from the injured list next week. He had some success as a reliever for the Chicago Cubs in 2016, posting a 2.74 ERA over 65 2/3 innings despite walking 35 batters.
The decision on Cahill, who is owed $9 million this season, will hinge on what the Angels choose to do with Ramirez, another right-hander. Out all season recovering from Tommy John surgery, Ramirez has made four rehab starts since beginning an assignment May 30. He has one more scheduled for Sunday in Salt Lake. He could still pitch as a reliever.
Before Tommy John surgery in April 2018, Ramirez carried a 4.38 ERA through his last 154 innings dating to 2017.
What's next for Harvey?
It seems unlikely that right-hander Matt Harvey will be ready to come back to the Angels before the end of the month.
Harvey was pulled off a rehab assignment in early June after re-aggravating an upper back strain that landed him on the injured list May 25. He has spent the last few weeks undergoing treatment in Anaheim. He hasn't thrown off a mound since a rehab start June 8. He only recently began baseball activities, leading Ausmus to guess at Harvey's timeline.
"I'm not sure it will be before the All-Star break," Ausmus said.
Sign up for our daily sports newsletter »
Harvey has a 7.50 ERA — 40 earned runs in 48 innings — in 10 starts. He made a few promising outings before imploding his last time on the mound for the Angels, when he gave up eight earned runs in 2 2/3 innings.
Harvey is earning $11 million this year. It would be a welcome boost for the Angels' starting rotation if Harvey can return healthy and spin the sporadic success he had early in the season into a serviceable second half.
"Harvey is still a wild card," Ausmus said. "When he comes back, we need him to pitch to better. That's what it boils down to. We need to be more consistent from a starting pitching perspective as a group and if we do, I think that really improves our chances."
---