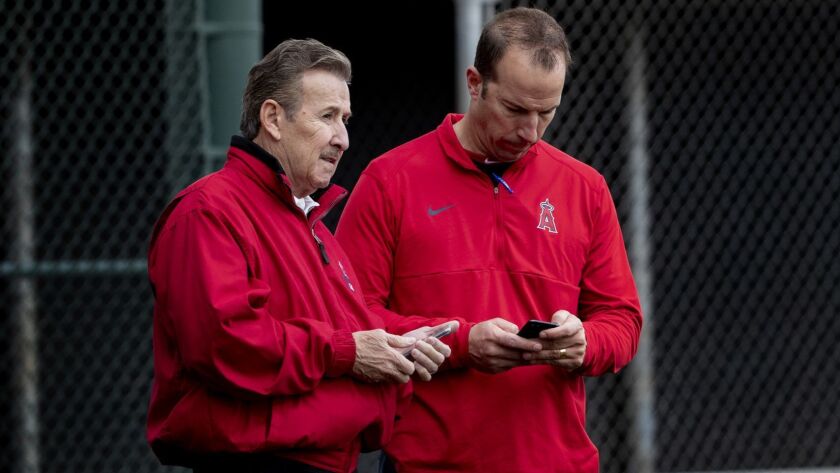 Reporting from SEATTLE —
The Angels have the 15th pick in the first round of the amateur draft, which starts Monday and continues through Wednesday, and if all goes according to plan and that top pick has no setbacks, he could — best-case scenario — reach the major leagues in … two to three years?
Yes, baseball fans have to be far more patient than those following the NFL, where a top pick such as Chargers safety Derwin James can have All-Pro impact as a rookie, and the NBA, where a player like Giannis Antetokounmpo — who, incidentally, was the 15th overall pick in 2013 — can resurrect a franchise.
"I don't follow the NFL at all except for the three days of the draft," Angels scouting director Matt Swanson said. "To me, it's absolutely fascinating how similar but how vastly different it is from what we do. They're looking for a specific need to plug in and use on their rosters from Day 1.
"For us, as quickly as [2017 second-round pick] Griffin Canning got to the major leagues, it was still almost two years. That's vastly different than the NBA and the NFL, where you get an immediate return on the draft pick."
The lengthy development process is why teams, especially those picking in the middle of the first round and lower as opposed to the top few picks, rarely draft for need.
As much as the Angels could use a near major league-ready starting pitching prospect, they will likely select the highest rated player on their draft board when their number comes up.
"I think we can get a high-impact guy at No. 15," Swanson said. "This draft might not be as splashy — I think it's really balanced between high school and college players, between pitching and hitting — but there is impact to be had."
Sign up for our daily sports newsletter »
The Angels under Swanson and general manager Billy Eppler have leaned toward highly athletic players who might be considered higher-risk picks but who have higher upsides, players such as 2017 first-round pick Jo Adell and 2018 first-round pick Jordyn Adams, both dynamic high school outfielders.
In mock drafts, they've been linked to Keoni Cavaco, a third baseman from Eastlake High in Chula Vista, Elon University right-hander George Kirby, Lakeside (Seattle) High outfielder Corbin Carroll, Texas Tech third baseman Josh Jung and Georgia Premier Academy right-hander Daniel Espino.
The Angels have a pool of $7.8 million to spend in the first 10 rounds, with an assigned slot bonus of $3.88 million for their top pick.
"I don't feel like we're targeting anything or anyone specific," said Swanson, who will be overseeing his third draft with the Angels. "We're sort of beholden to the 14 teams picking in front of us."
After taking Adams and high school shortstop Jeremiah Jackson in the second round last year, the Angels selected pitchers with 25 of their next 30 picks. Swanson won't view any of his picks as finished products.
"I want to give our player development guys something they can work with, something they can mold and develop and transform," Swanson said, "because in reality, with the nature of the draft, we're not drafting for tomorrow, we're drafting for several years down the road."
Short hops
The Angels will start reliever Cam Bedrosian as an "opener" in front of Trevor Cahill in Monday's game against the Cubs in Chicago. … With the Angels in a five-game stretch in which they'll face four left-handed starters, Kole Calhoun, who hit a tiebreaking two-run home run against Seattle left-hander Roenis Elias in the eighth inning Saturday, was not in Sunday's lineup. "I told him during the game [Saturday] that if he hit three home runs, he would be in the lineup [Sunday]," manager Brad Ausmus said. "He came up short." … Adell, sidelined for April and much of May because of ankle and hamstring injuries, has been promoted to double-A Mobile after hitting .280 with two home runs and five RBIs in six games for Class-A Inland Empire. … Reliever John Curtiss was optioned to triple A to make room for Sunday starter Jose Suarez.
---