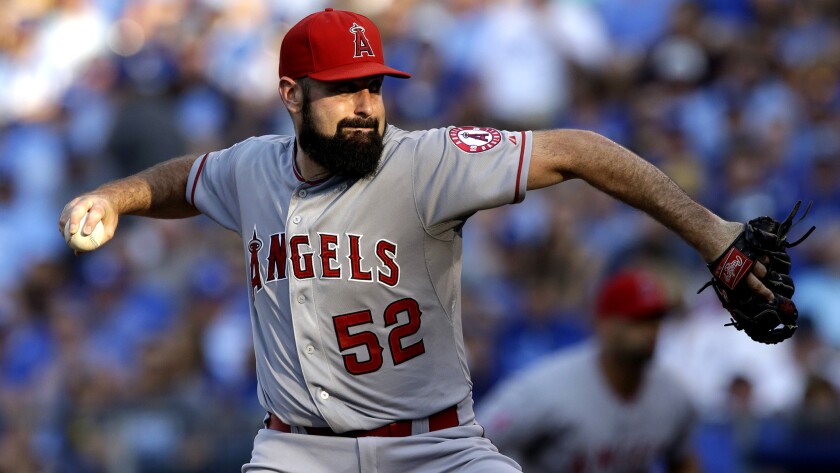 Reporting from Kansas City, Mo. —
Matt Shoemaker went 16-4 with a 3.04 earned-run average and finished second in American League rookie-of-the-year voting last season. He righted himself after a shaky start this season, pitching to a 1.49 ERA in six starts from June 26 to Aug. 4.
But the Angels right-hander was rocked for 13 runs and 16 hits in 7 1/3 innings of his next two starts, against the Chicago White Sox on Aug. 10 and Kansas City on Saturday. On Sunday, the other Shoe dropped.
The Angels optioned Shoemaker to triple-A Salt Lake to work out his issues in a less-pressurized environment and to add fresh arms to an overworked bullpen.
"I kind of put myself in this position," said Shoemaker, who is 5-9 with a 4.76 ERA. "If I pitched better, it's not an issue. That's the way I look at it. I'll go down and fix some things and get back here as quick as I can."
With the Angels going extra innings twice since Aug. 9 and Shoemaker lasting 1 2/3 innings Saturday, relievers combined to throw 29 innings in seven games before Sunday.
Long man Cory Rasmus was placed on the 15-day disabled list because of a right forearm strain, and the Angels recalled right-handers Cam Bedrosian and Mike Morin from Salt Lake.
"It's never an easy decision, but we all feel very strongly that it's the right move for Matt and us," Manager Mike Scioscia said. "Matt understood it. I think he sees this as an opportunity to work on some stuff and get back to where he needs to be."
The Angels will need a fifth starter Thursday, and Scioscia said that pitcher — most likely right-hander Nick Tropeano — will come from within the organization.
"It's very frustrating, these last two starts, especially after that long stretch of really good ones," said Shoemaker, 28. "But it's part of the game. You have to find a way to get better. That's my whole focus, to get myself right so I can give this team a good chance to win when I'm pitching."
Shortstop shuffle
Erick Aybar returned to the lineup Sunday after missing three games because of tightness in his lower back, but the Angels lost backup shortstop Taylor Featherston, who was placed on the DL because of an upper back strain.
Featherston suffered the injury on a check on Aug. 9. He received a cortisone injection last week in Chicago and played the first three games of the Royals series with some discomfort.
To replace him, the Angels recalled shortstop Ryan Jackson, who hit .295 in 104 games at Salt Lake. Jackson, who appeared in 20 games for St. Louis in 2012-2013, was acquired from Kansas City for catcher Drew Butera on May 7.
Short hops
Outfielder Matt Joyce (concussion) began a minor league rehabilitation stint at Salt Lake on Sunday. Outfielder Collin Cowgill (right wrist sprain) had his rehab stint transferred from Class-A Inland Empire to Salt Lake and had two hits, including a home run, on Sunday.
---