Shohei Ohtani taps into batting ability
It's not enough to turn the hype into hope, not when you've been labeled the "Babe Ruth of Japan" and are expected to dominate on the mound and crush 450-foot home runs between starts. But for Shohei Ohtani, perhaps it was a start.
The Angels' aspiring two-way player replaced his front leg kick with more of a toe-tap Monday night, and looked a little more comfortable in the box, lining a hard single to left field in four at-bats during a 4-1 Freeway Series victory in Dodger Stadium.
"I don't try to let that day's result affect me, I try to break down what I did good that day, what I did bad, and plan ahead from there," Ohtani said through an interpreter. "But I did get a hit off a really good pitcher, so that might lead to some confidence."
Ohtani popped out to third base on a down-and-in curve from left-hander Rich Hill in the second inning and stroked a clean single to left on an 88-mph, low-and-away, 1-and-0 fastball from Hill in the fourth.
Ohtani dug out a low 0-and-2 changeup from Pedro Baez that shattered his bat and resulted in a soft line-drive out to first base in the sixth. He struck out swinging at an elevated 93-mph, 2-and-2 fastball from left-hander Tony Cingrani in the eighth.
Ohtani's offensive numbers are still pretty offensive — he's batting .125 (four for 32) with 10 strikeouts, three walks and one RBI in 13 games — but the Angels saw some progress Monday.
"I think tonight, you saw more pitches that he was on, which was a great sign," manager Mike Scioscia said. "I know he's working on some subtleties, but it's a matter of him seeing pitches. I think as he gets to know the league, you'll see him get that timing and be fine."
Ohtani looked uncomfortable and unsettled at the plate in Arizona, struggling to handle inside fastballs and breaking pitches. There was little quality to his at-bats, so Monday, the left-handed batter made an adjustment with his front foot.
Closing time
When Jim Johnson saved 101 games for the Baltimore Orioles in 2012-13, he knew exactly what his role was, when he was going to pitch, when to start preparing for his outings.
"I know people sometimes think it's easy," the veteran right-hander said, "but I think if a guy has an idea when he's going pitch, it's beneficial to him so he knows how to prepare himself physically and mentally going into it."
Johnson, acquired from Atlanta last winter, will not have that luxury to start the season. Neither will Blake Parker, Cam Bedrosian nor Keynan Middleton, who all closed games last season. Scioscia said the Angels, as they did in 2017, will open the season without a designated closer.
"These guys understand that their job is to go out there and get outs," Scioscia said. "If roles develop, great. We have a number of guys who we feel will be able to pitch the ninth inning if we have a lead, but let's wait to see how the game plays out and what happens."
Fair enough, said Johnson, who is adjusting accordingly.
"The way I'm going to prepare is … I think I'll probably slot in from the sixth inning to the back-end somewhere," Johnson said. "It's basically, when I get on the mound, execute a pitch. It's nice to have an idea [when you're going to pitch], but that stuff will work itself out."
Opening act
Angels designated hitter Shohei Ohtani dives under the tag of Dodgers first baseman Cody Bellinger on a fourth inning pickoff attempt by pitcher Rich Hill on March 26.
(Robert Gauthier / Los Angeles Times)
Angels first baseman Albert Pujols slides in safely at home for a fourth inning run.
(Robert Gauthier / Los Angeles Times)
Dodgers right fielder Yasiel Puig can't catch a third inning hit by Angels left fielder Justin Upton.
(Robert Gauthier / Los Angeles Times)
Angels designated hitter Shohei Ohtani flips his bat after lining out to Dodgers first baseman Cody Bellinger in the sixth inning on March 26.
(Robert Gauthier / Los Angeles Times)
Angels shortstop Nolan Fontana avoids Dodgers baserunner Matt Kemp and throws out Austin Barnes to complete a double play on March 26.
(Robert Gauthier / Los Angeles Times)
Angels centerfielder Mike Trout makes a diving catch of a first inning drive by Dodgers hitter Chris Taylor.
(Robert Gauthier / Los Angeles Times)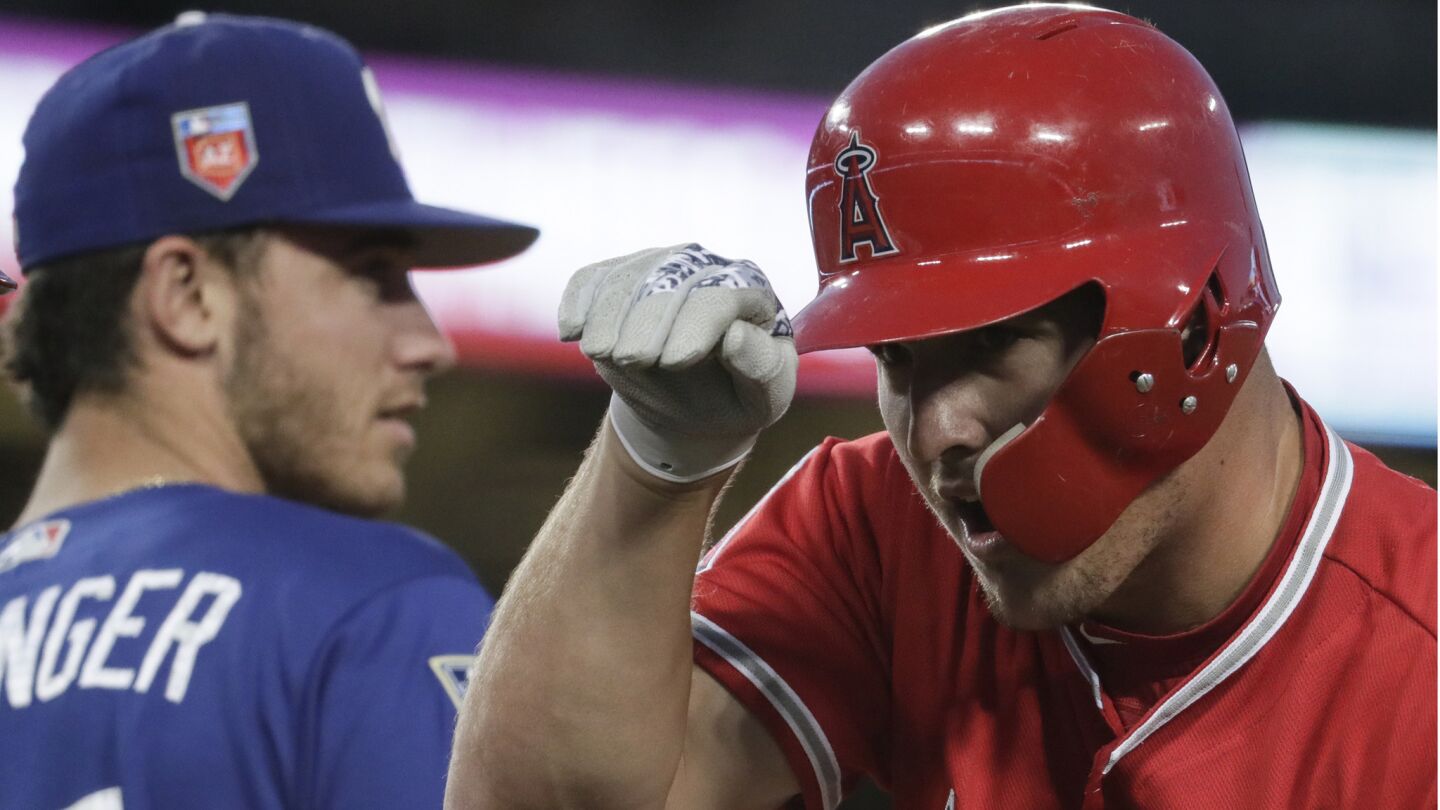 Angels outfielder Mike Trout waves toward the dugout after a first inning hit against Dodgers pitcher Rich Hill during an exhibition on March 26.
(Robert Gauthier / Los Angeles Times)
Garrett Richards, as expected, was named opening-day starter for Thursday's game at Oakland. It will be the second career opening-day start for the hard-throwing right-hander who was limited by elbow and biceps injuries to six starts in each of the last two seasons.
Richards went 1-0 with a 2.84 ERA in four Cactus League starts, striking out 14 and walking seven in 122/3 innings.
"He showed first of all that he's totally healthy, ready go to," Scioscia said. "His velocity is there, his movement is there."
Left-hander Tyler Skaggs will start Friday.
Short hop
Andrew Heaney (elbow inflammation) extended his long-toss to 120 feet. Scioscia said the left-hander is scheduled to throw off a mound Tuesday.
---
Get the latest on L.A.'s teams in the daily Sports Report newsletter.
You may occasionally receive promotional content from the Los Angeles Times.