White Sox's David Robertson mum on dispute with Angels' Mike Scioscia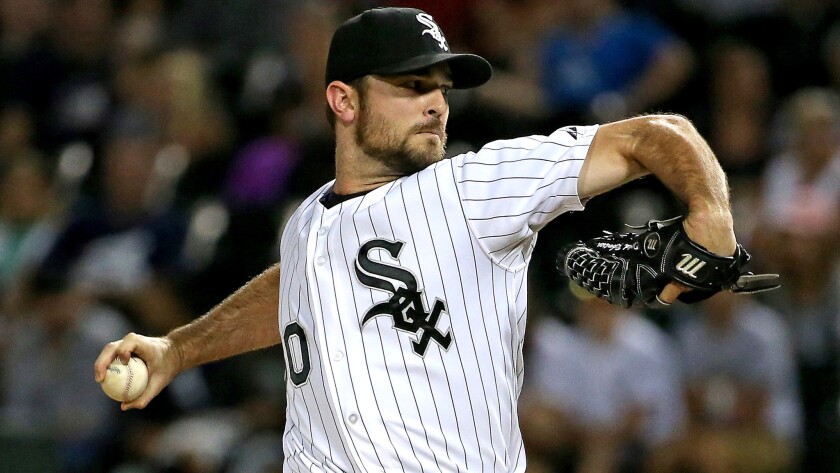 Chicago White Sox closer David Robertson flipped through a magazine before the start of another series with the Angels and danced around talk of his quarrel with Angels Manager Mike Scioscia last week.
Was he still angry? He wouldn't say.
"That series," he said, "is over."
The White Sox swept the Angels last week, but after the second game, Robertson lashed out at Scioscia over what he called "bush league" behavior. After a replay, Scioscia argued near home plate, which Robertson said prevented him from throwing to stay loose.
"Once it's been reviewed and he's called out, there's no good reason to come back and argue a call," Robertson said at the time. "I guess that's just the way he is."
In comments to ESPN.com, Scioscia responded that he came out of the dugout to find the reason for the ruling, in case he decided to file a protest. He said he tried to stay out of Robertson's way.
On Monday, Robertson said he hadn't seen Scioscia's response. When informed, Robertson repeated, "Like I said, that series is over."
Robertson brushed aside further questions about the incident and implied he is moving past it. He wouldn't, however, say that directly.
"Yeah, we've got to play them again," he said. "So…."
Does the Shoe fit?
After being demoted to triple-A Salt Lake on the heels of two nightmarish starts, right-hander Matt Shoemaker remains "absolutely in our plans," Scioscia said Monday.
Shoemaker, last year's runner-up for American League rookie of the year, imploded for 13 runs and 16 hits in his most recent two starts. Before that, he had compiled a 1.49 earned-run average from June 26 to Aug. 4.
Yet Scioscia said Shoemaker's struggles, especially with his fastball command, had "been going on for a while."
"He needs to just get back and get into an environment where he can get a feel for some of those things."
Scioscia indicated the move is temporary. Such a demotion gives the Angels short-term relief and, they hope, will help Shoemaker prepare for a possible postseason appearance.
The Angels will use a replacement starter, most likely right-hander Nick Tropeano, while Shoemaker tweaks his approach. Shoemaker will make a minor league start Saturday.
In the longer term, if Shoemaker can regain last season's form, when he went 16-4 with a 3.04 ERA, he can potentially make a push for the Angels' final rotation spot, should they make the playoffs.
"We hope he's going to get back to where we know he can be," Scioscia said.
Street rebounds
After Huston Street's blown save on Sunday against the Kansas City Royals, Scioscia said Street was tentative, that he looked off.
It was a loss, Street said, that was difficult to forget, even for someone accustomed to forgetting quickly. So Monday's 1-2-3 ninth was a relief, he said.
"There's very few times where I'll actually admit you have to get it done or else, and tonight was one of those, you have to get it done because the team had battled so hard these last two nights," Street said.
---
Get the latest on L.A.'s teams in the daily Sports Report newsletter.
You may occasionally receive promotional content from the Los Angeles Times.