Angels agree to terms with first-round draft pick Will Wilson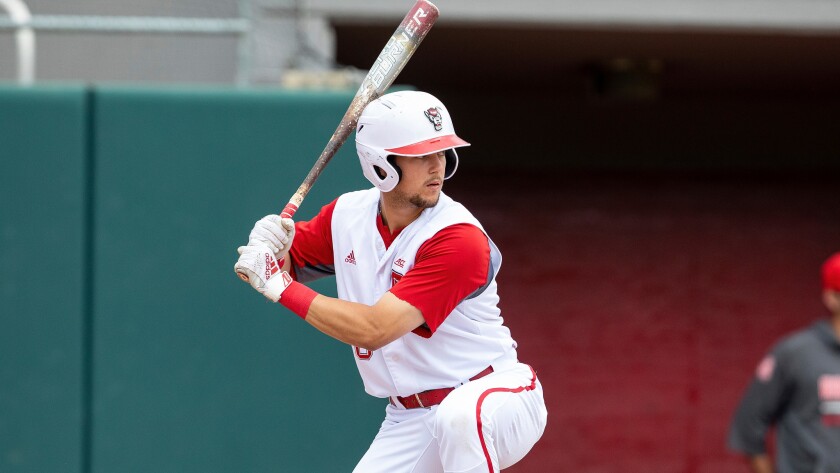 The Angels agreed to terms with first-round draft pick Will Wilson on Monday.
The shortstop from North Carolina State will receive an under-slot bonus of $3.4 million, said a club official who was not authorized to publicly comment. The value of the 15th pick with which the Angels chose Wilson was $3,885,800.
"It's unbelievable," said Wilson, who spoke with reporters as the Angels played the Dodgers. "It's been a week since the draft, and just to get out here and enjoy some time with family. My fiancee is out here with me. Just letting everything soak in, finally signing on the dotted line. It's just unbelievable, a dream come true."
Wilson will begin his professional career Tuesday with the Angels' rookie-league affiliate in Orem, Utah.
A 6-foot, 184-pound junior from Kings Mountain, N.C., Wilson led the Wolfpack in batting average (.335), doubles (20), home runs (16) and slugging percentage (.661) this season. He also drew 33 walks and struck out 46 times in 258 plate appearances. He was one of five finalists for the Brooks Wallace Award, given to the best college shortstop.
"He told me one thing when he called me on the phone," Wilson said of general manager Billy Eppler. "He called me and told me the Angels' philosophy was to hit strikes hard. I thought this was a place I was going to fit in really well because that's what I love to do, hit."
Undrafted out of high school, Wilson went on to rank in the top 10 in the Atlantic Coast Conference in slugging percentage the last two seasons. He performed well enough last year — he hit .307 with a .588 slugging percentage and 53 RBIs — to be a semifinalist for the Dick Howser Trophy, awarded to the best college player.
Despite misgivings by scouts, who reported to Baseball America that he might not possess enough speed to remain at his position, the Angels drafted Wilson with the intent to develop him as a shortstop.
"We think extremely high of Will," Angels scouting director Matt Swanson said in a conference call. "Obviously, on the field, I think the performance in a major conference speaks for itself. I think sometimes what is lost in the shuffle is the makeup and character. And this is just an awesome, awesome young man who is going to blend right in. He has a chance to move quick, but [he will] work on his own pace and just get acclimated to being an Angel and see how quickly he can move."
The Angels were allocated a signing bonus pool of $7,608,700 for their picks in the first 10 rounds. All teams have until July 15 to sign the players they select in the 40-round draft.
---
Get the latest on L.A.'s teams in the daily Sports Report newsletter.
You may occasionally receive promotional content from the Los Angeles Times.