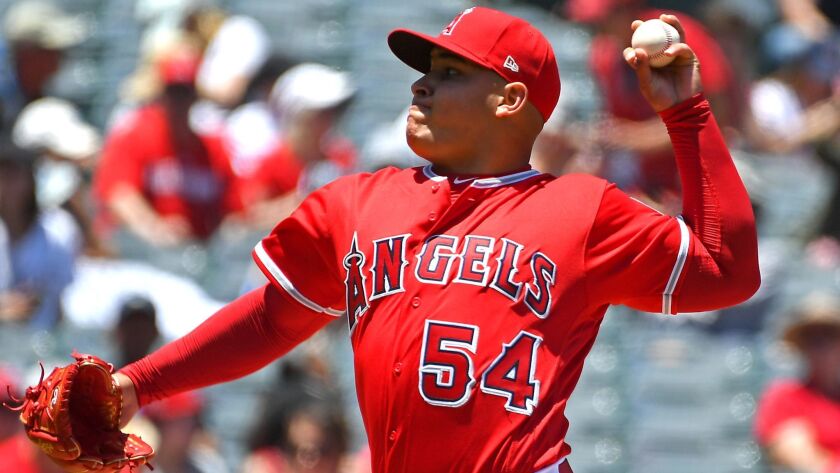 A few days ago, Angels pitching prospect Jose Suarez was ushered off the mound at triple-A Salt Lake and told to wait for further instruction. He was not informed what was happening; he only knew that he was healthy and could have pitched if they had let him.
The Angels, suddenly in need of a spot start because of Trevor Cahill's sore elbow, wanted Suarez to save his bullets for Sunday's series finale against the Seattle Mariners at Angel Stadium. He used them effectively in his second career start, holding the Mariners to four hits and two runs in 4 2/3 innings. He located his vaunted low-80s changeup well and got five swings-and-misses on his 92 mph fastball. The left-hander also initiated a nifty pickoff move, throwing to first baseman Albert Pujols, who then turned to throw out Mac Williamson trying to steal second base for the first out of the fifth inning. All ingredients for success.
But in a 9-3 loss, the 21-year-old's efforts were diminished by an objectionable strike zone established by home plate umpire Jeremie Rehak.
Rehak's calls were so inconsistent manager Brad Ausmus emerged in the middle of the fourth inning to express concern. Rehak ejected Ausmus without warning.
"Apparently he didn't like it," said Ausmus, who has only been ejected 27 times in his major-league career, which spans 1,971 games as a player and 315 as a manager. "Quite frankly it was a discussion in nature. I wasn't angry. I was trying to make him aware of something. In my mind, he pulled the trigger a little quick."
Suarez had seconds earlier strutted off the mound following his inning-ending strikeout of Tom Murphy — whose second-inning two-run homer gave the Mariners an early lead — when Ausmus climbed out of the Angels dugout.
Within seconds of Ausmus beginning a discreet conversation, Rehak threw up his arm and ejected Ausmus. It did not matter to Rehak that Ausmus, who had put a hand over his mouth to hide his words, never became animated.
"I guess I was arguing balls and strikes, but I wasn't saying he missed a pitch here or there," Ausmus said. "There were strikes being called that weren't strikes. And I wasn't saying just against us. It was going both ways. … I thought in this case there were too many mistakes being made too early in the game and it was having an impact."
Rehak made multiple questionable calls. Mariners outfielder Mallex Smith, who struck out swinging to start the game, was the first to vividly express his disdain for Rehak. Rung up in the third inning, Smith jawed at Rehak on his way back to the dugout. Suarez received two strike calls on pitches that were high and tight but within the zone. The next batter, Domingo Santana, drew a walk on a changeup that floated into the same corner of the quadrant.
"It surprised me a little bit," said Suarez, who won his debut against the Mariners a week ago, "but that's the game. You can't control it."
Mike Trout, who did not swing his bat during his second plate appearance, was called out on strikes to end the third inning. Rehak called strikes on three pitches from Mariners left-hander Wade LeBlanc that registered as balls, according to PITCHf/x data. As the Mariners cleared the field, Trout lingered at the plate to discuss the at-bat with Rehak.
Sign up for our daily sports newsletter »
Rehak called five balls and four strikes on borderline pitches thrown by Suarez. He gifted the Mariners nearly 10 strike calls, three of which resulted in Trout and Tommy La Stella being rung up. Luis Rengifo took the final blow, as he was called out on strikes on a high pitch to end the game.
The Angels saw similar issues from Rehak in April. He called Justin Bour out on strikes on a pitch that appeared to be low and outside. Bour argued and was ejected.
"He had a big zone for both sides," Trout said "He was calling it all game. It is what it is."
Suarez received credit for handling the situation with poise. He also drew a complimentary, if double-edged, review from his manager, who said he'd like Suarez to diversify his fastball and changeup-heavy arsenal by using his curveball more.
"He's still pretty young. He's 21 years old," Ausmus said. "I don't want to put a ceiling on him. I'll take this every time out, but I think he can be better."
Beyond the rookie, Angels pitchers didn't wield their best stuff. Veterans Cody Allen and Nick Tropeano gave up a combined five homers in relief. The Mariners collected 13 hits; few were cheap shots. Murphy and Edwin Encarnacion each homered twice.
The Angels, held to seven hits, reached base 10 times. La Stella, who cranked his 15th homer of the season in the third to cut the Mariners' lead to 2-1, only made it once.
The Angels' pitching staff has yielded 111 homers in 66 games, third most in the major leagues behind the Baltimore Orioles (127) and Seattle (119). The flip side to that: The Mariners lead baseball with 126 home runs. The Angels, who fell to 31-35 as they dropped a second consecutive series, rank 12th with 91.
"It was their day I guess, offensively," Ausmus said. "They have the ability to hit home runs. Certainly at the beginning of the season, in April, they came out of the chute hitting home runs left and right, cooled a little bit, but they still have a lot of power in the lineup."
---