Rookie Luis Rengifo looks like the Angels' future second baseman
A little more than a year has passed since the Angels acquired infield prospect Luis Rengifo, yet to third base coach Mike Gallego it seems longer.
"It's only been a year?" he asked.
The shock evident in the voice of Gallego, a former major league infielder who spent three years prior to 2019 as the Angels' director of baseball development, made one thing apparent: Rengifo, 22, has taken a big enough step defensively since being acquired as the player to be named in the trade of C.J. Cron to the Tampa Bay Rays in March 2018 that not even the man who has helped Rengifo refine his tools could fathom it.
Rengifo has been the Angels' primary second baseman since being recalled from triple-A Salt Lake on May 21 in the wake of shortstop Andrelton Simmons' Grade 3 ankle sprain. In the 205 innings he's played at the position in the last month, he's excelled at in-game decision-making and proven capable of living up to his potential.
The progress hasn't come without bumps.
"There's still common young mental errors that happen in different facets of the game," manager Brad Ausmus said.
But that's to be expected of a rookie, especially one in the midst of learning what it takes to play every day in the big leagues. He's still internalizing the rhythms. In a way, he is still learning on the fly.
The important thing for now is Rengifo shows a knack for picking up the lessons Gallego imparted.
When they began working together last year, Gallego was told by Angels brass that Rengifo, who split time between second and shortstop, would likely find a permanent position at second. Gallego was flummoxed. What he saw of Rengifo at shortstop — the above-average arm, the instincts, the fluidity of his movements — was sufficient to inspire confidence. But part of the Angels' philosophy is for top prospects to become proficient at more than one position. Rengifo would be no exception.
Gallego saw Rengifo in action at second, where he'd played only about 250 more innings than he had at shortstop prior to 2018, and knew he'd flourish. The tools played up on the right side. And there was still so much room for Rengifo to grow.
As he ascended from Class A to triple-A last summer on the strength of his bat, Rengifo played about 80% of his games at shortstop. But the Angels recognized that Rengifo's arrival at the major league level might be blocked at shortstop by Simmons, who is signed through 2020. So they increased Rengifo's playing time on the other side of the diamond.
There was an adjustment period, Gallego said, that carried into this season. Rengifo sat back on groundballs and relied on his arm strength to make plays. He lost some of his natural rhythm as a result.
After Gallego addressed the issue, Rengifo remedied it quickly. The same was true with turning double plays.
"When he was getting there late, he was just kind of cutting across the bag and trying to flip [balls] over there with his arm, which he had a strong arm so he was making up for it," Gallego said. "But now that he's getting there on time, he's using his whole body."
The mechanical tweaks have come so naturally to Rengifo that he has never appeared overmatched on a major league field. He has played at an advanced level. He showcased impressive range in the Freeway Series against the Dodgers when he ran and dived to knock down a ball in the infield to prevent Chris Taylor from driving in a run.
He flaunted his instincts a few days later against Tampa Bay, when he let a soft line drive to shallow right field fall and grabbed the ball on a hop to turn a double play instead of settling for one out.
"When you get the kid thinking like that, you know you're on the right path," Gallego said.
He's also made solid plays in 53 innings at shortstop. Against the Toronto Blue Jays last week, he lunged to one knee to snag a sinking line drive for one out and doubled the runner off at second base.
"I don't put any pressure on myself," Rengifo said in Spanish soon after returning to the Angels in late May. "I just go out there and have fun, try to help the team win. That's the most important thing right now."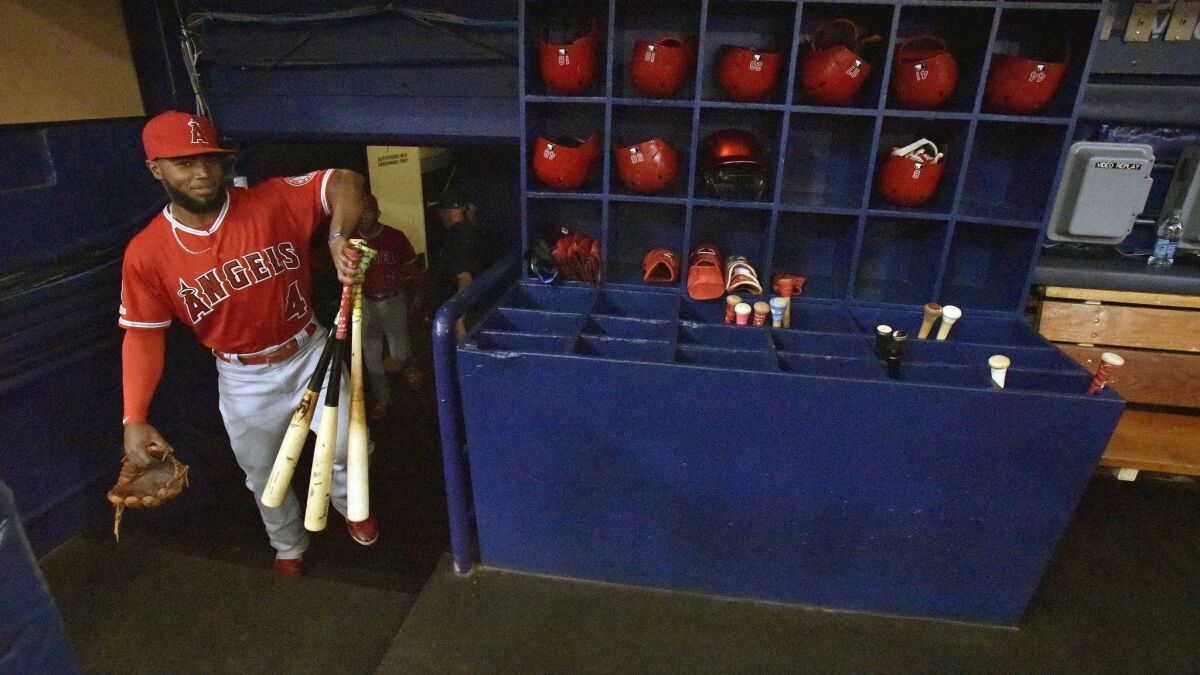 Four-time glove winner Simmons could be back with Angels this week, so Rengifo's major league apprenticeship may soon be cut short. Rengifo is hitting .333 (10 for 30) with three doubles and a home run in his last eight games. Ausmus said before the end of the Angels' 11-game, three-city trip that Rengifo would benefit more from playing every day at the minor league level than from trying to wrest playing time from Tommy La Stella and David Fletcher.
But the Angels' major league coaching staff knows he's ready for an extended opportunity at the top level.
"As an everyday player in the big leagues, this guy can be stellar," Gallego said. "And we got a shortstop like we have in (Simmons) waiting to get back out there. What a combination."
Sign up for our daily sports newsletter »
---
Get the latest on L.A.'s teams in the daily Sports Report newsletter.
You may occasionally receive promotional content from the Los Angeles Times.