Dodgers' loss was Angels' gain when they hired Mike Scioscia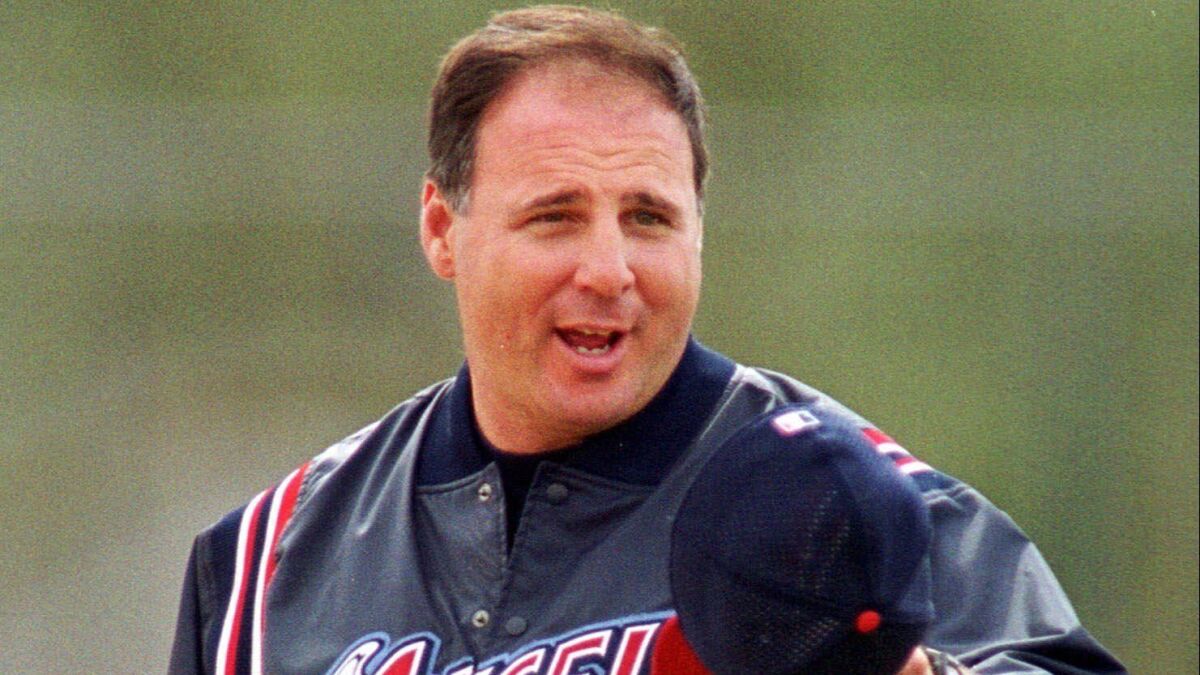 A major league team in Anaheim was imploding, its dysfunction leading to the departures of the manager and general manager. A triple-A skipper in Albuquerque was reeling, the betrayal of his bosses shattering his hopes of remaining with the organization he grew up in.
The turbulence that jarred the Angels in the summer of 1999 was unrelated to the turmoil that shook then-Dodgers minor league manager Mike Scioscia, but the combination sparked a string of events that changed the course of history for one — possibly two —Southern California baseball franchises.
A beleaguered Terry Collins, tired of dousing the clubhouse fires that flared throughout a disappointing and dissension-filled 70-92 season, resigned as Angels manager on Sept. 2, 1999.
Scioscia, the hard-nosed catcher who helped the Dodgers win the 1981 and 1988 World Series and was being groomed as their next manager, quit on Sept. 20 after he felt his authority was undermined by the Dodgers' new front-office regime.
Two weeks later, Angels GM Bill Bavasi resigned under duress because he refused to acquiesce to then-President Tony Tavares' demand to dismantle the core of a team that Tavares thought lacked talent, chemistry and character.
Bill Stoneman, the low-key financial whiz who helped keep the destitute Expos viable in Montreal, was hired as Angels GM on Nov. 1, 1999. Scioscia was named Angels manager on Nov. 18.
Three years later, Scioscia hoisted the World Series trophy over his head in Angel Stadium after a thrilling Game 7 victory over the San Francisco Giants, the highlight of a 19-year Angels managerial career that is coming to a close.
Scioscia, who ranks 18th on baseball's all-time win list with 1,646 victories through Monday, is expected to step down after Sunday's season finale against the Oakland A's. He was 41 when he got the job. He'll be 60 in November.
"It's interesting how life works sometimes," said former right fielder Tim Salmon, who played eight seasons for the Angels before Scioscia's arrival and seven years after. "A couple of negative situations turned out to be an aligning of the stars for us.
"It's almost as if it was meant to be, because when you think about it, it must have taken something pretty powerful or strong or bad to go wrong to pull a guy like Mike Scioscia, who was Dodgers blue through and through and a World Series hero for them, away from that organization, and for him to go across town."
Scioscia began to sour on the Dodgers when he walked to the mound to make a pitching change in the summer of 1999 and a front-office emissary working in the bullpen that night sent a different pitcher into the game.
Scioscia spent 22 years with the Dodgers, including 13 as a big-league player, two as their minor league catching coordinator, two as a major league coach and one as their triple-A manager.
He thought he had a future with the team, but it became clear that night that, under new GM Kevin Malone and the Fox Group that took over the Dodgers from Peter O'Malley in 1998, his opinions didn't carry as much weight.
Scioscia resigned after the Pacific Coast League season, saying he wanted "to pursue options with other major league organizations."
While the Walt Disney Co.'s pursuit of a new Angels GM slowed, Tavares offered the manager job to Don Baylor in late October. The former Colorado manager and Angels slugger was too far along in a process that resulted in him being hired by the Chicago Cubs.
Stoneman was hired on Nov. 1, and Tavares turned the manager search over to his new GM, who compiled a list of seven finalists — Joe Maddon, the interim manager after Collins left, Ken Macha, Bob Boone, Chris Chambliss, Hal McRae, Joel Skinner and Scioscia.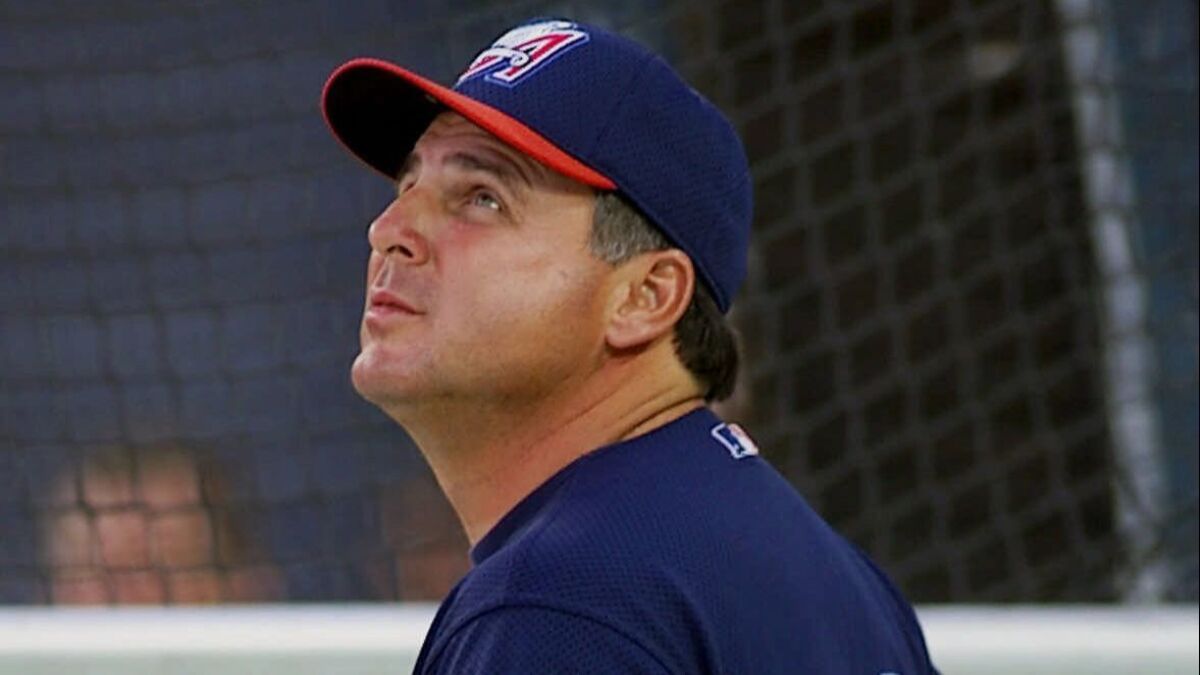 Stoneman interviewed Scioscia during a meeting that lasted several hours during baseball's GM meetings at the Ritz-Carlton in Dana Point on Nov. 9. "He came across as the type of guy I wanted, a guy who would be dedicated," said Stoneman, who spent eight years as the Angels GM and is now a senior advisor. "How he and the Dodgers went about things was pretty similar to how we went about things in Montreal with [manager] Felipe Alou.
"I also remember thinking how intelligent he was and how positive his attitude was. He understood the game well, which I figured, him being a catcher for so long. The people I talked to who knew him spoke highly of him. I walked out thinking this guy could do it, no question."
Scioscia was the only candidate brought back for a second interview a week later.
"I made up my mind," Stoneman said. "He was the guy."
Salmon was skeptical. The notoriously penny-pinching Angels had no plans to increase their projected $60-million payroll for 2000. Ace Chuck Finley was fielding free-agent offers and eventually left. Outfielders Garret Anderson and Jim Edmonds would be free agents after 2000. Trade rumors swirled.
Was Scioscia, who had one season of managing experience, the right guy for the job? Or was he the cheapest option, having signed a three-year, $1-million deal with the Angels?
"I have no idea, no clue, what direction we're heading," Salmon said the day Scioscia was hired. "Are they going to put together a team to try to win or a team that is cost efficient?"
A call to friend and former teammate Shawn Boskie, the former Angels pitcher who spent the 1999 season with Scioscia at Albuquerque, provided little clarity.
"He was kind of raising an eyebrow because Sosh was on the front end of that new wave of managing — he wasn't that old-school, in-your-face, call-it-like-it-is manager," Salmon said. "He was always very positive and upbeat and funny, and he kept things loose.
"And I always remember Shawn saying, 'You know what? I'm not so sure how he's going to do as a major league manager because he's like a big teddy bear.' A big teddy bear? How does that work in the big leagues?"
Just fine, it turns out.
Scioscia lightened the mood that first spring with morning meetings designed to improve team-bonding and morale. The gatherings quickly became legendary.
Whether it was a college math professor administering an exam to pitcher Jered Weaver or a video in which players convinced a 350-pound guy to don Scioscia's No. 14 jersey while chomping on a massive turkey leg at a local renaissance fair, the Tempe Diablo Stadium clubhouse was often roaring with laughter.
"I remember that first spring thinking, gosh, I didn't want spring training to end," Salmon said. "It was so much fun, those morning meetings. There was a heightened sense of morale from what we had the year before.
"Sosh brought a breath of fresh air with his humor. He could communicate with the Latin players. You could see this team coming in a way that was desperately needed after the problems we had in 1999."
On the field, Scioscia implored players to be aggressive on the bases and on defense, to not worry about making mistakes. In the dugout, in the clubhouse, he remained even-keeled, rarely allowing his moods to swing with the emotional highs and lows of the game.
Scioscia has been a rock, an enduring trait that shined in 2009, when he guided the Angels through a season that began with the shocking death of 22-year-old pitcher Nick Adenhart in a car accident and ended two wins shy of the World Series, the Angels losing to the New York Yankees in a six-game American League Championship Series.
Scioscia's National League style of play wasn't a perfect fit for a 2000 team that went 82-80 and featured four sluggers — Troy Glaus, Mo Vaughn, Anderson and Salmon — who hit 34 homers or more. But it was the right match for the personnel of teams that won the 2002 World Series and five division titles from 2004 to 2009.
"He changed the culture and the way you thought about the game and doing things," Salmon said. "You go back to 2000. We needed consistency, continuity, that steady-as-you-go captain of the ship who can right things, who doesn't get too high or too low, who keeps the right perspective.
"He knew how to put guys in situations to be successful. He sized up guys' strengths and weaknesses and put them out there to succeed. I think that's what you saw in Sosh, and I think that's what I've seen all the way to this point."
The past nine years were not as fruitful as Scioscia's first decade. The Angels won one division title, in 2014, and have not won a playoff game since 2009.
But Scioscia, at the end of a 10-year, $50-million deal, did pass his mentor, former Dodgers manager Tommy Lasorda, on the all-time win list this season, and during his tenure in Anaheim, the Dodgers churned through six managers — Davey Johnson, Jim Tracy, Grady Little, Joe Torre, Don Mattingly and Dave Roberts.
Only four men have managed more games than Scioscia with one franchise — Connie Mack, (7,466 games with the Philadelphia A's), John McGraw (4,424 games with the New York Giants), Bobby Cox (3,860 with the Atlanta Braves) and Walter Alston (3,658 with the Brooklyn and L.A. Dodgers).
"I had no idea where this thing was going when we hired Mike," Stoneman said, "but I'm glad it lasted this long."
Twitter: @MikeDiGiovanna
---
Get the latest on L.A.'s teams in the daily Sports Report newsletter.
You may occasionally receive promotional content from the Los Angeles Times.