Angels face devil of a time without Mike Trout in lineup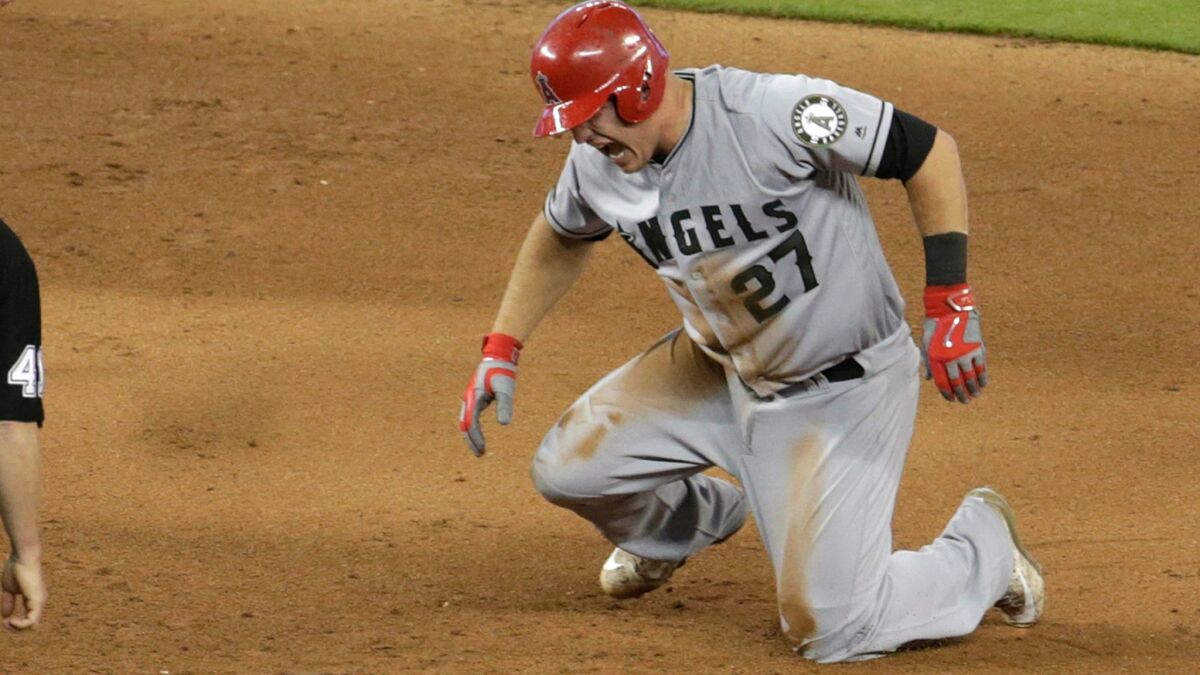 The Angels thrived in the wake of a season-ending knee injury to Garrett Richards in 2014, going 21-7 over the next month without their ace and turning a half-game lead in the American League West on Aug. 20 into a division-clinching 111/2- game bulge by Sept. 18.
So it was natural to use that as a rallying cry this week when star center fielder Mike Trout, considered the best all-around player in baseball, suffered a torn left-thumb ligament that was surgically repaired on Wednesday and will sideline him for six to eight weeks.
"When Garrett went down in 2014, that was a big blow to our pitching staff, but everyone pulled together, and we finished up pretty strong," right fielder Kole Calhoun said. "Not having Mike, things are definitely stacked against us, but we have a lot of guys in here, and if we play together we can still be pretty good."
Not to say that won't happen. The team has hovered around .500 despite losing its top two starting pitchers (Richards and Andrew Heaney) and top three relievers (Cam Bedrosian, Huston Street and Andrew Bailey) to injury.
But the loss of Trout will be much more difficult to overcome than the loss of Richards in 2014.
For starters, Richards pitched once every five days. Trout played every day, impacting games with his bat, speed on the bases and stellar defense.
The Angels had four solid starters in 2014 in Jered Weaver, Matt Shoemaker, C.J. Wilson and Hector Santiago, a deep bullpen headed by Street and Joe Smith, and a potent offense that eased the burden on the pitching staff.
"To have Mike on the disabled list for the first time is kind of the unknown," Calhoun said. "It's definitely tough. He's best player in the game, so guys are gonna have to pick up the slack around here."
Manager Mike Scioscia compared Trout's loss to that of slugger Vladimir Guerrero, who in 2009 missed six weeks from mid-April to late-May because of a torn pectoral muscle, and a month from early July to early August because of a hamstring strain.
The Angels never fell more than 51/2 games back during Guerrero's first absence. They moved into first place in late June and won the division with a 97-64 record.
"We had a very good year with a middle-of-the-order guy out for long stretches," Scioscia said. "Mike's loss is not gonna be made up with production from one person, but collectively, one through nine. If guys swing the bats to their capabilities, we can absorb the loss of Mike for the time he's out."
Guerrero, however, was 34 and near the end of his distinguished career in 2009. He was also surrounded by productive hitters in a lineup that included Kendrys Morales, Bobby Abreu, Torii Hunter, Howie Kendrick, Mike Napoli, Juan Rivera, Erick Aybar and Chone Figgins.
Trout is 25 and in his prime. He has won two AL most valuable player awards and was runner-up three times. He is arguably having his best season, batting .337 with an AL-leading 1.203 on-base-plus-slugging percentage. He ranks second with 16 homers and has 36 RBIs.
And he is surrounded by players who are struggling. Second baseman Danny Espinosa has been a huge disappointment, batting .144 with 56 strikeouts entering Wednesday, and corner infielder Luis Valbuena, expected to be a middle-of-the-order threat, is batting .176 in 26 games of an injury plagued season.
The struggles of Calhoun, who hit .266 with a .763 OPS, 61 homers and 216 RBIs in his first three full major league seasons (2014-2016), have been most surprising. He entered Wednesday with a .205 average, .601 OPS, five homers and 17 RBIs in 52 games.
"There's a cliche about seeing the ball well, a lot of guys throw that around, but I think in Kole's case, there's no doubt that he's a little jumpy, he's just trying too hard," Scioscia said. "He definitely needs to exhale and have things slow down in the batter's box."
The left-handed-hitting Calhoun normally hits left-handers well. He has a career .266 average and .761 OPS against right-handers and a .245 average and .713 OPS against left-handers. Those numbers are out of whack this season — .233 with a .655 OPS against right-handers and .098 with a .391 OPS against lefties.
"He's working very hard on it," Scioscia said. "This guy is such a gamer. He does anything for the team, whether it's diving for a ball in right field, pulling for guys, hitting first, second, sixth in lineup … for him to struggle, there's nobody who feels it more than he does.
"He's too talented to stay down for a long time. He'll find it. Right now, it's a matter of slowing some things down in the batter's box, taking some of the things pitchers are giving him and trying to use the whole field. If he does that, I think he'll start to swing the bat to his capabilities."
Twitter: @MikeDiGiovanna
Get the latest on L.A.'s teams in the daily Sports Report newsletter.
You may occasionally receive promotional content from the Los Angeles Times.