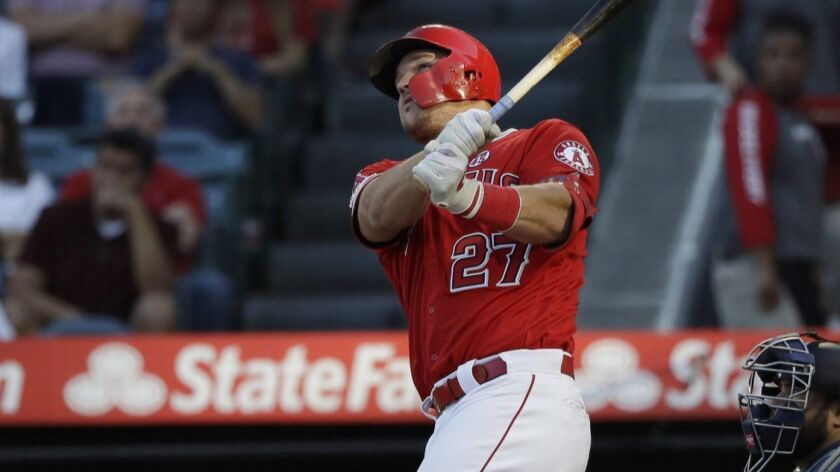 One day after tweaking a muscle in his leg, Angels star Mike Trout was out of the lineup for Monday's series opener against the Houston Astros at Angel Stadium. The Angels, however, remain optimistic that Trout's tight right calf is a minor issue.
An MRI revealed a small strain of Trout's calf. He will be assessed on a day-to-day basis.
Manager Brad Ausmus said Trout checked in during the morning to say he felt "really good."
"We don't think it'll be anything long term," Ausmus said, "but we'll wait for the doctor to look at the pictures."
Trout first noticed discomfort after the first inning of Sunday's 6-3 win over Seattle. His calf ached when he chased balls hit into the outfield for singles. Despite Trout lobbying to remain in the game, the Angels replaced him as a precautionary measure.
"They're just being cautious," Trout said Sunday. "Calves are tough. You want it to be one to two days and not six weeks."
Trout was on a tear with eight home runs and 18 RBIs in his previous seven games.
Short a fourth outfielder and with Brian Goodwin at least one day away from returning from a right wrist contusion, the Angels optioned rookie left-handed starter Jose Suarez to triple-A Salt Lake and recalled Michael Hermosillo, who started in center Monday night, walked and scored. The move leaves a hole in the rotation for Friday's series opener in Seattle that could be filled by either Jaime Barria or Nick Tropeano.
Hermosillo, whose season debut was delayed by his lengthy recovery from offseason hernia surgery, batted .250 with six doubles, three triples and four home runs in 30 games for the Bees. He was called up three times last season but never found his footing, collecting 12 hits in 57 at-bats with four doubles and one home run.
Despite being limited by injury, he spent the last few months working with Angels hitting coaches Jeremy Reed and Shawn Wooten. The adjustments to his swing, he said, lately have come more naturally.
"I went through some different things last year in terms of just feeling out my swing," Hermosillo said. "Probably a little bit more more consistent this year is what I'm trying to do, not a lot of changes. So I feel good. I feel like I'm ready to compete."
Short hops
The Angels acquired catcher Anthony Bemboom, who has spent most of the season recovering from a left knee sprain, from Tampa Bay for cash and placed him on the 40-man roster. ... The Angels are not giving up on developing rookie Matt Thaiss, who made several game-saving plays at third base during the Angels' weekend sweep of the Mariners, as a first baseman. But with two first basemen on the roster, Thaiss' time at the position will be dictated by the availability of Albert Pujols and Justin Bour.
Sign up for our daily sports newsletter »
---