Angels star Mike Trout wins American League MVP award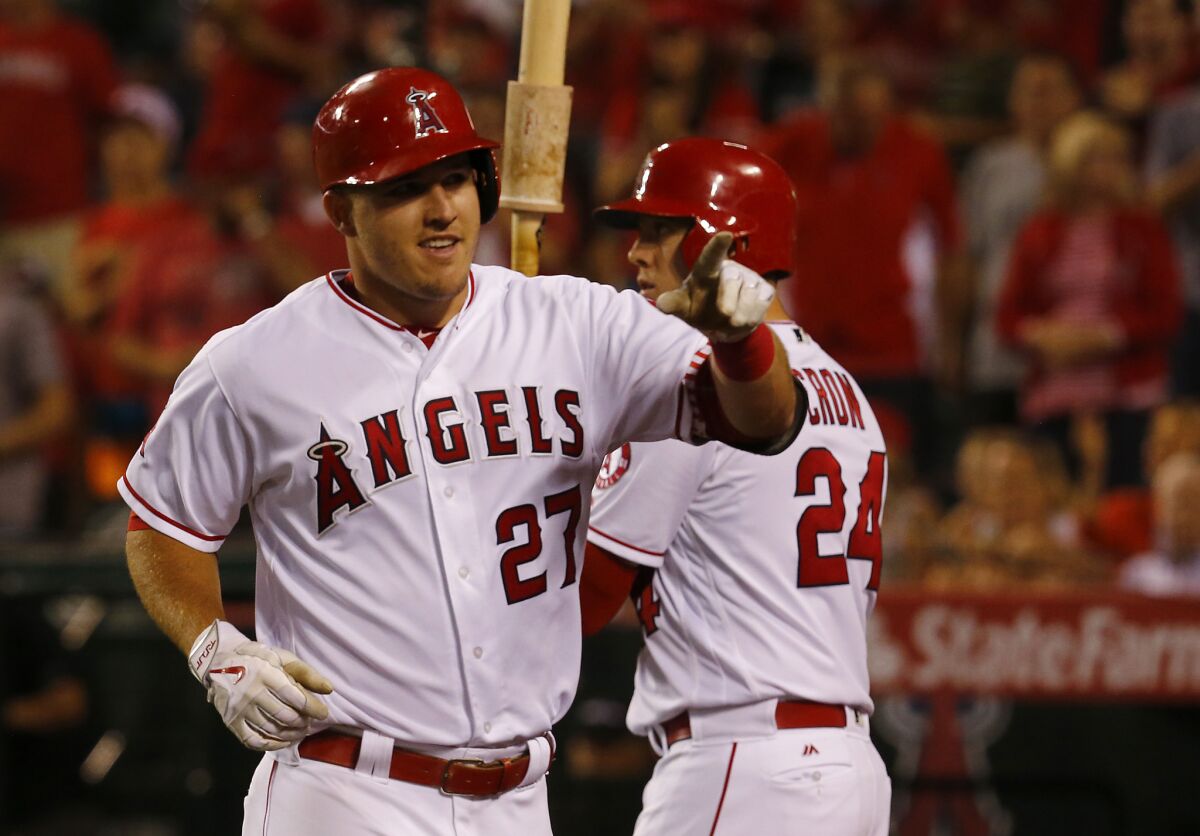 Conflicting convictions swirled around Mike Trout's mind as the Angels center fielder awaited Thursday's most valuable player announcement from his parents' living room in Millville, N.J.
One segment of his brain assured him he would win; he had the best season. Another, more vehement fragment insisted it wasn't going to happen, for the same essential reason he was snubbed in 2012, 2013 and 2015: His team didn't make the playoffs.
It's one of the longest-standing traditions in the sport. The electorate prefers to vote for players who qualify for postseason competition. Not since Alex Rodriguez won for the 71-win 2003 Texas Rangers had a player from a losing team been honored.
But, in the biggest surprise of this year's baseball election season, Trout was selected the most valuable player of the American League, the second such honor of his already illustrious, largely unprecedented five-year career.
"It was one of the best feelings I've ever felt," Trout said. "I was really surprised. This one's, obviously, gotta be the biggest one."
The 25-year-old has finished first or second in the MVP race for five consecutive seasons. He has been named on all 148 MVP ballots submitted over the last five years. Only 11 have ranked him worse than second.
And yet, in the weeks leading up to this year's announcement, Boston right fielder Mookie Betts became the favorite. When his peers voted for the best player across both leagues, Trout finished sixth. Fifth was the Chicago Cubs' Kris Bryant, who won the National League MVP award Thursday.
Trout's statistics were the best in the major leagues in 2016. He hit .315 and reached base in more than 44% of his plate appearances. His overall on-base-plus-slugging percentage of .991 matched his career high, set in 2015. He homered 29 times, drove in 100 runs, stole 30 bases and scored 123 times. Most defensive measurements rated him well, and by advanced metrics such as wins above replacement, he was the most valuable player in his league by a significant margin.
Nineteen of the 30 Baseball Writers Assn. of America voters, two from each of the AL's markets, submitted a ballot beginning with Trout. Eight others listed him second, one third, one fifth and one seventh.
Betts was the runner-up, receiving nine first-place votes. Boston designated hitter David Ortiz and Texas third baseman Adrian Beltre were the others to receive a first-place vote, but Houston second baseman Jose Altuve finished third overall because no one ranked him worse than fifth.
Every season he's played, Trout has carried a legitimate case for MVP election. But three times previously, voters opted for purer power hitters on playoff teams while overlooking Trout's steady defense and baserunning value.
This year, Trout's Angels won only 74 games, 19 fewer than Betts' Red Sox and 10 fewer than Altuve's Astros.
"A lot of people were asking me if it was gonna matter that we had a losing team," Trout said. "With this MVP, I guess it doesn't matter."
Asked on the last day of the regular season how he felt about his chances to win, Trout laughed.
"Obviously, we'll find out in a few months," he said. "I prepared myself coming into the spring to have a good year, and it is what it is. I tell myself to be the best player in the league every year. That's one of my goals."
The Angels released a dossier of statements from team officials commemorating Trout's achievement. Arte Moreno, the franchise owner, said he is impressed and amazed by Trout "on an everyday basis." General Manager Billy Eppler praised his "ferocious work ethic." Manager Mike Scioscia described him as the "consummate team player," and designated hitter Albert Pujols said he considers himself "lucky just to watch him play every single day."
Back home and queried by hometown reporters on a conference call, Trout recalled his life there seven years ago. He knew he could be great, but he could not expect this.
"Just a little bit ago, I was just a little kid in high school," he said. "Now, I had a chance to win my second MVP."
Twitter: @pedromoura
Get the latest on L.A.'s teams in the daily Sports Report newsletter.
You may occasionally receive promotional content from the Los Angeles Times.