Angels blow early lead, surrender six runs in sixth inning to get swept by Athletics
Joe Maddon's big gamble on Wednesday afternoon seemed sensible.
Though the Angels were leading by two going into the sixth inning, starter Griffin Canning was showing signs of vulnerability after allowing runs in each of the previous two frames.
With left-handed Oakland Athletics infielder Matt Olson due up, left-handed reliever Tony Watson was summoned from the bullpen even with Canning at only 69 pitches.
"I really felt at that point in the game, it was the right thing to do based on our bullpen and their lineup," Maddon said, explaining his preference to have a rested relief corps take over instead of letting Canning face the heart of the A's lineup for a third time.
Harkins, fired by the Angels amid MLB crackdown on pitch-doctoring, is looking to appeal after his defamation suit against team and MLB was dismissed.
"Those are the kind of things that you plan out before," Maddon said. "When they go according to plan, they're beautiful. When they don't, it's difficult."
What happened on Wednesday devolved into an all-out disaster.
The A's scored six runs in the sixth inning to blow past the Angels in an eventual 8-4 win at RingCentral Coliseum, overcoming an early four-run deficit to complete a three-game sweep that dropped the Angels to 33-35.
The big sixth began with an infield single by Matt Olson, and got worse after Watson yielded three-straight singles — a flare into center, a ground ball hit through a hole in the shift, and a line drive into left — to right-handed batters that tied the game at 4-4.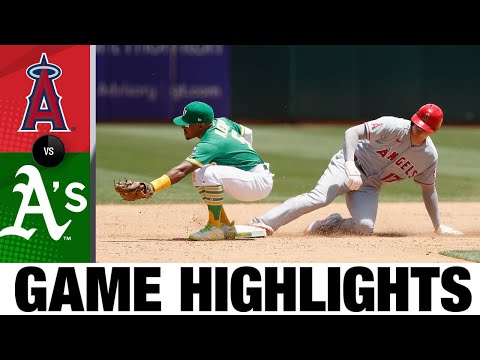 Highlights from the Angels' 8-4 loss to the Oakland Athletics on Wednesday.
After an intentional walk loaded the bases, Tony Kemp lined a belt-high slider into center field to give the A's (43-27) their first lead.
That was Watson's last batter, removed before he could get a single out. After each of the three inherited runners he left behind eventually scored, he was charged with a career-high six earned runs that ballooned his 3.43 ERA entering the day — including scoreless outings in his previous five appearances — to 6.00.
Maddon attributed much of Watson's struggles to a changeup he said "was not doing its normal thing" against right-handers hitters in particular, cutting toward them instead of fading away. "I really like him on right-handed hitters," Maddon said. "It just didn't play today."
Right-hander Steve Cishek and lefty José Suarez couldn't limit the damage, either. Cishek began his outing with a run-scoring wild pitch before another run scored on a groundball fielder's choice. Suarez later gave up an RBI single to Olson that made it 8-4.
By the time the side was finally retired, Oakland's three-game sweep of the Angels — who had entered the series on a six-game winning streak — was all but complete.
"When that doesn't play out, you don't lose confidence in your guys," said Maddon, whose team suffered from big innings by the A's in all three losses. "It happened. You just keep putting them out there in what you perceive to be the right moments, and eventually it will come back to us."
There were other missed opportunities for the Angels.
They scored three runs in the first inning, but would have had more if not for a leaping catch by Mark Canha in right field on a Jared Walsh fly ball.
Shohei Ohtani hit his 19th home run of the season in the second inning, but was left stranded at third base in his next at-bat after reaching on a bunt single and stealing second.
A half-inning before Ramón Laureano put the A's on the board with a solo home run in the bottom of the fourth, he robbed Justin Upton with a leaping catch at the center field wall.
What will happen now that MLB has put out its memo reinforcing rules about foreign substances on baseballs?
"It's tough," Maddon said. "They won all three games, but once again, with a little bit of adversity on our side, we played really well against them."
Just not well enough in enough key moments, falling a season-high nine games behind the A's for first place in the AL West.
Betting lines and odds for Angels vs. Athletics on Wednesday
The Angels look to get back to the .500 mark on Wednesday when they wrap up a three-game series against the AL West-leading Oakland Athletics.
Griffin Canning will get start as he looks to improve upon his 3-8 career road record and a 4.91 ERA across 17 starts.
Canning will face an Athletics lineup that has scored at least four runs in 12 of their last 14 games and are 7-1 in their last eight home games.
The Angels scored four runs off Athletics starter Cole Irvin when they last faced him on May 30. Irvin is 2-5 at home with a 4.30 ERA and 5.9 strikeouts per nine innings.
Just one of Canning's last six starts as a road underdog have gone over the total. The Angels have played nine of their last 10 games over the total and are 14-19 in road games on the run line, the second-worst mark among American League teams.
VSiN, the Sports Betting Network, offers more expert sports betting content in a free daily email at VSiN.com/email.
Shohei Ohtani homers, but it's not enough to deliver victory vs. Athletics
Shohei Ohtani crushed his 18th homer of the season Tuesday night, an eighth-inning blast that left his bat at 116 mph and traveled 429 feet to right field. Jared Walsh added his 15th homer in the ninth, a solo shot that left his bat at 109 mph and traveled 426 feet to center field.
But on a night that ended with a pair of long balls, the Angels still came up short, their 6-4 loss to the Oakland Athletics dropping them eight games behind the first-place A's in the American League West and one game under .500 (33-34).
Frankie Montas, the former Dodgers prospect who was sent to Oakland for pitcher Rich Hill and outfielder Josh Reddick at the 2016 trade deadline, outpitched Angels left-hander Andrew Heaney, and the A's won the first two games of a three-game series, snuffing out the Angels' six-game win streak.
"Of course, it's suboptimal, as they say," Angels manager Joe Maddon said. "But there's nothing to be upset about. We're playing hard. We're doing a lot of good things. We're banged up a little bit, so I have to give my guys a lot of credit."
The Angels have been without three-time AL most valuable player Mike Trout (right-calf strain) since May 18, and third baseman Anthony Rendon sat out Tuesday night's game because of a mild right-triceps strain, an injury that is not believed to be serious.
Their streak of games in which they scored five runs or more ended at nine, two shy of the franchise record of 11 set in 1979, but the Angels were still well positioned for a win before reliever Steve Cishek's meltdown in the sixth.
The score was tied 2-2 when Heaney, on his 98th pitch, gave up a single to Matt Olson to start the sixth. Maddon, wanting switch-hitter Jed Lowrie to bat from the left side, summoned Cishek, the sidearm-throwing right-hander who had a 3.62 ERA in 30 games and had not been charged with a run in 16 of his last 17 appearances.
But Cishek couldn't find the feel of his breaking ball and walked Lowrie on four pitches. Another walk to Sean Murphy loaded the bases with no outs. Pinch-hitter Seth Brown hit a sacrifice fly to center, and Elvis Andrus followed with a two-run double to left-center for a 5-2 lead.
"The command was not there," Maddon said of Cishek. "He's been outstanding. I could not have felt better about him in that moment with that part of the order coming up. We had it planned out before the game. It just didn't work out."
Ohtani's homer off reliever Jesus Luzardo trimmed the deficit to 5-3 in the eighth, but Murphy homered off Aaron Slegers to push Oakland's lead to 6-3 in the bottom of the eighth. Walsh homered off reliever Yusmeiro Petit in the ninth.
Montas, featuring a four-seam fastball that topped out at 99 mph with a nasty split-fingered fastball, gave up two earned runs and five hits in seven innings, striking out eight and walking one to improve to 7-6 with a 4.21 ERA.
What will happen now that MLB has put out its memo reinforcing rules about foreign substances on baseballs?
Heaney, who went 2-0 with a 1.38 ERA and 14 strikeouts in 13 innings in his previous two starts, gave up three earned runs and five hits in five innings, striking out six and walking one to fall to 4-4 with a 4.45 ERA.
The Angels took a 1-0 lead in the third when Juan Lagares walked, took second on David Fletcher's groundout and scored on Justin Upton's bloop RBI single to right-center field.
The A's countered in the bottom of the third, Tony Kemp leading off with a single off Heaney and scoring on Mark Canha's double to right-center and Matt Chapman following with an RBI single to left for a 2-1 Oakland lead.
The Angels strung together three straight hits in the fifth — singles by Kurt Suzuki, Lagares and Fletcher — to tie the score 2-2.
Joe Maddon thinks MLB could have gone further in crackdown on foreign substances
Joe Maddon didn't merely approve of Major League Baseball's controversial decision to crack down on the use of foreign substances to aid pitchers' grip and increase spin rates. The Angels manager would have endorsed even more severe penalties than a 10-day suspension with pay for a first offense.
"I think the loss of money would have been good, and I also think the manager being suspended is not a bad move, either," Maddon said. "I think the more that's attached to it, the less likely it would occur. If you really want to eradicate it, you have to really dig down and do so."
Maddon believes the use of substances such as pine tar, sunscreen and Spider Tack, a sticky substance designed for use by Strongman competitors, gives pitchers an "unfair advantage" and makes "good pitchers even better."
With reduced spin-rates and less movement producing more hittable fastballs and breaking balls, pitchers may have to "step off the gas a bit and maybe revert to pitching a little bit more," Maddon said.
"I do believe you're going to see more contact. Balls will be moved more. Hitters should be able to discern more readily what they're seeing and react to it like they did several years ago."
The result, Maddon said, should be a game with more action, more offense and more entertainment than the all-or-nothing, home-run-or-strikeout approach that many hitters have today.
"I don't want to offend anybody on our team, but as an industry moving forward and trying to create the best version of our game that we possibly can, to make it interesting for us and for young kids who may want to play in the future, I think this is the right thing to do," Maddon said.
"I'm all about this game being resurrected and put back on the pedestal it deserves. It's still the best game, but it's not recognized like that anymore. All these little bumps in the road, these glitches, interfere with that. … I believe this is a method to put us back where we belong, as the national pastime."

Angels left-hander Andrew Heaney looks to stay in fast lane vs. A's
Angels manager Joe Maddon hopes Andrew Heaney stays up to speed when the left-hander opposes Athletics right-hander Frankie Montas in Tuesday night's game in the Oakland Coliseum.
Heaney is 2-0 with a 1.38 ERA and 14 strikeouts in 13 innings of his last two starts, 8-1 wins at San Francisco on June 1 and against Kansas City June 8, and he leaned heavily on his fastball in both games. Of the 198 pitches he threw, 147 were four-seam fastballs ranging from 89-95 mph and averaging 92.4 mph.
"I like when he does that," Maddon said. "I think that's who he is. I think pitchers with great fastballs should use them. I mean, his [velocity] numbers aren't high, but the way it jumps to home plate is different. He hides the ball well. The angle he comes from is difficult to pick up on.
"It's a fastball, but even a couple of mph change in speeds and throwing it in different quadrants can be problematic for hitters."
Anthony Rendon not in lineup but should avoid another trip to IL
Anthony Rendon is not in the lineup for Tuesday night's game against the Oakland Athletics, but it appears the Angels third baseman will avoid a third trip to the injured list after suffering a mild right-triceps strain while diving for Chad Pinder's fifth-inning double down the line Monday night.
Rendon, who departed after six innings, went through some drills on the Oakland Coliseum field Tuesday afternoon, and he is "better than we had thought," manager Joe Maddon said. "We expect him to be out just a couple of days, which is great news. Hopefully in maybe three days, he'll get back out there."
Rendon, in the second year of a seven-year, $245-million contract, is batting .241 with a .679 on-base-plus-slugging percentage, four homers, nine doubles and 30 RBIs in 45 games, and he has gone on the injured list twice, because of a left-groin strain in April and a left-knee bruise in May.
But he was beginning to heat up in June, batting .313 with an .838 OPS, one homer, five doubles and 16 RBIs in 12 games this month after batting .213 with a .617 OPS, three homers, four doubles and 14 RBIs in 33 games in April and May.
ANGELS LINEUP: LF Justin Upton, DH Shohei Ohtani, SS Jose Iglesias, 1B Jared Walsh, RF Taylor Ward, 3B Keon Wong, C Kurt Suzuki, CF Juan Lagares, 2B David Fletcher, LHP Andrew Heaney.
ATHLETICS LINEUP: LF Mark Canha, 3B Matt Chapman, 1B Matt Olson, DH Jed Lowrie, C Sean Murphy, RF Stephen Piscotty, SS Elvis Andrus, 2B Tony Kemp, CF Skye Bolt, RHP Frankie Montas.
Game spins out of control for Dylan Bundy and Angels in loss to Athletics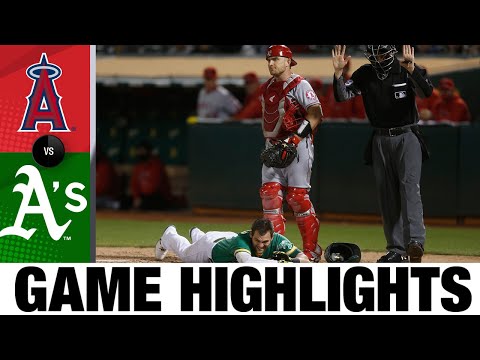 Highlights from the Angels' 8-5 loss to the Oakland Athletics on Monday.
The spin rates on all five of Dylan Bundy's pitches — fastball, changeup, curve, sinker and slider — were down Monday night. So was the velocity of the Angels right-hander's four-seam fastball, from his season average of 91.4 mph to 89.5 mph.
The crooked numbers on the Oakland Coliseum scoreboard and the unsightly numbers in Bundy's pitching line were reflective of Bundy's diminished stuff.
Bundy was rocked for seven earned runs and five hits in 2 1/3 innings, digging an early hole for the Angels in an eventual 8-5 loss to the Oakland Athletics, snapping the Angels' six-game win streak.
"He's OK physically, but it was unusual to see those numbers and to see him hit like that," Angels manager Joe Maddon said of Bundy, who fell to 1-7 with a 6.98 ERA on the season. "The velocity was down, that was obvious. I thought he had a really good curveball, and some changeups were really good, too.
"But I don't think his velocity played up to the point where the other pitches were effective. It seemed like they got on everything, and there was nowhere for him to go."
David Fletcher and Jose Iglesias each had four hits to lead the Angels' 14-hit attack, but their comeback attempts fizzled when Justin Upton struck out with two on to end the seventh and Jared Walsh struck out with two on to end the eighth, both hitters representing the potential tying run.
Third baseman Anthony Rendon departed in the seventh because of a triceps injury that he suffered diving for a hit down the line in the fifth. Rendon remained in the game for the sixth but was removed for a pinch-hitter in the seventh. The severity of the injury was not immediately known after the game.
The Angels took a 1-0 lead in the second when Juan Lagares lined an opposite-field solo homer to right off Sean Manaea, snapping the A's left-hander's 16-inning scoreless streak.
But Mitch Moreland singled, career hit No. 1,000 for the designated hitter, and Sean Murphy crushed a two-run homer to center in the bottom of the second, and the American League West-leading A's sent 11 men to the plate in a five-run, five-hit third.
Mark Canha sparked the rally by getting hit by a pitch for the major league-leading 13th time. Tony Kemp smacked an RBI double to right and took third on Taylor Ward's fielding error, and Matt Olson lined a sacrifice fly to right for a 4-1 lead.
Jed Lowrie walked and took third on Matt Chapman's double to left. Moreland, with the infield in, grounded a two-run single to right for a 6-1 lead.
Angels manager Joe Maddon pulled Bundy in favor of right-hander James Hoyt, who yielded a single to left by Murphy and an RBI single to right by Elvis Andrus that gave Oakland a 7-1 lead and dropping Bundy to 1-7 with a 6.98 ERA on the season.
Bundy, who went 6-3 with a 3.29 ERA in 11 starts in 2020, had snapped his 10-start winless streak to start the season by giving up two runs in 5 2/3 innings of last week's victory over Kansas City, which started the team's six-game win streak. But he regressed Monday night.
"The body is healthy. I'm feeling fine," Bundy said. "I noticed [the velocity] was down a little bit there. I wasn't too worried about it. I just didn't have the same carry on the fastball tonight."
What was the difference between his last start and Monday night's game?
"I was throwing a lot more pitches down the middle tonight, then a lot of pitches off the plate that weren't competitive," Bundy said. "So a mix between walks and throwing the ball right down the middle leads to a lot of runs on the board."
A drop in Bundy's spin rate is impossible to see with the naked eye, but "the hitters were telling us that," Maddon said. "In my scout's eye, the ball out of the hand didn't have the same jump or carry. That's what I was seeing.
Harkins, fired by the Angels amid MLB crackdown on pitch-doctoring, is looking to appeal after his defamation suit against team and MLB was dismissed.
"Earlier this season, I referred to Dylan as an ace often, because that's what I've seen in him. I don't know the answer. I just think things are off. The ball's not coming out as crisply as it has in the past. He has not mentioned being hurt. It's just a different Dylan out there, it's just not as sharp or quick."
The Angels rallied for four runs in the seventh on Walsh's two-run double to right and Lagares' RBI infield single off Burch Smith and Fletcher's RBI single off Sergio Romo, trimming the deficit to 8-5. But Romo struck out Upton with a 75-mph slider with two on to end the inning.
The game took an ugly turn in the bottom of the seventh when Angels reliever Junior Guerra hit Murphy and Pinder with split-fingered fastballs, the right-hander's 82-mph pitch catching Pinder in the back of the head when Pinder's helmet flew off as he ducked to avoid the pitch. Pinder was pulled from the game but was able to walk off the field.
A's left-hander Jake Diekman struck out Walsh with a nasty 85-mph slider with two on to end the eighth, and right-hander Lou Trivino retired in the side in order in the ninth for his 11th save.
Everything you couldn't do in 2020, you can (for the most part) do again June 15. Here's your guide to all things Southern California sports.
"We had chances, we kept fighting back, we had a bunch of hits and had people on base at the right time," Maddon said. "We just couldn't get the big hit, but I couldn't be more pleased with the overall approach and how we went about our business.
"You're not gonna win them all, but we got their setup man and closer in that game. We've talked about this before, how every day is interconnected, so we'll see if that plays out in our favor, hopefully."
Joe Maddon has mixed feelings about Shohei Ohtani and HR derby
Joe Maddon is not opposed to Shohei Ohtani participating in the home run derby as part of the All-Star game festivities, but the Angels manager has no plans to encourage the two-way star to take part in the July 12 slugfest in Denver's Coors Field.
"I'm not as against that as others — I just don't like it when it becomes never-ending," Maddon said, alluding to the volume of high-intensity swings that are required to win the derby. "There has to be a more finite method of doing this.
"It can be exhausting. But again, that's something I would want to ask him about. I don't think this is something you want to force him to do or not to do. We would have to have a conversation."
Ohtani, who entered Monday night's game against Oakland with a .269 average, .961 OPS, 17 homers and 45 RBIs, is the leading vote-getter among American League designated hitters, and he has said in the past that he would like to participate in the home run derby.
The right-hander is also 2-1 with a 2.85 ERA in nine starts on the mound, striking out 68 and walking 28 in 47 1/3 innings, putting him in line to be the rare player who both hits and pitches in an All-Star game.
"If he is able to do that I would have no objections to it," Maddon said. "It's just an inning. It would just depend on how he feels. The fact that he's such an unusual participant, I would definitely want to know how he feels about it."
Mike Trout's status for All Star Game is 'definitely up in the air'
A medical examination of Mike Trout on Monday showed that his right-calf strain is healing at a normal pace, but manager Joe Maddon said it will "probably be at least another month" before the star center fielder returns to the lineup.
Trout, a three-time American League most valuable player, suffered the injury on May 17, and the initial prognosis pegged his recovery time at six to eight weeks.
"If it's quicker than that, great, but I wouldn't anticipate that," Maddon said before Monday night's game against the Oakland Athletics. "Everything is pointing in the right direction. He should be able to jog a little bit soon, but the baseball activities are still a little far away."
Trout was the leading vote-getter among American League outfielders in Monday's first balloting update for the July 13 All-Star game in Colorado. Though he is expected to return right around the All-Star break, Trout's status for the game "would definitely be up in the air," Maddon said.
"You really want to make sure this injury heals properly. You don't want it to reoccur. Pushing him to play in the All-Star game would not be wise."
MLB crackdown on foreign substances could revive Bubba Harkins' case, his attorney says
The attorney for a former Angels employee who was fired for providing a blend of sticky substances to pitchers to aid their grip of the baseball believes the sport's renewed emphasis and impending crackdown on the use of foreign substances could boost his client's case against the team and Major League Baseball.
"Only a jury would know for sure, but it certainly makes clear what the history is, that the use of pine tar and related substances is now pretty openly discussed," Daniel L. Rasmussen, the attorney representing Brian "Bubba" Harkins, said Monday. "That's the new wrinkle that I think will help us."
Harkins, 55, spent nearly four decades with the Angels and was the visiting clubhouse manager when he was fired on March 3, 2020.
He filed a defamation suit against the team and MLB last Aug. 28, claiming he was made a "public scapegoat" in baseball's efforts to enforce a long-ignored policy forbidding the use of illegal substances by pitchers.
Max Stassi to bat third for Angels against tough A's lefty Sean Manaea
Freshly crowned American League player of the week Max Stassi will bat third for the Angels in Monday night's game against the AL West-leading Oakland Athletics in the Oakland Coliseum.
Stassi hit .455 (10 for 22) with three doubles, three home runs, eight RBIs, nine runs, a 1.478 on-base-plus-slugging percentage and a major league-leading 22 total bases last week. He has also recorded an extra-base hit in six consecutive starts, a franchise record for catchers.
Left fielder Justin Upton will make his 18th start in the leadoff spot. Since making his first career start at the top of the order on May 23, Upton is batting .333 (21 for 63) with five homers, five doubles and 12 RBIs.
The Angels (33-32) have won a season-high six straight with three-game sweeps of Kansas City at home and Arizona on the road, their longest streak since April 5-10, 2019, and 11 of 14 games to move above .500 for the first time since May 1, when they were 13-12.
They will face a tough opponent in A's left-hander Sean Manaea, who is 5-2 with a 3.09 ERA on the season and has not allowed a run in 15 innings of his last two starts, wins over Seattle and Arizona. Manaea has allowed one run or less in each of his last four starts.
ANGELS LINEUP: LF Justin Upton, DH Shohei Ohtani, C Max Stassi, 3B Anthony Rendon, SS Jose Iglesias, 1B Jared Walsh, RF Taylor Ward, CF Juan Lagares, 2B David Fletcher, RHP Dylan Bundy.
ATHLETICS LINEUP: CF Mark Canha, LF Tony Kemp, 1B Matt Olson, 2B Jed Lowrie, 3B Matt Chapman, DH Mitch Moreland, C Sean Murphy, RF Seth Brown, SS Elvis Andrus, LHP Sean Manaea.

Will the L.A. Angels have to wear an Anaheim cap on the Fourth of July?
Even during their eight-year run as the Anaheim Angels, the team's caps did not include any reference to Anaheim. Now, almost two decades into their run as the Los Angeles Angels, Major League Baseball's cap supplier has slapped "ANA" on the side of one of their hats.
New Era did not confer with the team about the "ANA" cap, Angels President John Carpino said, and the team is considering its options.
On Monday, the league unveiled what it hyped as the "official on-field cap of Independence Day." Every team will wear a special cap on that day, either red or blue. The San Diego Padres and Oakland Athletics, for instance, will wear red caps.
Mike Trout, Shohei Ohtani among All-Star Game ballot leaders
Mike Trout is the leading vote-getter among American League outfielders, and Shohei Ohtani is the top vote-getter among designated hitters in the first balloting update for the July 13 All-Star Game, which was released on Monday.
Trout was batting .333 with a 1.090 on-base-plus-slugging percentage, eight homers and 18 RBIs when he suffered a right-calf strain on May 18. The injury is expected to sideline the three-time AL most valuable player for six to eight weeks, his projected return falling somewhere around the all-star break.
Trout has accumulated 706,503 votes, placing him well ahead of the New York Yankees' Aaron Judge (538,448) and Minnesota's Byron Buxton (383,178) among AL outfielders. Toronto first baseman Vladimir Guerrero Jr. (857,956) is the only AL player with more votes than Trout.
Trout is vying to become the eighth player in AL history to earn eight fan elections with one club, joining Cal Ripken Jr. (Baltimore, 17), George Brett (Kansas City, 11), Ken Griffey Jr. (Seattle, 10), Rod Carew (Minnesota, nine), Derek Jeter (New York Yankees, nine), Ichiro Suzuki (Seattle, nine), Ivan Rodriguez (Texas, nine) and David Ortiz (Boston, eight).
Ohtani, who entered Monday night's game against Oakland with a .269 average, .961 OPS, 17 homers and 45 RBIs, has 526,608 votes, putting the two-way star well ahead of Boston's J.D. Martinez (293,757) and Houston's Yordan Alvarez (143,091) among AL DHs.
Jared Walsh (fourth among first basemen), Anthony Rendon (fifth among third basemen) and Kurt Suzuki (fifth among catchers) were the only other Angels who ranked among the top five vote-getters at their position.
Betting lines and odds for Angels vs. Athletics on Monday
The Angels bring a six-game winning streak into a three-game series with the AL West-leading Oakland Athletics that starts at 6:40 p.m. PDT Monday at Oakland Coliseum.
The A's are 40-27 on the season and come in with a three-game winning streak of their own, but the Angels' streak has then over .500 at 33-32 and within six games of the A's and just four games out of the AL wild-card chase.
Sean Maneaa (5-2, 3.09 ERA, 1.19 WHIP) gets the start for Oakland, which is a -145 favorite in the series opener with Dylan Bundy (1-6, 6.16 ERA, 1.30 WHIP) starting for the Angels. It looks like a pitching mismatch, but the encouraging news for L.A. backers is the Angels' win streak started with Bundy picking up his first win of the season last time out when he held the Royals to just two runs in 5 2/3 innings.
The Angels' bats have also come alive as they're averaging 7.7 runs during their streak and 4.85 runs per game on the season (ninth in MLB) even with Mike Trout still sidelined since May 17 with a calf injury. The A's average 4.42 runs.
The Over might be the play if the Angels can get to Maneaa as it seems a little low at 8.5 at most Las Vegas sportsbooks, though some are even lower at 8 runs with a little added juice (-115 instead of the standard -110).
The A's lead the season series 4-3 after taking 2-of-3 in Anaheim on May 21-23 and then splitting a four-game series in Oakland on May 27-30. These two starters met in the May 23 game as Bundy allowed four earned runs in just 2 1/ 3 innings while Manae was much more effective, allowing just one earned run in 5 innings. However, both took a no-decision as the Angels rallied to win 6-5.
The A's are -150 series favorites to win at least two of the three games.