Angels start fast then crash, striking out 16 times in loss to Mets
It was hard to tell where Saturday night's game ended and Sunday afternoon's game began for the Angels, so blurred was the division between the two.
The momentum the Angels generated with their 11-run, 15-hit shellacking of the New York Mets on Saturday flowed right into Sunday, the Angels racking up four hits and scoring once in the first inning of the series finale.
But then, to steal a phrase former manager Joe Maddon used last weekend in Philadelphia, before he was fired amid a 14-game losing streak on Tuesday, it was as if the Angels "turned the spigot off."
The Angels showed they're capable of being among the best teams in baseball, but will they turn around their season before it's too late?
The shadows of a 4 p.m. start and the nasty split-fingered fastball of Mets right-hander Taijuan Walker took over, the Angels managing two singles and striking out 16 times in the final eight innings of a 4-1 loss before 36,598 in Angel Stadium.
"We came out swinging the bats great — you get four hits in one inning, you think you might get more than one point," interim manager Phil Nevin said.
"But as you guys know, as a 4 o'clock game goes on, it's extremely difficult to see as a hitter."
Brandon Marsh opened the first with a double to right field and scored on Mike Trout's single to left. Anthony Rendon grounded into a double play. Jared Walsh, fresh off hitting for the cycle the night before, lined a single to left, and Matt Duffy singled to right before Juan Lagares flied to center to end the inning.
But the Angels advanced only two runners to second base the rest of the game. Walker used his splitter to end eight of his 10 strikeouts. Seth Lugo got four outs in the seventh and eighth, and closer Edwin Díaz struck out five of six Angels for a five-out save, his blistering fastball topping out at 101.6 mph.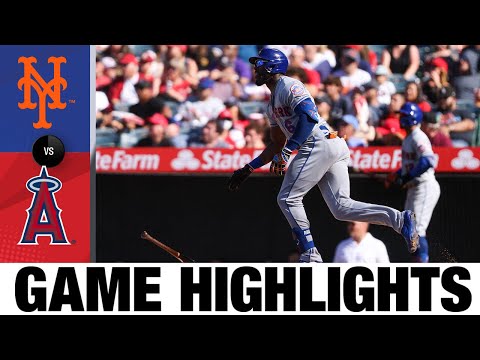 "I'm not trying to make any excuses, but 4 o'clock games, it's tough to see," Trout said. "It's a grind. You feel so good up there, and it's just tough seeing."
On defense too. With Trout, the usual center fielder, at designated hitter, Nevin started utility man Tyler Wade, an infielder who made only one of his 14 outfield starts in center field for the Yankees from 2017 to 2021, in center.
Corner outfielders Lagares and Marsh are accomplished center fielders, but Nevin "loved the way Tyler played center in New York," he said, "and you don't want to move guys all over the place, especially dynamic defenders like Marshy and Juan."
That decision backfired in the third inning, though. Brandon Nimmo singled to center, and Starling Marte drove a ball to center that Wade misjudged, coming in before the ball sailed way over his head for an RBI double and a 1-1 tie.
Phil Nevin was once known for his hot temper. The interim Angels manager has harnessed the passion and now hopes to lead the team to success.
"The ball right at you is the toughest," said Wade, who made a nice leaping catch at the warning track for the first out of the game. "The combination of the shadows and not being able to see the ball off the bat made it tougher."
J.D. Davis hammered a first-pitch fastball from Angels left-hander Patrick Sandoval for a solo homer to left to give the Mets a 2-1 lead in the fourth.
It was the first homer that Sandoval, who gave up two runs and eight hits in six innings, striking out eight and walking two, has given up this season.
Pete Alonso drove in New York's final two runs with a single in the seventh and his 18th homer, a solo shot off Angels closer Raisel Iglesias, in the ninth.
Angels two-way star Shohei Ohtani was not in the lineup for only the fourth time in 62 games, but Nevin said it had nothing to do with the two-way star's hard slide into the plate in the third inning Saturday night.
"He's perfectly fine," Nevin said. "This is more of a mutual thing, and he needs it. He came to me at the end of [Saturday's] game and suggested it.
"I know he seems like Superman all the time, but I think Superman took a day off once in a while."
Ohtani is batting .355 (11 for 31) with two homers and five RBIs in his last eight games, but Nevin believed it was more important to sit Ohtani for Sunday's nationally televised game and pair it with Monday's off day for two days of rest.
"Everybody takes days off," Nevin said. "This just happens to be a Sunday, and it's on ESPN, and I know a lot of people are upset about that. But the better Shohei is toward on the end of the season, we're gonna be playing a lot more prime-time games, and a lot of them in October, so they'll get to watch him play."
Jared Walsh hits a cycle-clinching triple in the eighth inning to cap a big night at the plate for the Angels in an 11-6 win over the New York Mets.
Get the latest on L.A.'s teams in the daily Sports Report newsletter.
You may occasionally receive promotional content from the Los Angeles Times.