Jared Walsh becomes eighth Angels player to hit for the cycle in win over Mets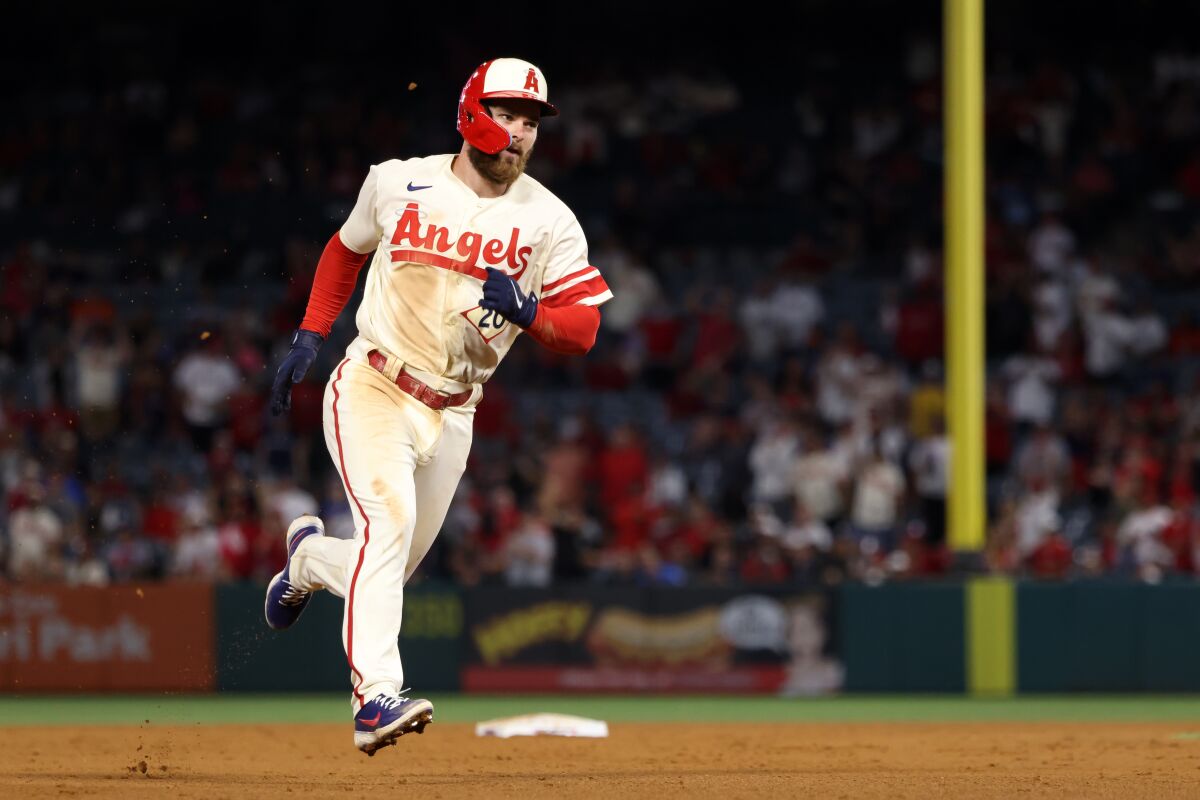 Jared Walsh saw Khalil Lee break back on his eighth-inning line drive at first, but only when the New York Mets center fielder raced in and fell short with his diving attempt did the Angels slugger realize history was within his grasp.
Walsh struck out in the first inning of an eventual 11-6 victory over the New York Mets in Angel Stadium on Saturday night. He singled in the third, doubled in the fifth and smacked a solo homer to right in the seventh. A triple would produce only the 293rd cycle in the major leagues since 1901.
"I saw some white go underneath his glove, and I was like, 'All right legs, let's see what we got left here and try to get to third,' " Walsh said. "Thankfully, I did."
Walsh's hit got past Lee and rolled all the way to the wall. The first baseman cruised into third with a stand-up triple, completing the ninth cycle in franchise history and the first since Shohei Ohtani's against Tampa Bay on June 13, 2019. Jim Fregosi is the only Angels player to achieve the feat twice (1964, '68).
"As soon as the ball was hit and I saw Lee going after it, it was it was in my mind," Angels interim manager Phil Nevin said. "I think sometimes you don't even know those things are about to happen, but I yelled 'Cycle!' right when he dove. What a special night for Jared. A cycle is more rare than a no-hitter."
The left-handed-hitting Walsh does not have elite speed. The triple was only his fifth in five big-league seasons, so it's not as if he has many opportunities to hit for the cycle.
Asked if he had ever hit for a cycle on any level, Walsh said, "Never … not even in a video game."
No one would have predicted a cycle for Walsh on Saturday night, but Nevin had a feeling Walsh would soon break out of a two-week funk.
"People want to say he's been struggling, but he's been taking a lot of good at-bats," Nevin said. "This is the honest truth, Jeremy [Reed, hitting coach] told me two days ago that in one or two more days, Jared is gonna go off for a while."
Walsh had not hit a home run since May 27. In 12 games through Friday night, Walsh hit .255 (12 for 52) with a .605 on-base-plus-slugging percentage, three doubles, four RBIs, 18 strikeouts and one walk.
"I've been feeling a little bit better, doing some early work on the field, and I felt like my swing was kind of coming together a little bit," Walsh said. "So just trying to be patient with myself.
"There's a ton of really good pitchers in the league, so you know it's not always going to be there, but I think pretty highly of myself as a hitter, so I know if I grind it out, eventually good things are gonna happen."
For his team, too. The Angels had a franchise-record 14-game losing streak that cost manager Joe Maddon his job before beating the Boston Red Sox on Thursday night. Saturday's win was only their fifth in 24 games since May 16.
Phil Nevin was once known for his hot temper. The interim Angels manager has harnessed the passion and now hopes to lead the team to success.
But the Angels banged out 15 hits against the Mets on Saturday night. Mike Trout returned from a three-game absence because of left-groin tightness and hit two home runs and a double and drove in three runs.
Ohtani had an RBI double, a single and a two-run homer. Andrew Velazquez hit a homer. Anthony Rendon, who returned from a wrist injury Friday night, had an RBI double.
Could a blowout win like Saturday night, which also featured a stout 6 1/3-inning, one-run, six-hit start from Michael Lorenzen, help flush the frustration of the past three weeks?
"Absolutely," Walsh said. "We know we've had a rough stretch, but I think we are getting our mojo back a little bit, and when we're clicking on all cylinders, I think we're one of the best teams in the league."
Get the latest on L.A.'s teams in the daily Sports Report newsletter.
You may occasionally receive promotional content from the Los Angeles Times.