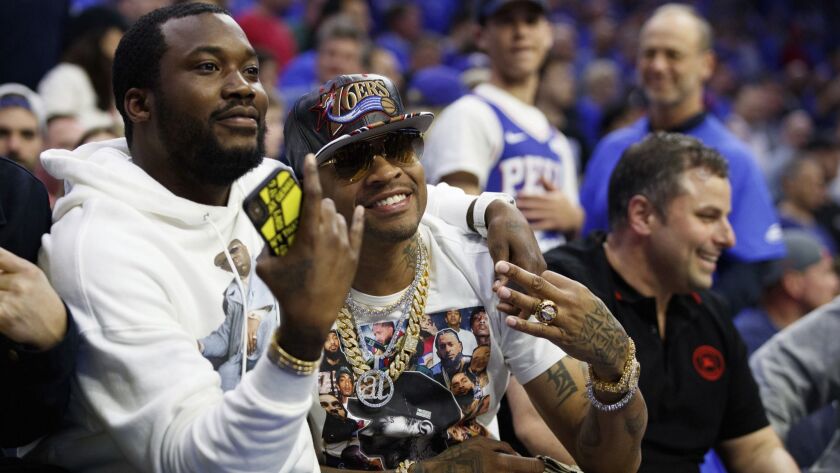 Three-belt heavyweight boxing champion Anthony Joshua has struck another impressive superstar alliance for the second version of DAZN's docu-series "40 Days," joining recording artist Meek Mill and Jay-Z's Roc Nation in advance of the fighter's June 1 U.S. debut.
"They tell the story of what makes a true champion. I love being part of a project that tells of their grit, sacrifices and dedication outside the gym," Meek Mill said in an official statement distributed by the new streaming service Friday morning. "It's those things that show true character and should be lauded just as much as the knockouts in the ring."
England's former Olympic gold medalist Joshua, preparing to fight replacement challenger Andy Ruiz Jr., of Imperial, Calif., at Madison Square Garden on DAZN, knows how to compile knockouts, with 21 of them enhancing his 22-0 record while wearing the World Boxing Assn., World Boxing Organization and International Boxing Federation belts.
Joshua has set up his training camp in Miami. Meek Mill's interaction with the fighter is expected to be shown in the irst of four "40 Days" episodes.
Following the debut, two-part "40 Days" that was executive produced by LeBron James and Maverick Carter's "Uninterrupted" before Saturday's three-belt middleweight unification victory by Mexico's Canelo Alvarez over Brooklyn's Daniel Jacobs, Meek Mill will flex his massive social-media appeal to assist the fuller introduction of Joshua to America.
Executive Producer Meek Mill, with 16.4 million Instagram followers and more than seven million on Twitter, will create four six-to-10 minute episodes with Roc Nation for Joshua-Ruiz that will debut on Meek Mill's YouTube channel beginning May 21 in addition to DAZN, with the remaining episodes arriving May 23, May 28 and May 30.
NBC Sports Network and a collection of regional sports networks will air a special final edition before the bout.
After debuting last year, DAZN's awareness level in the U.S. peaked when James announced his involvement with Alvarez's "40 Days," DAZN officials said, and Alvarez-Jacobs "amazed" company brass by generating 1.2 million viewers worldwide, with a peak U.S. audience of 600,000 subscribers, according to industry sources.
DAZN officials are aiming to surpass 1 million U.S. subscribers by the conclusion of its June 8 fight at Madison Square Garden between former long-reigning middleweight champion Gennady Golovkin and Canada's Steve Rolls, which will also be preceded by "40 Days."
"We empower storytellers – whether from music, film or sports – to detail a boxer's journey through their own creative lens," said Jamie Horowitz, DAZN's executive vice president of content in North America. "That is the ethos that links each '40 Days' story."
Meek Mill, raised in Philadelphia, and Jay-Z, who formerly ran a fight promotion company that counted four-division champion Miguel Cotto, former two-division champion Andre Ward and two-time Olympic gold medalist Guillermo Rigondeaux in its stable, emerged to lead "40 Days" because of their fervent interest in the sport and Joshua's desire to work alongside them.
Beyond his music that includes his current album "Championships" that debuted atop the Billboard chart in November and included a top-10 hit in "Going Bad," with former rival Drake, Meek Mill, 32, has won the support of A-list sports owners and celebrities as he lobbies against the toll of probation and parole that still leaves him subject to incarceration following a gun possession arrest as an 18-year-old.
The genuine interest in striking a sincere connection with America's urban audience could prove powerful for Joshua, a proven mainstream draw in the U.K. who ended Wladimir Klitschko's long title reign with an 11th-round knockout in front of 90,000 fans in 2017 at Wembley Stadium.
"With Joshua and Ruiz Jr., fans will get exclusive access to the preparation of the best heavyweight in the world looking to make a massive impact in America, and the dangerous Mexican that can shock the world and become a national hero," Joshua promoter Eddie Hearn said.
Sign up for our boxing and MMA newsletter »
Twitter: @latimespugmire
---