'Rampage' Jackson remains fighting for what he feels he's due in Bellator bout with Chael Sonnen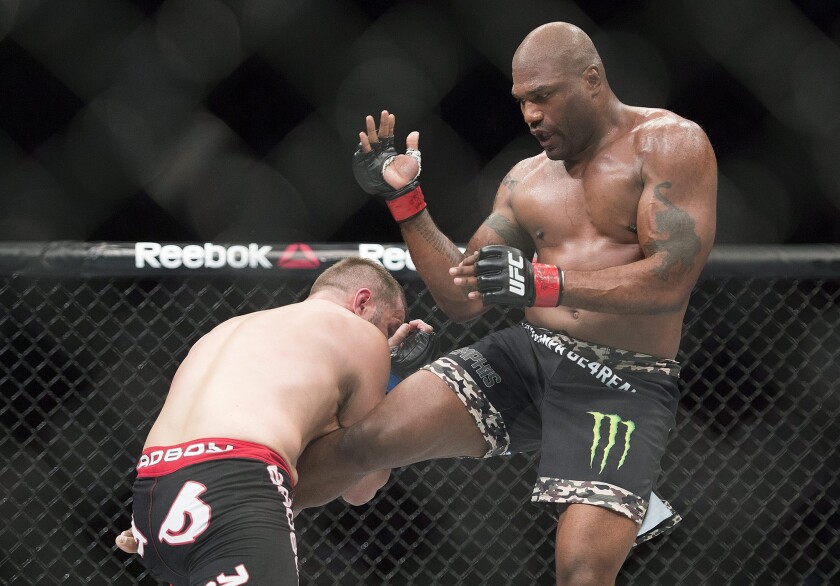 Quinton "Rampage" Jackson is in another financial dispute as he prepares for Saturday's opening fight in the Bellator MMA heavyweight tournament.
Facing the lighter Chael Sonnen, a skilled wrestler and former title challenger in the UFC, Jackson shook hands on a wager for Sonnen to collect $10,000 for any takedown he can score on Jackson in the main-event bout at the Forum.
"I've shaken hands on my part — what's your part?" Jackson wondered this week. "I threw the bet out there. What's in it for me? He should give me [$5,000] for every takedown I defend."
Jackson still is trying to negotiate fair deals and fighting financial battles, a position he too often has found himself in while navigating 18 years in the meat-grinder world of professional cage fighting.
Jackson, now 39, rose to the rank of UFC light-heavyweight champion by knocking out legendary Chuck Liddell. The reward was more than a belt. His success in the UFC landed Jackson a co-starring role for the 2010 "A-Team" movie and a string of high-profile fights and good purses that coincided with the sport's rise to mainstream popularity.
But Jackson lost his belt to Forrest Griffin in 2008, was arrested in a high-speed car chase through Newport Beach and was submitted by light-heavyweight champion Jon Jones in 2011 to start a three-loss skid that led to his 2013 exit from the UFC.
"When the smoke clears and the money and opportunities lessen, so do the people around you who you think might have your best interests in mind," Jackson said. "When the going gets tough, the leeches are nowhere to be found, but the real people — the real friends — are with you through thick and thin.
"After all these years, I've finally learned who's who."
Jackson has split with two prior managers, Juanito Ibarra and Howard Denis Joseph Gwynn, amid allegations of financial mishandling.
In 2016, Jackson was ordered to pay more than $100,000 to his attorneys, who struck a settlement with Ibarra after Jackson's friend and former UFC champion Tito Ortiz claimed Ibarra was connected to the disappearance of $30,000 of Jackson's money.
Jackson also sued Gwynn, claiming the manager recorded the title of Jackson's $1.1 million Irvine home under a Gwynn business name and attempted to sell it from under him.
"I didn't have the right people around me. I had a bunch of crooks around me, ripping me off, so what could I do?" Jackson said.
The business of MMA also has compromised Jackson.
After he became the first UFC fighter to land a Reebok sponsorship, he claims he was told he had to cover the company's patch on his shorts during fights. A few years later, Reebok struck a multimillion-dollar deal to serve as the UFC's official outfitter, costing many fighters more lucrative private sponsorship deals.
"I'm the one who brought Reebok over there … now they do a whole deal with Reebok," Jackson told SB Nation last year. "I didn't get no thank you, no bonus or anything like that."
In 2014, he disputed his cut of pay-per-view profits with Bellator following a victory over Muhammed "King Mo" Lawal, returning to the UFC for one fight before a settlement returned him to Bellator in 2016.
Still a power puncher, Jackson (37-12) moves noticeably slower than he did during his peak after battling an underactive thyroid condition that he blames for losing a rematch to Lawal in his last fight back in March. He returns for the first in a series of heavyweight tournament fights that will later this year include Fedor Emelianenko, Frank Mir, Ryan Bader, Matt Mitrione and Lawal.
Not surprisingly, Jackson has a beef with the process.
"I didn't know anything about the tournament until moments after I signed the contract. It's all my manager's fault," he said in apparent jest toward his handler, Khalil "Tiki" Ghosn, a former fighter and sparring partner. "I don't like being left in the dark on a few things."
Jackson later credited Ghosn and Bellator President Scott Coker for "putting me in a great position to earn back what I have had wrongfully taken from me."
With the thyroid condition controlled and Jackson crediting the elimination of ketchup from his diet for a healthier turn, he said his remaining regret is the assignment of Sonnen because of his disdain for wrestling in MMA fights.
Jackson said he started fighting because of the entertainment value in WWE, not the type of mat maneuvering in amateur wrestling Sonnen, now 40, mastered in college.
"If I'm the promoter and I've got a fighter named 'Rampage' who likes to slam people and knock them out, the last thing I would do is put him in a fight with someone who's good at holding people down. Why?" he asked. "'Rampage' is up in years and ready to retire, so I'd get my money's worth from him."
BELLATOR 192
Main Event: Quinton "Rampage" Jackson (37-12) vs. Chael Sonnen (29-15-1), opening fight of Bellator's heavyweight tournament
When: Television portion of card begins at 6 p.m. Pacific on Saturday; preliminaries at 3:30 p.m.
Where: The Forum
Television: Paramount Network (formerly Spike TV)
Tickets: Ticketmaster and Forum box office
Undercard: Douglas Lima (29-6) vs. Rory MacDonald (19-4) for Lima's welterweight title; Michael Chandler (16-4) vs. Goiti Yamauchi (22-3), lightweights; Aaron Pico (1-1) vs. Shane Kruchten (12-3), featherweights; Henry Corrales (14-3) vs. Georgi Karakhanyan (27-7-1), featherweights.
---
Get the latest on L.A.'s teams in the daily Sports Report newsletter.
You may occasionally receive promotional content from the Los Angeles Times.