Newsletter: The Fight Corner: Keith Thurman is an honest puncher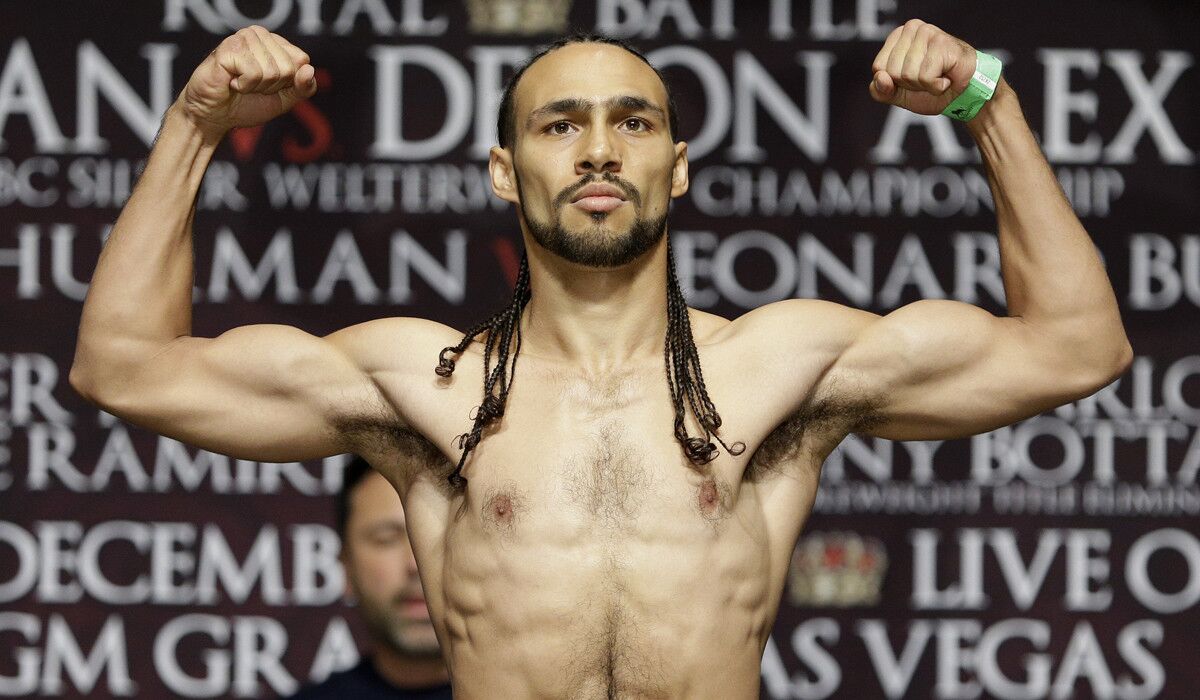 Hi, my name is Lance Pugmire, and welcome to our weekly boxing/MMA newsletter. This newsletter will be delivered right to your inbox every week if you sign up here. Let's get right to the news.
Keith Thurman is back and hasn't lost a shred of honesty as he nears his Saturday night return to the ring in Brooklyn, defending his World Boxing Assn. primary welterweight belt against Riverside's Josesito Lopez.
"Impossible," Florida's Thurman told The Fight Corner last week when asked if his near 23 months between fights will result in a reinvigorated, improved fighter.
"Injuries, layoffs – you don't come back better, my man. This will not be the best Keith Thurman you will see … but you also won't be saying, 'That doesn't look like Keith Thurman, doesn't look like a world champion,' or saying, 'Those other fighters will beat Keith later this year.'"
The 30-year-old Thurman (28-0, 22 knockouts) last year vacated the World Boxing Council belt he claimed by defeating Danny Garcia in March 2017 after struggling through hand, elbow and shoulder injuries.
"Later this year, hopefully, I will step in the ring and you will say that's the best Keith Thurman you've ever seen. That's the whole plan. But this is a get-back fight," Thurman said.
That doesn't mean Thurman wants to dismiss Lopez (36-7, 19 KOs) as a tune-up foe. Thurman worked hard to credit Lopez for his grit in taking on champions Canelo Alvarez, Marcos Maidana and Andre Berto in the past, and upsetting Victor Ortiz and breaking his jaw at Staples Center in 2012.
Lopez is trained by Robert Garcia and has won three consecutive fights.
"He bypassed [former WBO champion] Jessie Vargas and called me out, so we're giving him a shot," Thurman said. "He doesn't have fear, is a very game fighter and wants an opportunity to be champion of the world with his new trainer and this renewed confidence. So we're going to see if he can make this an upset. I respect him, and will have to do my best to remind the world who Keith Thurman is."
Doing so could thrust Thurman into the prominent position of being Manny Pacquiao's next opponent if the secondary WBA champion finds that Floyd Mayweather Jr. will remain retired despite Pacquiao's interest in a rematch of the most lucrative bout in history.
"Later this year, whatever Pac-Man wants … it would be beautiful," Thurman said the day before Pacquiao, 40, convincingly defeated former four-division champion Adrien Broner, 29, Saturday night at MGM Grand in Las Vegas.
"He's the last living legend at 147 [pounds]. There isn't another fighter left in the sport with his credentials. It'd be an honor to share the ring with the likes of Manny Pacquiao. It's hard for older fighters to compete against younger guys, but strength doesn't go away until you're 50."
In the time since Thurman last fought, Fox, ESPN and the streaming service Dazn have invested significantly in boxing.
"So much is happening. It's a very exciting moment. We don't know exactly what the future holds, but we know there's a future for this sport after people were asking like five years ago, 'Is boxing dying?' and saying only Mayweather makes money," Thurman said. "We're reaching the masses, and it's a beautiful thing."
Just Josh'n
The conviction with which Anthony Joshua and his promoter Eddie Hearn spoke last month regarding their anticipation of an April 13 fight at Wembley Stadium appears to have been a momentary commitment.
Despite mentioning the then-Hearn-promoted Dillian Whyte (25-1, 18 KOs) as the likely foe if he could defeat Dereck Chisora on Dec. 22 – which Whyte did by 11th-round knockout – three-belt heavyweight champion Joshua and Hearn have veered from that plan and now seem bound for a U.S. debut at Madison Square Garden by June against American Jarrell "Big Baby" Miller (23-0-1, 20 KOs).
Whyte has taken the hint, and he was mingling with Premier Boxing Champions allies this past weekend in Las Vegas.
"Joshua talks rubbish. You see what it is … he's very well media trained and knows what to say to keep the casual boxing fan and the people happy. That's all he does. He just plays the game. He had no intention of fighting me," Whyte said.
"All along, it was Jarrell Miller because that's the easiest fight for him. Big Baby's undefeated and American, but he's not serious, so it's a great way to launch [Joshua] in America because Dazn wants him here.
"But it's not a fight that people want to see. Good luck to them. I know what value I bring. I know what level of fighter I am. And I worked my way up the ranks."
Whyte said he was mentally ready for the Joshua bout to unravel.
"You've got to learn … you're dealing with somewhat of an egotistic maniac in Anthony Joshua," Whyte said.
He stewed that Hearn's Matchroom Boxing had "a conflict of interest – to negotiate the best deal for me and for Anthony Joshua. Joshua is their No. 1, so it's a messy situation now.
"Even if [Hearn] increases his offer, it's too late – it's 11 weeks before the [planned April 13] fight," Whyte said.
"We want three months' drug testing and the chance of a solid camp to train and prepare. I'm signed up for [Voluntary Anti-Doping Assn.] testing -- 365 days a year, and that should be the standard. Joshua's not. These guys sign up for drug testing [a few] days before a fight while I'm on it year-round, telling them where I'm sleeping and all that."
Knowing that PBC has World Boxing Council heavyweight champion Deontay Wilder and former title challengers Dominic Breazeale of Upland and Luis Ortiz of Cuba in its stable provides alternatives for Whyte.
"I'm trying to secure my future and these fights because I'm in the Dillian Whyte business. I don't need to wait around for people," he said. "I'm 30 years old and I need to be pushing on. These are my best years and I need to be maximizing my opportunities … we're trying to see what's what, testing the waters."
WBC orders Wilder-Fury rematch
Even though the respective sides are in talks, the WBC last week pressed the handlers of unbeatens Wilder and former three-belt champion Tyson Fury to move toward a rematch of their Dec. 1 draw at Staples Center.
The move places a Feb. 5 deadline for promoters to strike a deal, or a purse bid will occur that could provide Fury a 40% cut.
At this point, one representative involved in the talks said, the likely date for the bout is either May 11 or May 18, with Las Vegas and New York in contention to stage the fight.
Kovalev in trouble
Former light-heavyweight champion Sergey Kovalev of Russia, who's preparing in Southern California for a Feb. 2 rematch with Eleider Alvarez in Texas, faces a felony charge of assault by means of force likely to produce great bodily injury in San Bernardino County Superior Court after a woman was allegedly punched in the face on June 8 in Big Bear Lake.
The 35-year-old Kovalev (32-3-1, 28 KOs) has pleaded not guilty, posted $50,000 bond and is next due in court March 11. His promoter Kathy Duva retracted an invitation sent to The Times last week to interview Kovalev in Oxnard after the court case was first reported by TMZ last week.
"The fight is on. Of course, every woman deserves the right to be heard. And Sergey, in such a situation, deserves the right to clear his name in court," Duva told The Fight Corner in a text message Tuesday. "And that is exactly what he intends to do.
"He can't [speak to the charges] per orders from his counsel. And for that reason I am not going to let him do any interviews unless I can be there with him. He needs to stay focused on the fight as best he can for now. He will be available for interviews in Dallas."
The Alvarez-Kovalev title fight headlines a strong ESPN four-fight card at the Ford Center at the Star (the Dallas Cowboys' practice facility) that includes a featherweight title defense by Oscar Valdez, a lightweight title bout and an appearance by elite prospect Teofimo Lopez. Alvarez stopped Kovalev with three seventh-round knockdowns last year.
Until next time
Stay tuned for future newsletters. Subscribe here, and I'll come right to your inbox. Something else you'd like to see? Email me. Or follow me on Twitter: @latimespugmire
---
Get our high school sports newsletter
Prep Rally is devoted to the SoCal high school sports experience, bringing you scores, stories and a behind-the-scenes look at what makes prep sports so popular.
You may occasionally receive promotional content from the Los Angeles Times.