Deontay Wilder explains why he's not waiting for Anthony Joshua this year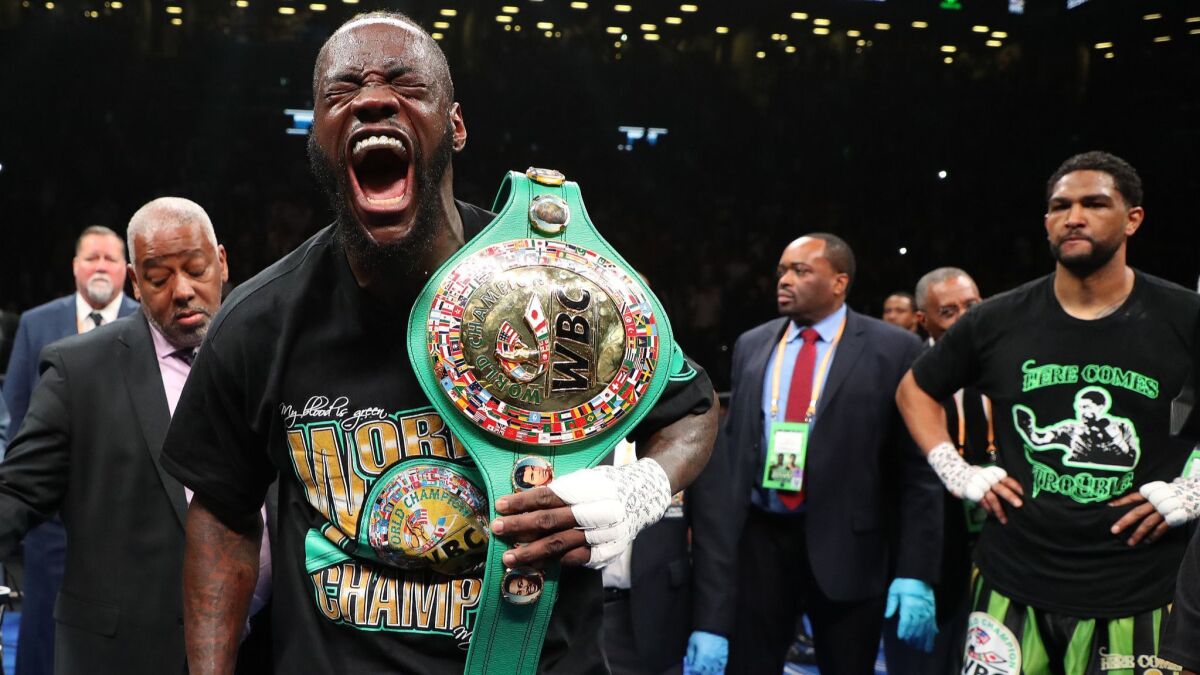 Reporting from New York —
Deontay Wilder said he decided to turn his back on a possible one-on-one negotiation with Anthony Joshua for a heavyweight unification this year because he didn't trust the bout would materialize.
World Boxing Council champion Wilder (41-0-1, 40 knockouts) on Tuesday announced his intention to stage a rematch next with Cuba's Luis Ortiz, 40, in a Showtime pay-per-view bout that could land at Staples Center in the fall.
"I knew none of these major fights were going to happen this year, so why not go ahead and get Ortiz II in there?" Wilder said in a Thursday interview with The Times from his Birmingham, Ala., home.
"This was the perfect time to finish [Ortiz] in a better fashion, and better than to wait on 'this major fight.' … I don't trust anything that [Joshua and his team] say. And who else is fighting Ortiz?"
There's also been a vocal public push for Wilder to stage a rematch with England's Tyson Fury following their dramatic Dec. 1 draw at Staples Center, but the unbeaten former three-division heavyweight champion is fighting Germany's Tom Schwarz on June 15 at Mandalay Bay in Las Vegas and has said he doesn't anticipate fighting Wilder until early 2020.
"The ones who hate this, I understand that because they want Wilder-Joshua," Wilder said. "Everyone is impatient. They want what they want, but knowing I am the most exciting heavyweight in the world, you'll still watch the [Ortiz] fight, no matter what, because I bring the drama and the pain."
In the first Wilder-Ortiz meeting in March 2018, Ortiz nearly knocked down Wilder in the seventh round before the champion recovered to score a 10th-round technical knockout victory at Barclays Center in Brooklyn.
"You know Ortiz is going to get up for this big fight. We saw it with me. Every fighter who goes against me gives it their best because they're going in there with a killer," Wilder said. "You only get exciting fights, and that's what I want to bring to the world."
Yet his biggest fight of all remains elusive.
Joshua told reporters in New York on Thursday ahead of his Saturday three-belt title defense against California's Andy Ruiz Jr. at Madison Square Garden that he was sincere in seeking a personal meeting with Wilder to find common ground for a fight.
"What have they done thus far to be believable?" Wilder asked of Joshua and promoter Eddie Hearn. "I've tried to do it privately with some mutual friends. [Joshua] didn't want to do it without someone there with him on a FaceTime conversation. Why would you want to do that? It's me and you. Are you scared of me or something? This whole thing of, 'We've got to sit down … .' They're just saying something, man, because at the end of the day I don't have a boss. Joshua has a boss, [Hearn's] Matchroom Boxing.
"You know when it's real and you know when someone's just talking. We've spoke before for four months. I've been in there with them. You don't think you know a person when they're lying or not?
"Without [Matchroom], this fight would be done a long time ago. He can say all he wants. They still have a say-so on him. So why sit and talk with him? He's not on my level."
Why not even let Saturday's fight play out and perhaps approach Joshua in the ring after his potential victory? "That doesn't work. I went to one of his fights, but he didn't want me to step into the ring," Wilder said. "And how many fights of mine has he been to? He could've come [May 18]. You ain't training that hard, bro, like [11-to-1 underdog Ruiz] is a serial killer … . Come on. If he really wanted that fight, he would've been there."
Joshua did say Thursday he'll consider attending the Wilder-Ortiz fight to press the issue again.
"I'm not chasing nobody no more," Wilder said. "The shoe's on the other foot. I know the fight's going to happen eventually, but it's good to see them begging."
Wilder said he'll reconsider a Joshua fight next year, and added he's agreeable to a potential solution that would allow each fighter to earn 50% of the purse money offered in closed bidding by Joshua's television partner DAZN and Wilder's Showtime/Fox.
Sign up for our boxing and MMA newsletter »
Interestingly, Wilder said the two men who can get the deal done are his manager, Shelly Finkel, and DAZN Executive Chairman John Skipper, describing Skipper as "the solution to it all — not Hearn."
Hearn said he believes Joshua has exposed Wilder's reluctance to fight this week, winning a major victory in the ring of public opinion.
But Wilder disagrees, and refuted the rumor he's committed to an additional fight after Ortiz on Showtime, against Adam Kownacki.
"The real people recognize real. I'm a real champion who started from ground zero. I was not an Olympic sensation" like Joshua, Wilder said. "I'm a true boxing story from the ultimate bottom. I know I've done this right. I earned where I am. Nothing was given to me.
"And no matter what people think, when it comes to the night of the fight and I knock [Joshua] out, the ones who doubted me are going to look like a fool. I can't wait for that moment to come.
"We've got a plan. We're doing our thing. When they're ready, let's make it happen. I've been trying to make this fight. When they're ready, I'll be ready."
Twitter: @latimespugmire
---
Get our high school sports newsletter
Prep Rally is devoted to the SoCal high school sports experience, bringing you scores, stories and a behind-the-scenes look at what makes prep sports so popular.
You may occasionally receive promotional content from the Los Angeles Times.