From his first fight with Canelo Alvarez to now, Gennady Golovkin has gone from ideal sportsman to vocal critic of boxing's hypocrisy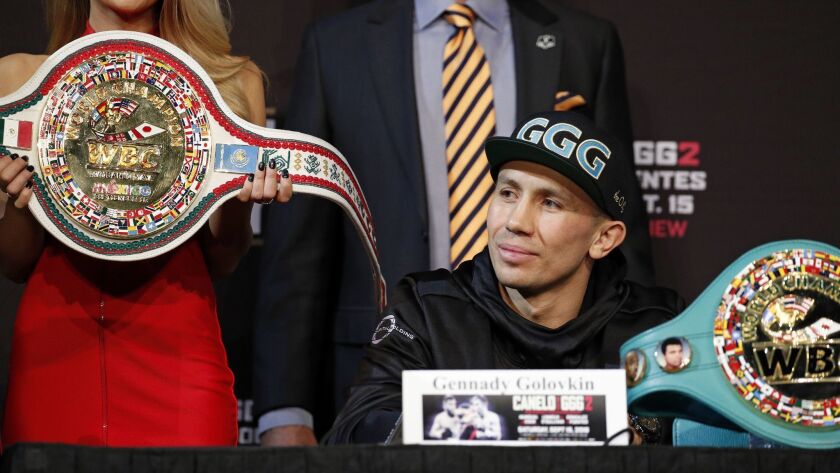 Reporting from Las Vegas —
Once, it was enough for Gennady Golovkin to ride the wave of a knockout streak that reached 23 consecutive fights, smile widely afterward and mutter his patented "Big Drama Show" catchphrase.
Golovkin had a consistent formula — train hellishly in Big Bear, let his fists do the talking, allow his handlers to best explain his dominance and veer from controversy.
But Golovkin, 36, was always observing intently, and as his rise led him to a showdown last year with the more popular Canelo Alvarez, the champion noticed a shift from the way it had worked during his earlier dominance.
Despite wearing three middleweight belts, Golovkin was to earn 35% of the purse to Alvarez's 65%. Golovkin accepted because it was the biggest bout of his career.
In that fight last September, some thought Golovkin had won at least by the 115-113 (seven rounds to five) score that judge Dave Moretti awarded. But judge Adalaide Byrd gave Alvarez 10 of 12 rounds, and judge Don Trella gave Alvarez the seventh round when the other two judges gave it to Golovkin.
In Golovkin's eyes, it was beyond suspicious. He was let down and angered, but focused on landing a rematch.
That sour taste erupted into something fiercer in February when Alvarez submitted two positive tests for the banned stamina-building substance clenbuterol, and it was not immediately clear how he'd be treated by the Nevada Athletic Commission.
When Alvarez claimed the substance was accidentally ingested by eating contaminated beef in Mexico, a new version of Golovkin emerged.
He unloaded during a March session with reporters, claiming the commission was "killing the sport," and ripping Alvarez for receiving "benefits from everyone, and he can get away with it — commentators, the commission, doping commission, president of boxing — this is a very bad business, not sport."
It was a seminal transformation from a leading sportsman.
"It was like, 'You've all showed me you're two-faced, so no more smiling,' " said Fred Sternburg, one of Golovkin's publicists.
The Nevada commission wound up holding Alvarez accountable, citing regulation language that demanded a minimum six-month suspension that scrapped the boxers' planned May 5 rematch.
While some on Alvarez's team and near the commission blamed Golovkin's heated objections for forcing the suspension, the champion doubled down against budging by going against the wishes of HBO and Las Vegas to press for a Cinco de Mayo fight that became a second-round knockout of Vanes Martirosyan at StubHub Center.
'"People on that day needed a big-level boxing show," he said after the International Boxing Federation stripped him of one of his belts for not fighting the opponent of its choosing.
Then came time to negotiate a September rematch with Alvarez, who wanted more than 55% of the purse. Golovkin wouldn't take less than 45%, refusing to back down even as a deadline set by Oscar De La Hoya, Alvarez's promoter, passed. Minutes later, De La Hoya caved to give Golovkin what he wanted.
"I only speak the truth," Golovkin said. "We've talked a lot this time. I like my side, he likes his side.
"After the fight, [Alvarez] shook my hand … he seemed like he respected my team. After the doping scandal, he's come back a completely different guy … now, it's business, the boxing business. I know it's crazy and terrible … it's true."
Alvarez, who participated in lucrative pay-per-view bouts with Floyd Mayweather Jr. and Miguel Cotto, generated 1.3 million buys with Golovkin last year. This time, he has shunned doing some of the media obligations in which Golovkin has participated.
"My point is I want more promotion because this is the biggest fight," Golovkin said. "I want to open eyes for everybody because this might be the biggest fight for boxing. It's a true fight. If I beat Canelo, I break Bernard Hopkins' record," of going unbeaten in 20 consecutive middleweight title bouts, "and I take a big step closer to boxing legends, boxing heroes. This is huge."
Alvarez indicated he didn't want to waste time going back and forth in a war of words when Golovkin and his trainer Abel Sanchez were casting Alvarez as a drug cheat who didn't pursue a knockout like Golovkin did in the first bout.
"All of their statements are counterproductive. What they're doing is to make money on the promotion," Alvarez said Wednesday. "They say they don't care about the money, but they're really invested in the promotion. That's why they say these things, to continue with the promotion because that's the only way they can make money off this."
Golovkin makes no apologies for considering his earnings. Last year's bout had weakened sales because of the placement of the Mayweather-Conor McGregor boxing match three weeks before, and now Hurricane Florence could hurt sales in the Atlantic states.
"Of course, everyone wants numbers. Bigger is better. I believe so many people will watch this fight. This is the biggest fight for boxing. Who's the pound-for-pound champ? For me, it's very interesting," Golovkin said. "I believe people will support boxing. We will bring boxing back. This is the biggest gift for people."
Becoming so passionate about the welfare of boxing has been an uphill, principled cause, Golovkin says, one that has borne the fruit of Alvarez's discipline, a more experienced, consistent judging panel and increased awareness of drug testing for younger fighters.
Asked why he took this stance when boxing has such a storied history of shady goings-on, Golovkin said, "This is my sport. I've been a champion for eight years, that's a long time, and I've been boxing for 25 years."
His final mission is participating in a bout for the ages with Alvarez.
"I know it's a business, but I told you I like old school. I want to bring back boxing's position. I remember watching the great fights on TV like Sugar Ray Leonard-Marvin Hagler. That was a historic fight. I believe this fight is similar, a fight for history. Maybe young people like my son will watch this and 20 years later, they'll say, 'Oh, you remember the 'Triple-G-Canelo fight?' And it'll be like the way I remember Gatti-Ward: Huge.
"People don't remember business, they remember boxing. They don't think, 'How much did it make?' They think about who won."
Twitter: @latimespugmire
---
Get our high school sports newsletter
Prep Rally is devoted to the SoCal high school sports experience, bringing you scores, stories and a behind-the-scenes look at what makes prep sports so popular.
You may occasionally receive promotional content from the Los Angeles Times.