Column: Gennady Golovkin's camp puts taunting into overdrive this week to entice Canelo Alvarez into a slugfest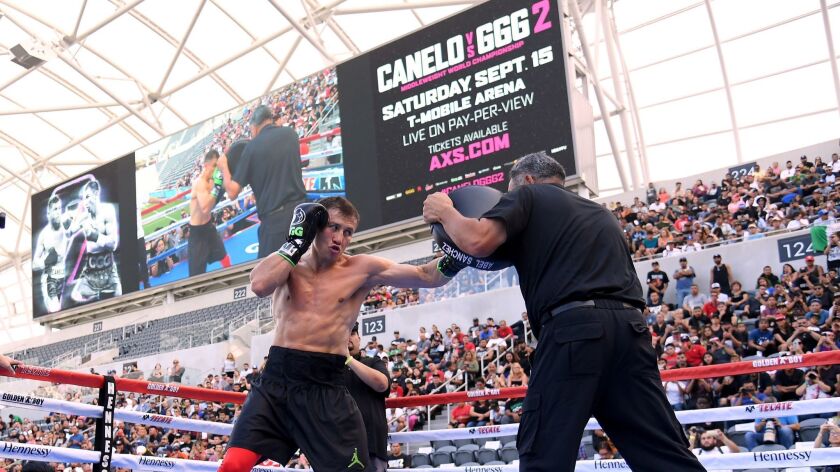 Reporting from Las Vegas —
Gennady Golovkin's trainer addressed a half-packed theater and internet live stream viewers from around the world, but his message was intended for an audience of one.
Standing behind a podium, Abel Sanchez never once looked over to his right at Canelo Alvarez. He didn't have to.
"The bottom line is to my left is the unified, undefeated middleweight champion," Sanchez said, "and in order to take his belt, you're going to have to fight him."
Team Golovkin's campaign to shame Alvarez into standing his ground and trading punches in their rematch Saturday has moved into overdrive this week, with Sanchez using the pre-fight news conference Wednesday to further reinforce the misguided perception that Alvarez fought like a coward in their draw last year.
A day earlier, Golovkin participated in the taunting of his opponent. Asked if Alvarez did anything in their initial encounter better than he anticipated, Golovkin replied, "Yes, he run."
Promoter Tom Loeffler joked that Jordan Brand, with which Golovkin has an endorsement deal, created a shoe with a special sole that would help the Kazakh fighter chase down Alvarez.
The lines elicited plenty of laughter, but it's unlikely to affect what Alvarez does in the ring.
Golovkin is a power puncher who moves forward behind a sledgehammer jab and Alvarez was often able to neutralize him last September with lateral movement and quick counterpunches. Alvarez's trainer, Eddy Reynoso, said last month Alvarez will employ a similar approach in the rematch at T-Mobile Arena.
"Just throw more punches," Reynoso said in Spanish. "I think we managed him well, but we have to be more active."
In Reynoso's view, that should be enough to secure a victory.
Sanchez has implored Alvarez to deliver what he promised his fans — Alvarez has said he would stop the granite-chinned Golovkin, as he did before their last fight — but such public demands probably will have the opposite of the desired effect.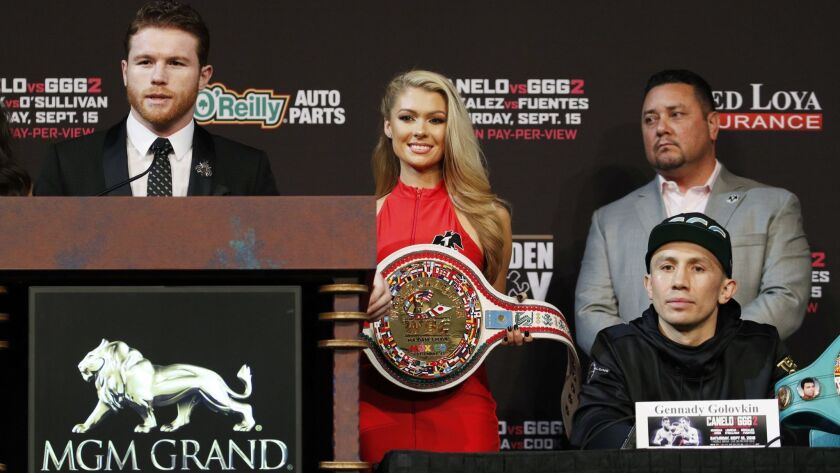 Like Floyd Mayweather Jr. and Andre Ward before him, Alvarez is a fighter who craves control. He hasn't wanted to interact much with the media after failing a drug test earlier this year, so he hasn't. He hasn't wanted to take part in a traditional pre-fight staredown with Golovkin, so he hasn't. And if he doesn't want to fight in a style that is disadvantageous to him, he won't, and nothing Sanchez or Golovkin say will change that.
Alvarez acknowledged Sanchez's and Golovkin's words have bothered him.
"Maybe they said those things to bother me," Alvarez said in Spanish. "And they accomplished that. But that doesn't mean I won't do my job the way I have to do it."
One of boxing's smartest trainers, Sanchez knows this. He has said multiple times that he expects Alvarez to fight how he did in the previous encounter.
So why is Sanchez talking so much?
The obvious answer is that he's trying to sell the fight. The size of everyone's paycheck depends on the number of households that purchase the pay-per-view broadcast.
But Sanchez could also be attempting to upset, and by extension motivate, Golovkin by convincing him the backpedaling Alvarez was unworthy of the draw he received.
Because as much as Sanchez has framed this fight as a test of Alvarez's courage, the reality is that it's an examination of Golovkin's bravery as well. Alvarez was uncharacteristically cautious when he fought Golovkin last year, but Golovkin was also respectful of Alvarez's power.
To slow down Alvarez's movement, Golovkin will have to attack the body, something he rarely did in the first fight. Over those 12 rounds, Golovkin was credited with landing only eight body punches.
Landing power punches to Alvarez's ribs will require Golovkin to lower his head into dangerous areas. If Golovkin drops his left shoulder to deliver a hook to the midsection, he could be stepping into a well-timed counterpunch.
Golovkin is in search of a clear-cut victory. He will have to take some chances to get there.
---
Get the latest on L.A.'s teams in the daily Sports Report newsletter.
You may occasionally receive promotional content from the Los Angeles Times.