From anyone else's perspective, switching out Canelo Alvarez from a Cinco de Mayo fight card for Glendale's Vanes Martirosyan would be characterized as a promotional disaster.
In the hands of veteran fight salesman Don King, however, Saturday's middleweight title defense by longtime champion Gennady Golovkin inspires another thought.
"Every indication is that this is an event of destiny," King told a news-conference audience this week while hawking the HBO-televised main event at StubHub Center.
Reaching that conclusion required a 20-plus-minute King soliloquy that invoked references to President Trump, Kim Jong Un , women's rights, Pancho Villa, the devil and, of course, Alvarez — "he eats some contaminated meat, so he says," King said.
Did King ask Martirosyan's trainer, Edmond Tarverdyan, "what's your name?" despite his fame as Ronda Rousey's cornerman and mispronounce Martirosyan's last name to close his sermon?
Yes, but the entertainment value was a needed diversion from the negativity connected to the collapse of Golovkin's scheduled Saturday rematch with Mexico's former two-division champion Alvarez.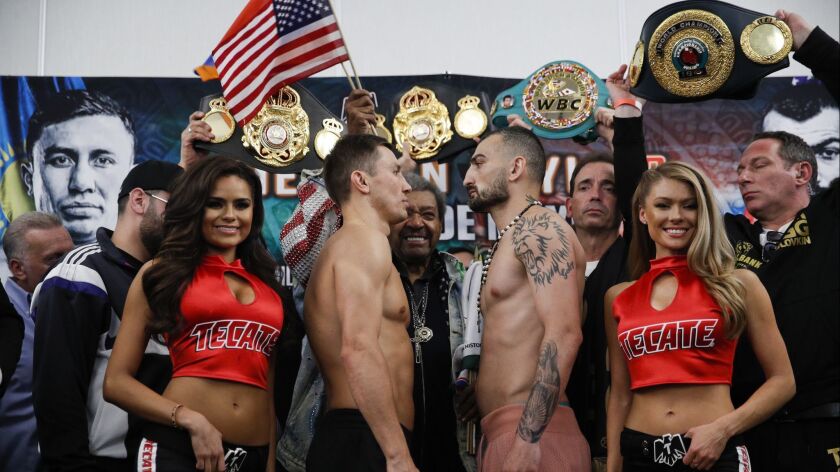 Alvarez submitted two positive samples for the banned performance-enhancing substance Clenbuterol and was suspended six months by the Nevada Athletic Commission, spoiling the anticipated rematch of a September draw that generated 1.3 million pay-per-view buys and a $27 million live gate.
As both Golovkin and Martirosyan successfully weighed in Friday, the California State Athletic Commission revealed Golovkin (37-0-1, 33 knockouts) will earn only a guaranteed $1 million while standing as a 1/30 favorite in the bout, with Martirosyan (36-3-1, 21 KOs) getting paid $225,000.
To add insult to Golovkin's (financial) injury, the International Boxing Federation will not join the World Boxing Assn. and World Boxing Council in sanctioning the title fight because Golovkin is not meeting his mandatory contender, an anonymous Russian.
Golovkin, saying he's pessimistic about a rematch with Alvarez happening on Sept. 15 even though promoters maintain it's their top priority to strike a renegotiated deal, is further soured that Alvarez has not yet re-enrolled in the WBC's mandated year-round drug-testing program.
The head of the testing agency told The Times this week that she expects Alvarez to be re-enrolled by next week.
"All this history is indicative of the history you're going to see Saturday night," announced King, the bombastic pitchman who had far less of a challenge in selling Muhammad Ali and Mike Tyson fights.
"I learned from the master, Muhammad Ali, and he told me that no matter how great you are as a human being, to be a whole human being, you have to lose. Everything is indicative of this … because GGG was steadfast in wanting to fight on Cinco de Mayo. It's a destiny day, of people fighting for the people, of Pancho Villa … you put these spiritual forces together … this whole event … and that brings me to Armenia."
Martirosyan is of Armenian descent and is expected to draw a large crowd from near his hometown along with others in the Southland used to major Cinco de Mayo fight cards. Golovkin drew a record crowd of 9,232 when he last fought at StubHub Center in 2014.
"There's no disgrace in losing," King told Golovkin on stage. "You have an opportunity to become bigger than ever. Show them what you can do in losing. We know what you can do in winning. You have more belts than anyone. You're 'Triple G!' … Show us how to be a champion of the guy who's [living] on the street corner, the man with the virus who's sick — a champion of the losers.
"We don't know what he can do with a loss. We need to know that."
Golovkin even cracked a grin.
Ironically — or fittingly — the belts on stage near Martirosyan were propped up by tomato cans, something he insists he is not as the WBC's No. 1-rated junior-middleweight contender who hasn't fought in nearly two years because two opponents retreated from deals.
While he's taken some criticism in his role as Alvarez's replacement, Martirosyan, a former U.S. Olympic boxer from the same 2004 Games in which Golovkin participated, Martirosyan said, "I don't like that they put me down as a person. I'm trying to fight for my family. I'm a fighter."
The extended absence was caused by "a lot of boxing politics. I've asked, 'What did I do to deserve this?' I was sad, but I always knew I'd be ready."
BOXING
Main event: Gennady Golovkin (37-0-1, 33 KOs) vs. Vanes Martirosyan (36-3-1, 21 KOs) for Golovkin's World Boxing Council and World Boxing Assn. middleweight belts
Where: StubHub Center
Television: HBO
When: Televised portion begins at 8 p.m., first bout at 4:45 p.m.
Tickets: $50, $100, $200, $300, $500, $700
Undercard: Cecilia Braekhus (32-0, 9 KOs) vs. Kali Reis (13-6-1, four KOs) for Braekhus' four women's welterweight belts; Ryan Martin (21-0, 12 KOs) vs. Breidis Prescott (31-12, 22 KOs), welterweights
Twitter: @latimespugmire
---