The first U.S. boxer to fight as a woman, and then as a man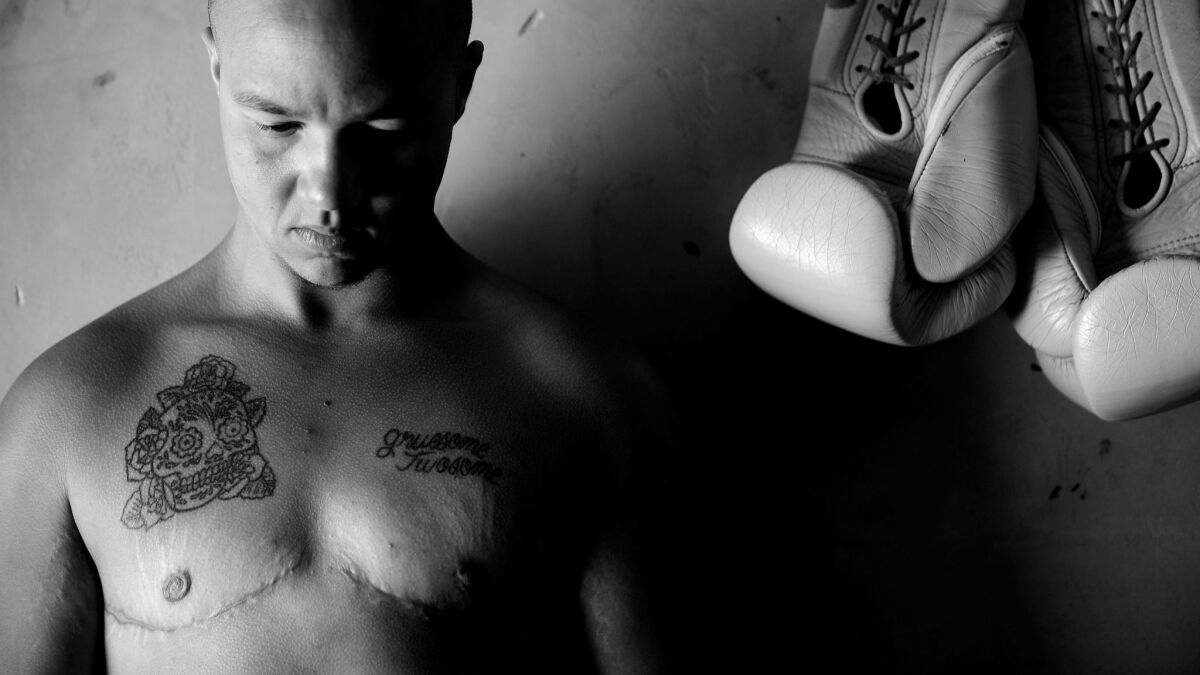 A five-time amateur boxing champion whose biggest tournament ended in surrender, Manuel is just months away from his pro debut.
He has cycled through a number of dead-end jobs and now owns a digital marketing company. It's called Dark Horse, a name Manuel hopes is prophetic as well as prosaic.
Manuel says the biggest daily reminder that he has finally taken control of his life comes when he looks in the mirror each morning. For years he saw an uncertain woman looking back at him. Now the reflection is of a confident young man, the Adam's apple and scruffy facial hair evidence that while Manuel's journey is not complete, it's now headed in the right direction.
"I still have split seconds of not recognizing myself. But for the most part, I feel more comfortable than I ever have in my body," says Manuel, who underwent gender-reassignment surgery, becoming the first boxer in U.S. history to fight first as a woman and later as a man.
"It never crossed my mind to give up. It has absolutely been worth this journey to live publicly as my true self."
It has absolutely been worth this journey to live publicly as my true self.

— Pat Manuel
---
Exactly who that true self was wasn't apparent to Manuel growing up in the South Bay. But it was obvious to his mother, Loretta Butler, that something was unique with daughters Patricia and Megan.
"Every Christmas I would be buying toys at Toys 'R' Us and everybody would say, 'You have two boys at home, huh?' Neither Megan nor Pat played with dolls," she says. "They both wore boys' clothes."
Looking back Butler blames herself for missing the cues for both Manuel and his sister Megan, who is gay.
"There were early signs about probably what [Pat] was going through that I wasn't educated enough or wise enough to realize," Butler said. "Men act like this and women act like this. And you have to fit into those two binaries. It's ridiculous because people don't fit into that.
"Pat has always been a male. It's just Pat was not assigned properly at birth."
Manuel, whose ancestry is Irish, Mexican and black, never really knew his father. But his mother and grandmother, Patricia Jean Butler, were never far away, supporting Manuel through childhood and an uneven boxing career that included almost as many injuries and it did triumphs.
The three shared secrets and confidences and leaned on one another. Manuel's grandmother pushed him into boxing in high school, giving him a Christmas-present membership in a boxing club to help him lose weight.
Although female fighters were rare, Manuel took to the sport and its hyper-masculine ambience quickly, moving to the Commerce Boxing Club and spending long hours working with Roberto Luna, who trained three Olympians.
Manuel was to be his fourth. But in the 2012 women's Olympic Trials, Manuel had to withdraw after one bout with a shoulder injury. That fight, a one-sided lightweight loss to Florida's Tiara Brown, would be Manuel's last as a female.
Even before the trials Manuel had thought of transitioning, but the hope of representing the U.S. in the first Olympic boxing tournament for women held him back.
After that there was no reason to wait. On the trip home, Manuel told Butler her daughter would soon become her son – then waited for the response.
"I said, 'OK, if that's going to make you happy'," Butler remembers. "I told him I would support him 100% in whatever he chose to do. The bottom line is it doesn't matter to me. I just want him to be happy. It was a natural transition."
For Butler, the transition was both natural and necessary. Manuel started the process with hormone treatment in September 2013 and in less than five months had put on 15 pounds, grew facial hair and heard his voice drop a couple of octaves.
The following spring, 26 months after his final fight as a woman, Manuel flew to Salt Lake City for surgery, which involved the removal of the breasts and the shaping of a male-contoured chest.
His grandmother paid for the nearly $6,000 operation, which is the point of no return in the transition process. And just as she traveled the country to offer ringside support during Manuel's fights, Butler traveled to Salt Lake City to offer support before and after the surgery.
"I'm a masculine person but I don't want to be a man necessarily," Manuel said at the time of the surgery. "I want to be, I guess, free of those binds. But because we live in a world where it's male or female, I have to shift over. … I want to be able to compete with males."
Manuel says most of his sparring partners were respectful if not admiring, but when the director of the Carson gym found out Manuel was a transgender boxer, he was kicked out the same day.
And Luna, who had stuck with Manuel for more than a half-dozen years and more than 70 fights, also cut ties with the boxer for reasons neither will discuss.
"It's just unfortunate, the situation that happened kind of put both of us in a spot where we needed to make a decision," said Luna, who left boxing for a year after the split.
"We really don't talk," Manuel adds coldly.
Some friends became less friendly when they noticed Manuel's mustache. Two potential employers decided they didn't have job openings after the woman they interviewed on the phone showed up to work as a man.
Vic Valenzuela, who trained a number of decorated fighters at the Duarte Boxing Club, had no issues.
"Honestly, he's just one of the guys," says Valenzuela, who would softly correct boxers when they referred to Pat as "she" as he completed the transition.
The state boxing commission, which regulates professional boxing in California, had never dealt with a situation like Manuel's, so it demurred on giving him permission to fight.
But USA Boxing, the national governing body for amateur competition, offered a way out. When the International Olympic Committee changed its policies last year, ruling that female-to-male transgender athletes should be allowed to compete "without restriction," USA Boxing approved Manuel's license.
What USA Boxing couldn't do was force anyone to fight Manuel. An opponent in Long Beach walked out of the gym when told he was scheduled to fight a transgender boxer. Two others didn't even make it that far, backing out of their bouts after learning of Manuel's background.
"The toughest part of transitioning has been having pre-set matches inexplicably fall out," Manuel said. "Vic and I have gone to shows and watched opponents leave without explanation moments after a fight was made official."
Valenzuela didn't mention any of that when he signed Manuel to fight 18-year-old Adan Ochoa at 135½ pounds on the 2016 Cinco de Mayo card at the South El Monte Community Center.
Then 30, Manuel was the oldest fighter on the card. And he was the only one who would make history on this night since the three-round bout was the first in U.S. boxing history to feature a fighter who has transitioned from female to male.
For Manuel, it was never about being first as much as it was being comfortable. It wasn't about beating someone else as much as it was being himself.
"It's hard to describe if you've never been so uncomfortable in your own skin. It's like I'm finally living my truth," he said. "For a long time I forced a narrative that I didn't really believe just because I didn't feel I had another way around it."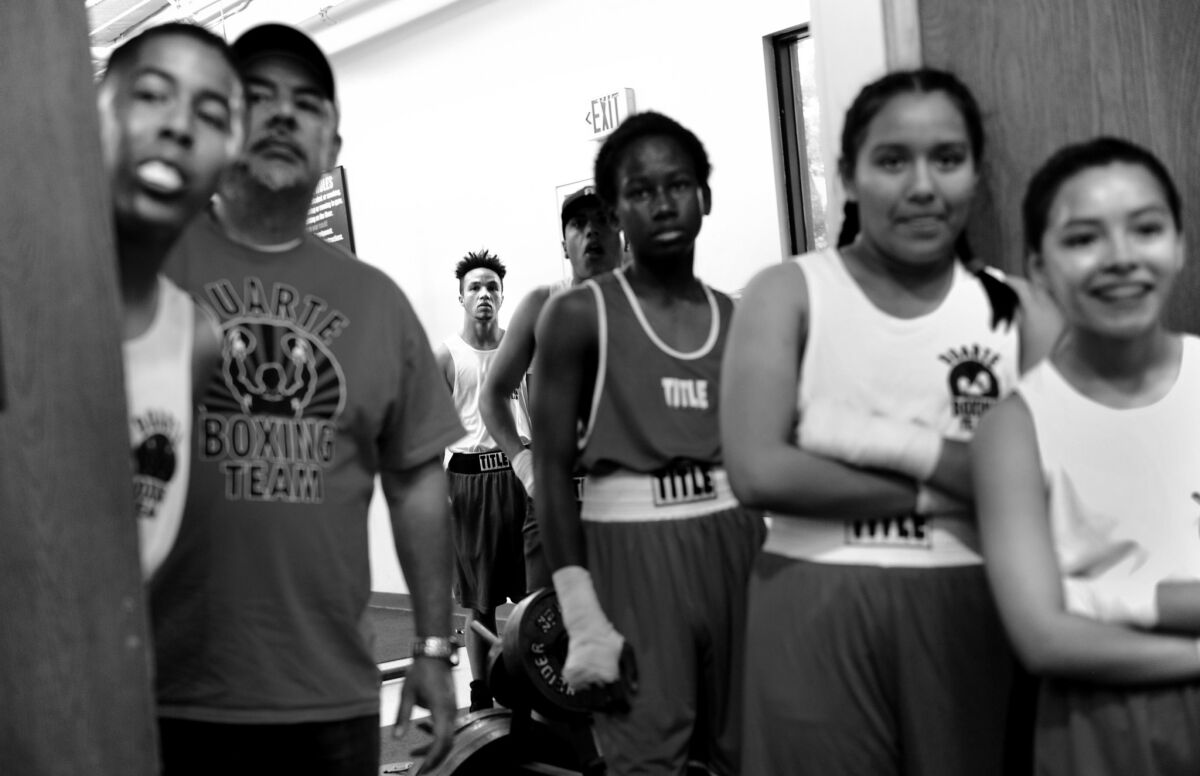 Outside the tiny rec center, vendors sold cotton candy and ceviche under canvas tarps while young girls in charra suits played mariachi music. Inside, a boxing ring had been squeezed into an area usually used for after-school programs.
To warm up, Manuel shadow-boxed a pair of vending machines stocked with potato chips and Powerade, then climbed into the ring for the seventh of 11 scheduled bouts.
Butler was among the slightly bored crowd of less than 100, which sat on tile steps, plastic chairs or long folding tables. Manuel, wearing long red shorts with black stripes and a white Duarte Boxing Club singlet danced around his younger opponent, coming forward occasionally to throw a left jab or a straight right.
After nine minutes the fight ended in a clear, if unspectacular, victory for Manuel, whose left hand was raised by a woman referee wearing black jeans and an oversized white sweater. Paper Cinco de Mayo streamers fluttered overhead.
Despite the unspectacular setting, it was a victory that won him something more precious than a jewel-encrusted belt, a gold medal or a paycheck with lots of zeroes.
It solidified a new beginning, a new identity, contentment and maybe a new boxing career.
It's like I'm finally living my truth.

— Pat Manuel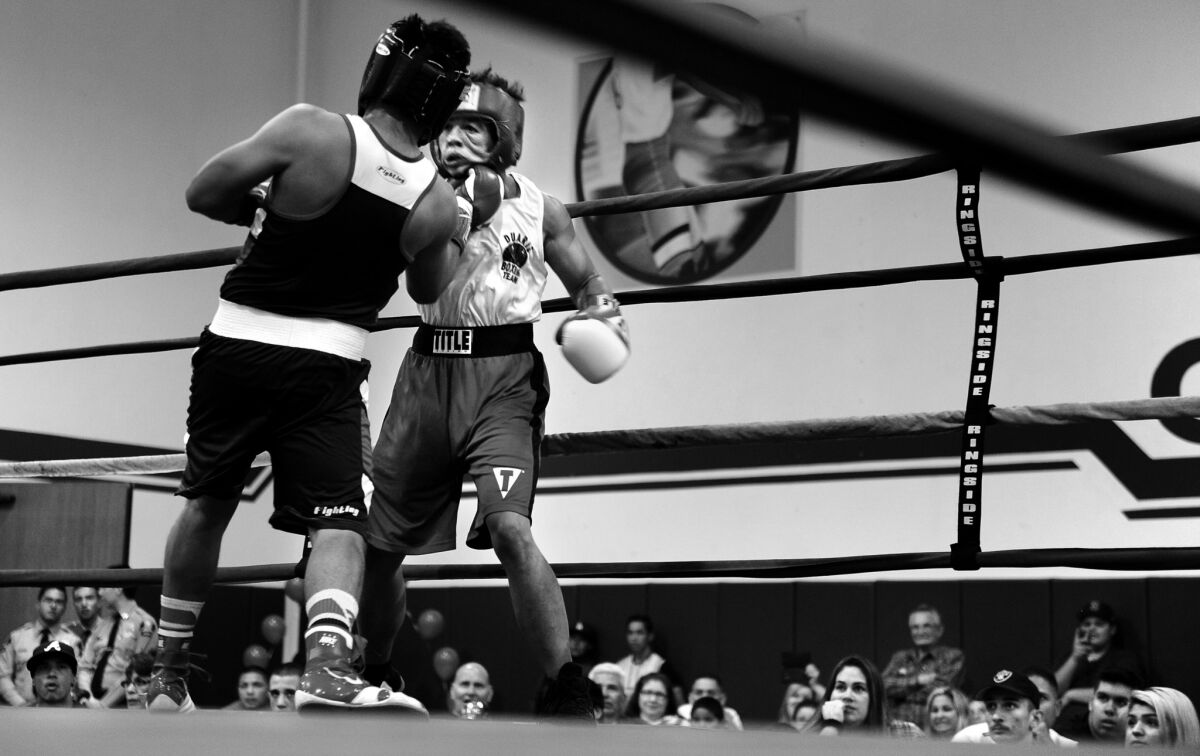 ---
Time is now the major opponent. Manuel, who turned 32 last month, has fought just once in the last 14 months, losing a controversial decision in Tulare. His next scheduled bout — somewhat of a moving target — will come later this year. It will mark his long-awaited professional debut at an age when most fighters are considering retirement.
But Manuel isn't the retiring type. And while Patricia endured hundreds of punishing bouts as an amateur female champion, Patricio is just getting started as a professional male boxer. The wear and tear of the past has been replaced by an enthusiasm and excitement over what lies ahead.
There are other changes as well. He has a girlfriend, Amita Swadhin, a 39-year-old consultant and national advocate on childhood sexual abuse. Together they share a 4-year-old pit-bull mix named Ginkgo. Manuel has also found acceptance, he says, as a black man in a neighborhood as diverse as his own racially mixed ethnicity.
So when he finishes his morning runs and climbs the steps to his sparse second-floor apartment, he truly does feel at home — maybe for the first time.
"Now I'm finally myself," he says. "I'm finally comfortable in my own skin, comfortable here, comfortable with myself."
kevin.baxter@latimes.com | @kbaxter11
wally.skalij@latimes.com | @WallySkalij
Get our high school sports newsletter
Prep Rally is devoted to the SoCal high school sports experience, bringing you scores, stories and a behind-the-scenes look at what makes prep sports so popular.
You may occasionally receive promotional content from the Los Angeles Times.