Pat Manuel will make history as the first transgender male to fight professionally in the U.S.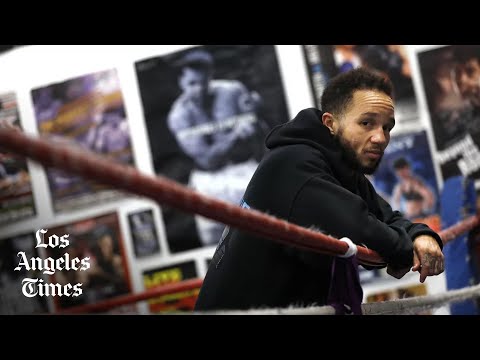 The L.A. Times followed Pat Manuel for three years, tracking the boxer's journey from a woman hoping to make Olympic boxing history to a transgender man working to get back in the ring.
When Patricio Manuel steps through the ropes and into the boxing ring just after 6 p.m. Saturday, few in the crowd at the Fantasy Springs Resort Casino in Indio will know what a long and torturous trek he made to get there.
They won't know about the resistance overcome or the months of physical rehab endured. They won't know how hard it was to get those chiseled biceps atop a super featherweight's thin frame. They may not even know that, at 33, an age when undefeated champions Rocky Marciano and Andre Ward had already retired, Manuel will be making his pro debut.
And if they don't know any of that, they surely won't know that Patricio used to be Patricia — he was a she — and in the four-round bout against Hugo Aguilar, a journeyman boxer from Mexico, Manuel will make history as the first transgender male to fight professionally in the U.S.
"It feels like a long time coming," said Manuel, who fought for the last time as a female in the 2012 U.S. Olympic Trials. "But I'm still like, 'Wow, we're finally here. Finally at this point.'
"I just feel incredibly fortunate to be in this position. To be able to enjoy all the sacrifice, all the work, all the doubt that came through over the years to really be here in this moment."
If you feel like you've read this story before, it may be because you have. Fifteen months ago, after losing his coach, getting kicked out of a gym and seeing his dream of fighting as a man stymied by bureaucracy — no one was quite sure how to license a transgender boxer — Manuel split two amateur bouts and was set to turn pro before suffering a broken bone and torn ligament in his right thumb.
Eric Gomez also read that story and as president of Golden Boy, Oscar de la Hoya's boxing promotion company, he was uniquely positioned to help.
"It really inspired me," he said. "This is a story that is bigger than boxing. It's a very tough sport. You compound that with what Pat went through. The inner struggles, the process of transition and to keep wanting to fight?
"Just that drive is impressive. It's very different than any athlete I've met. And I've been doing this for 20 years."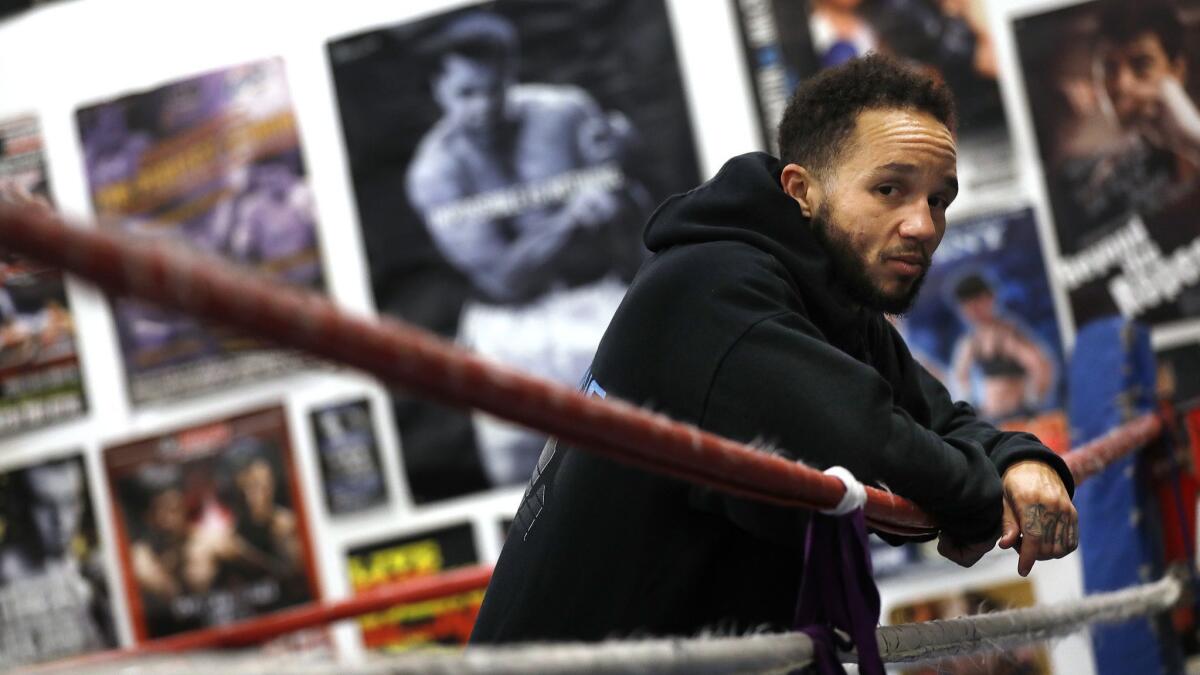 So Gomez — along with a number of politicians, including state assembly Speaker Anthony Rendon and Dean Grafilo, director of the California Department of Consumer Affairs — cut through the red tape to help get Manuel licensed. Golden Boy then arranged a bout, matching Manuel against the winless Aguilar (0-5) on an eight-fight card topped by a super featherweight world championship elimination bout matching Rene Alvarado of Nicaragua against Carlos Morales of Los Angeles.
"We haven't talked about doing any more fights," Gomez said. "His dream was to debut as a professional fighter. Everybody has a right to follow their dreams. Just to be part of this is special for me."
Manuel, whose ancestry is Irish, Mexican and black, never really knew his father. But his mother, Loretta Butler, and grandmother Patricia Jean Butler were never far away, supporting Manuel through childhood in Gardena and a boxing career that included almost as many injuries as bouts.
And all the while, they sensed something was different about young Patricia, who was named for her grandmother. She preferred boys' clothes to dresses, kept her hair short and played with action figures rather than Barbie dolls.
"Every Christmas I would be buying toys at Toys 'R' Us and everybody would say, 'Boys at home, huh?'" Loretta Butler remembered.
So one winter Manuel's grandmother got creative with her gift-giving, buying Patricia a boxing club membership. Although female fighters were rare, Manuel took to the sport and its hyper-masculine ambience quickly, moving to the Commerce Boxing Club and spending long hours working with Roberto Luna, who trained three Olympians.
Manuel was to be his fourth. But in the 2012 women's Olympic Trials, Manuel had to withdraw after one bout — a one-sided lightweight loss to Florida's Tiara Brown — because of a shoulder injury.
Even before the trials, Manuel had thought of transitioning to male, but the hope of representing the U.S. in the first Olympic boxing tournament for women held him back. After the trials, there was no reason to wait. On the trip home, Manuel told Butler that her daughter would soon become her son — then waited for the response.
It was one not of surprise but relief.
"Pat has always been a male," his mother says. "It's just Pat was not assigned properly at birth."
The transition started with hormone treatment 18 months later, and by early 2014 Manuel had put on 15 pounds, grown facial hair and heard his voice drop a couple of octaves. The following spring, 26 months after his final fight as a woman, Manuel flew to Salt Lake City for surgery, which involved the removal of breasts and the shaping of a male-contoured chest.
His grandmother paid for the nearly $6,000 procedure, which is the point of no return in the transition process. And just as she traveled the country to offer ringside support during Manuel's fights, Butler traveled to Utah to offer support before and after her son's surgery.
Others weren't nearly as accepting. Some friends became less friendly when they noticed Manuel's mustache. Two potential employers decided they didn't have job openings after the woman they interviewed on the phone showed up to work as a man. And the new gym where Manuel trained, in Carson, told him to leave.
Months later, Luna cut his ties to the fighter as well.
Vic Valenzuela, who trained a number of decorated fighters at the Duarte Boxing Club, offered a home as well as physical and emotional support. The licensing process proved more difficult: The state boxing commission, which regulates prizefighting in California, had never dealt with a situation such as Manuel's, so it demurred on giving him permission to fight.
But USA Boxing, the national governing body for amateur competition, offered a way out. When the International Olympic Committee changed its policies shortly before the Rio Olympics, ruling that female-to-male transgender athletes should be allowed to compete "without restriction," USA Boxing approved Manuel's amateur license.
The next hurdle was finding an opponent who wouldn't walk out of the gym when told he was scheduled to fight a transgender boxer. That happened so frequently that Valenzuela decided to keep his boxer's backstory a secret when he signed up Manuel for the 2016 Cinco de Mayo card at the South El Monte Community Center. That fight went forward, with Manuel winning by decision in a three-round bout.
That bout was historic in its own right. While trans athletes such as Thai boxer Parinya Charoenphol and MMA fighter Fallon Fox have competed at the highest levels in combat sports, the Cinco de Mayo win was believed to have made Manuel the first U.S. boxer to have transitioned from female to male.
Now he's taking it up another level by going pro.
"We keep being told that to be a high-level successful athlete, you have to be born in a man's body," said Cyd Zeigler, co-founder of Outsports, a website focusing on LGBT athletes, "and that anyone born in a man's body has an automatic advantage over anyone born in a female body. People like Pat are showing that transgender men can compete at the highest levels against cisgender men.
"It is not just powerful for the trans community but it really should open our eyes to the foolishness of the stereotypes we've always had about gender in sports."
Because of injuries and difficulties finding opponents, Manuel has fought only once since his May 2016 victory, losing a decision in Tulare five months later. Given all the obstacles, simply making it into the ring in front of his mother and grandmother Saturday could be considered a victory.
But Manuel, whose first pro paycheck won't cover his expenses for the fight, isn't treating it that way.
"I'm not the type of person that's just going in there for a participation trophy," said Manuel, who now lives in Boyle Heights and sports a full beard to go with his mustache. "My goal is to win. My mindset isn't really thinking about the history of this. It's more thinking about just going out there and performing as an athlete."
Gomez, the Golden Boy executive, also sees a bigger picture.
"It's good for boxing but it's good for humanity as well," he said. "This is a human story. If you're good enough, you should be allowed to compete.
"Can you imagine how many people turned him down, how many people put him down? He's already succeeded in life. Just to do what he's doing, to be up there, to not be afraid, to be in the spotlight. He's a champion in my eyes."
kevin.baxter@latimes.com | Twitter: @kbaxter11
Get our high school sports newsletter
Prep Rally is devoted to the SoCal high school sports experience, bringing you scores, stories and a behind-the-scenes look at what makes prep sports so popular.
You may occasionally receive promotional content from the Los Angeles Times.