Chargers' Anthony Lynn trying to buck a trend: former running backs don't make it as head coaches
Anthony Lynn wants to make something that should be obvious very clear.
"Don't ever get me wrong," he said. "I don't compare myself to Vince Lombardi."
No one would mistake a coach without an NFL victory, one entering a season as the top man for the first time, for professional football's most iconic coach — the man for whom the Super Bowl trophy is named.
But as Lynn devoured Lombardi biography after Lombardi biography, trying to study the game's best, the Chargers' new head man found himself relating. He, like Lombardi, loved coaching the nuances of the running game. He, like Lombardi, had struggled to find a head coaching job. He, like Lombardi, thought that maybe it was related to prejudice.
"In reading those books, I was like, 'Dang, there are some similarities,'" Lynn said.
The Chargers don't need Lynn to be Lombardi. They do, however, want him to get that trophy into the building for the first time. It's a lofty goal for someone with a pedigree that hasn't often transformed into a successful NFL head coach.
Lynn is trying to buck a pair of trends that have existed since long before Lombardi — running backs don't make it as head coaches and guys who coach them usually don't make good ones, either.
Lynn spent six seasons as a back in the NFL, four with Denver, after going undrafted. Upon retiring, he immediately joined the Broncos coaching staff, beginning a 17-year odyssey to getting a head-coaching job.
"Running backs, for whatever reason, become pigeonholed," Lynn's longtime colleague Rex Ryan acknowledged.
There's no doubt he's a star. And, he's going to be a star. Everything he did, man, holy [expletive], I knew I had the best coach in the league.
— Rex Ryan
It's a conception that's existed seemingly forever. As far as modern NFL running backs go, only former Denver coach Dan Reeves transitioned into a coach good enough to win 20 or more games.
After retiring as a player and spending two years as a special teams assistant, Lynn spent the next 14 years coaching running backs in the NFL, becoming a coordinator only after Ryan fired his offensive coordinator, Greg Roman, last season in Buffalo.
After the Bills fired Ryan, Lynn served as the head coach for the final game of the season, a loss, before being hired by the Chargers.
Ryan, who coached with Lynn for eight years in New York and Buffalo, said he knew Lynn someday would be running his own team.
"He's a star. There's no doubt he's a star. And, he's going to be a star," Ryan said. "Everything he did, man, holy [expletive], I knew I had the best coach in the league. That's how I felt."
But that's not how everyone felt, evidenced by Lynn's slow rise from positional coach.
Along the way, Lynn's frustration almost pushed him onto a more traditional path to getting a top job — coaching other positional groups in an effort to seem more diversified to NFL owners and general managers.
"I was impatient. I probably should've been more patient, but I was seeing some of my counterparts move up faster than me. At one point, I wanted to switch positions. I thought that would help me move up faster," Lynn said. "But when I looked at the running back position and the receiver position, I thought the running back position would get me more prepared.
"I'm an expert in run-game scheme. I'm an expert in protection. Protecting the quarterback is the hardest thing to do in the National Football League right now. And not only that, I'm involved in the passing game. I just felt like I was learning more at that position than if I was just coaching wideouts or coaching quarterbacks."
And, Lynn thought, if coaching running backs helped prepare Lombardi, it certainly could work for him.
Prior to becoming an icon of excellence, Lombardi — an undersized guard on the football field — orchestrated the ground game at Fordham and Army before finally being hired as the Giants' offensive coordinator.
He was 45 years old when he was hired to run the Green Bay Packers. Lynn was 48 when the Chargers hired him.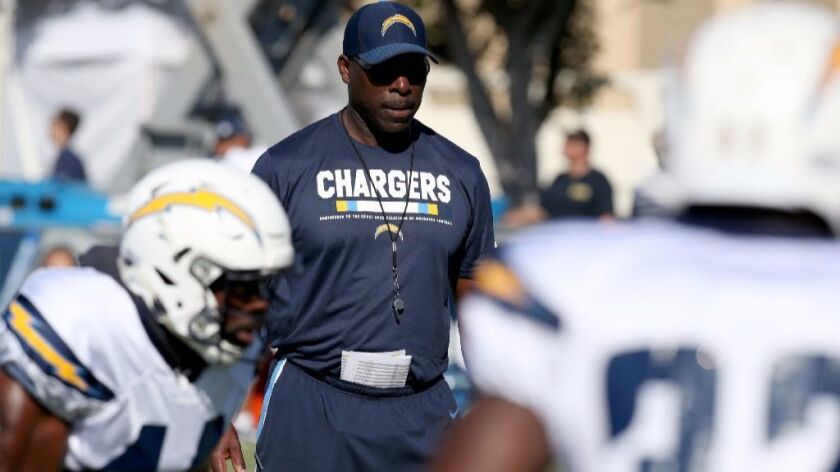 As Lynn read books like "When Pride Still Mattered" by Davis Maraniss — the one Lynn likes to recommend — he started to notice parallels that inspired him.
"I didn't know he (Lombardi) coached running backs forever. I didn't know he felt discriminated against because he was Italian — everyone was passing him up. Then he becomes an OC for a year and becomes the best coach ever," Lynn said. "I just identified with him. I loved his concepts and his philosophies. Those things you can still can coach today. Those things don't get outdated."
"He was always himself," Lynn added. "He didn't try to be like his mentors. He didn't try to be like this other guy. He was always true to Vince."
While Lynn's list of mentors is deep — Texas Tech's Spike Dykes, 49ers legend Bill Walsh, Bill Parcells and Romeo Crennel — Lombardi influenced the thing about Lynn that's impressed his new players most. Be yourself.
In Maraniss' book, he notes that a pair of laminated cards served as Lombardi's bookmarks, including one that read, "Be in peace with many but let one in a thousand be thy counselor" — a verse from the book of Ecclesiastes in the Bible.
Lynn has taken that approach to his first true head-coaching job.
Learn from Walsh, Lombardi, Parcells, Crennel and Ryan — but don't try to be them.
"He knows the importance of being real," Chargers offensive lineman Matt Slauson said. "If players see that fakeness out of you, they're going to jump all over it. I've seen a lot of coaches try to emulate, say the Bill Belichick style, and it's just not them. When you see it, it's not real and it's obvious.
"You want to be who you are."
And in a short amount of time, Lynn's players have learned who he is.
They know he's competitive. They know he's compassionate to their needs as players because he was one. They know he trusts the leaders on the team to play a big role in the direction the group goes. They know he'll tell the truth.
"Don't ask him where you stand unless you can handle the answer because A. Lynn is going to tell you," Ryan warned.
And, Lynn knows to keep the "filler" to a minimum.
"If he has to say something and can do it in seven words, he's not going to use eight," Chargers safety Tre Boston said. "He doesn't like wasted movement, wasted energy. That's not him."
And, he believes he can reach anyone.
Ryan, who fittingly will be in the television booth as an analyst for Lynn's Chargers debut Monday night, remembers a running back that teams had quit trying to teach pass protection. Lynn, Ryan said, cracked that code.
"He can touch the right buttons on every single player. He's unique this way. I knew that about Anthony almost right away," Ryan said, and added, "He's very creative in the ways he'll teach."
There's a determination that Lynn possesses. It's what allowed him to keep working with running backs even if it pushed his coaching timetable back. It's how he's impacted Pro Bowlers and practice squad members. And, the Chargers hope, it's how he'll help the organization break through in Los Angeles.
Inside his office at the team's new facility in Costa Mesa, in the corner of a window that faces out to manicured green grass, there's a reminder of the formula Lynn wants to use.
On the right, there's a picture of the Lombardi that people most commonly remember — fedora, spectacles and a toothy grin. And next to the image are these words, one of Lombardi's most famous quotes: "The difference between a successful person and others is not a lack of strength, not a lack of knowledge, but rather in a lack of will."
Lynn knows his work is just beginning.
"Now is when it really starts for me," he said. "This is when you grow, when you evolve. You haven't done anything yet because if you get this and fail, it can make it worse. It starts now.
"Now, it's real."
Twitter: @DanWoikeSports
---
Get the latest on L.A.'s teams in the daily Sports Report newsletter.
You may occasionally receive promotional content from the Los Angeles Times.