Anthony Lynn gets game ball from Chargers, and an apology, after his first win as an NFL coach
Reporting from east rutherford, n.j. —
Chargers coach Anthony Lynn walked into the locker room, about to do something he'd never done before.
He said it was an ugly game. He told his team they made mistakes and screwed things up. It happened on offense. It happened on defense. It happened on special teams. He told them there were lessons they were going to need to learn.
And, he told them that stuff could wait because the rest of Sunday, that was for celebrating.
Lynn and the Chargers won their first game this season — the first win of Lynn's head coaching career — outlasting a badly banged up New York Giants team 27-22. The victory snaps a nine-game losing streak for the franchise that dated to last November.
"Our guys hung in there and found a way," Lynn said. "It wasn't always pretty. But, they found a way to win a close game."
It was a victory the team, and Lynn, desperately needed.
For the players, winning on a day they made so many mistakes — an early safety, a red zone interception and 11 penalties — made the victory sweeter. It required the team to make plays in the fourth quarter, to get stops, to force turnovers and put the ball in the end zone. And, frankly, these haven't been the Chargers' strengths late in games.
When the going had gotten tough, the Chargers got mistake-makin'.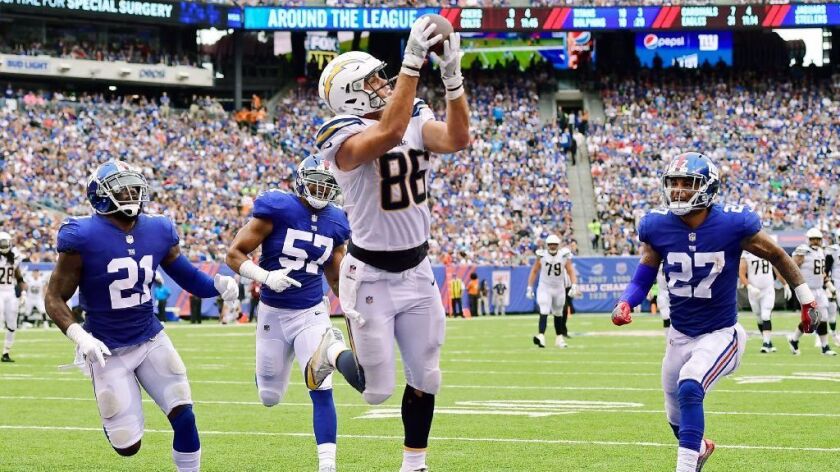 But Sunday, the Chargers played a fairly strong final quarter, putting together an 11-play drive that led to a field goal and scoring a touchdown after Melvin Ingram sacked Eli Manning, forced a fumble and recovered it.
And when the Giants moved down the field with a chance to win, Tre Boston stepped in front of a Manning pass to seal the victory.
Philip Rivers threw for three touchdowns, two going to Melvin Gordon, who added 105 yards rushing. And while the defense gave up more than six yards a carry to the Giants, who came in averaging 3.2 on runs, it sacked Manning five times, the quarterback already burdened by the Giants losing four wide receivers to injury during the game, including star Odell Beckham Jr., who fractured his left ankle.
"It was what we needed," Lynn said.
The Chargers head coach wasn't just talking about his team. Lynn audibly exhaled as he walked out of his postgame press conference, relieved to finally have his first NFL win under his belt.
Lynn's journey from undrafted running back to Super Bowl champion player to NFL head coach was a long trip considering 17 years spent as an NFL assistant.
Chargers offensive tackle Russell Okung said Lynn's demeanor helped them face a big test in the 0-4 start.
"The thing Anthony really understands that maybe a lot of coaches don't understand is resiliency and persistence," Okung said. "It's easy to go into the dumps when things aren't going your way, but one thing I haven't seen is Anthony faltering. He hasn't blinked yet. …You think a guy like that doesn't understand? You think a guy like that doesn't know how to get through stuff? Is being 0-4 going to bother that man?
"He's fought his whole life."
Sunday, it was the Chargers' turn to fight — and finish.
After an ugly first half in which the teams combined to punt 11 times and Rivers completed only nine of 22 passes, the Chargers scored 17 second-half points. Most impressively, Rivers and Hunter Henry connected on a 25-yard score that capped a 12-play, 92-yard drive.
The drive began inside the 10-yard line because of a special teams penalty and saw a 26-yard run from Gordon wiped out because of a holding penalty — all before the Chargers could gain a first down.
"There aren't many offenses that can make that drive," Rivers said. "…I just don't believe there are, that would have fought through that and made that drive. Now, there are a lot of offenses that have done a heck of a lot better than us on other drives, but that was a big-time drive."
For a change, the Chargers were on the right side of big-time moments. An extra point from new kicker Nick Novak ricocheted off the right upright and between the pipes. The fumble forced by Ingram squirted around long enough for him to grab the ball before it went out of bounds.
And the passes on which Rivers got hit or rushed almost all fell harmlessly to the turf.
When the game had ended and Lynn had delivered a victory speech years in the making, Rivers decided he needed to complete one more pass.
He flipped his coach the game ball.
"Game ball to Coach Lynn," he barked. "Sorry it took so dang-gum long."
Twitter: @DanWoikeSports
---
Get the latest on L.A.'s teams in the daily Sports Report newsletter.
You may occasionally receive promotional content from the Los Angeles Times.