Chargers tight end Hunter Henry might be ready for playoff game against Ravens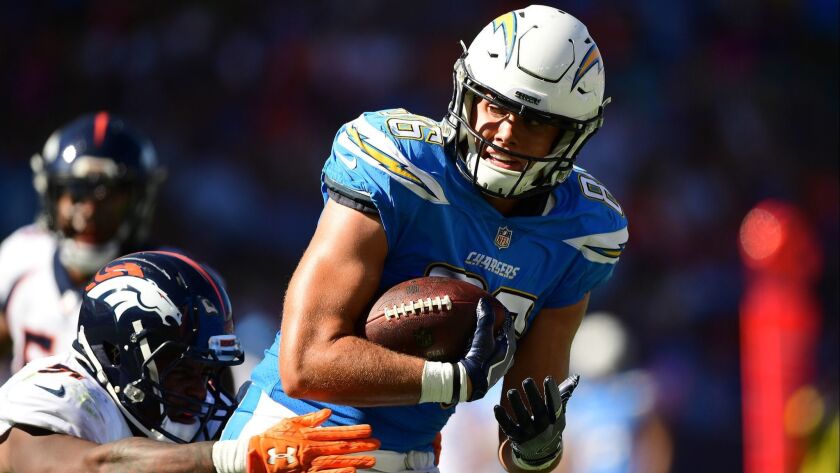 The Chargers finished the regular season looking like a team in need of offensive help.
A boost once considered unlikely could arrive this week, just in time for Sunday's wild-card game against Baltimore.
Hunter Henry is scheduled to participate in practice with the starters as the Chargers gauge the tight end's availability for the postseason.
"We want to give him a good look this week to see where he's at," coach Anthony Lynn said. "I like the progress that he's been making. But he hasn't played football in a long time. … He's going to have to really show us that he's ready."
Henry's most recent game came on Dec. 16, 2017, at Kansas City. He tore the anterior cruciate ligament in his right knee during practice in May and was expected to miss the 2018 season.
He progressed to the point where the Chargers in mid-December designated him to potentially return. They have until Monday to activate Hunter or rule him out.
"He's one of the better combo tight ends in our game," Lynn said. "His size, his red-zone touchdowns … Hunter definitely can add to that. His pass protection, his blocking. … He can do a lot of things."
Henry has 81 career receptions for 1,057 yards and 12 touchdowns in 29 games over two seasons.
In his absence, veterans Virgil Green and Antonio Gates have given the Chargers stability. Henry, however, would present the offense with more playmaking ability.
"I believe that the knee is stable," Lynn said. "We did some things last week and I thought he looked really good. Now it's just about his conditioning, getting back with the chemistry of the offense, just playing football."
Henry also would give quarterback Philip Rivers another option at a time when the Chargers are struggling on offense.
Over the last two games, they've had 24 possessions, half of which have ended in punts. They've also turned the ball over six times with four interceptions and two fumbles. Twice the clock ran out.
They've scored three touchdowns and kicked one field goal on the four possessions that have netted points.
"There's some concern," Lynn said. "But it's definitely something that I believe we can fix."
The Chargers have struggled particularly in trying to sustain drives, picking up more than two first downs on only three of those 24 series.
Against a Ravens team that loves to hog the ball on offense and pressure the quarterback on defense, the ability to prolong drives figures to be paramount.
The Chargers converted only four of 13 third downs against Baltimore in a 22-10 loss at StubHub Center on Dec. 22. (They are eight of 24 over the last two games.)
During the regular season, they finished 16th in the NFL with a third-down conversion rate of 40%. The Ravens defense ended up third, allowing opponents a 34% success rate.
Running back Melvin Gordon was hobbling because of a tweaked ankle at the end of a 23-9 victory Sunday at Denver.
Afterward, he said he expected to be ready to face Baltimore, something Lynn confirmed Monday, although the coach sounded more cautious.
"I don't know how serious his ankle injury is," Lynn said. "Knowing Melvin, this type of game, I mean, these are the games he definitely plays for. I do think he'll be available."
Another spark could come from Austin Ekeler, who missed the previous game against the Ravens because of a bruised nerve in his neck. He returned Sunday and finished with eight carries for 58 yards.
Despite the sputtering offense, Lynn said he remains confident in the group and recalled how, as a player, he experienced a team righting itself just as the playoffs were beginning.
Lynn was a running back for the 1997 Denver Broncos, who lost two of their final three regular-season games before winning the Super Bowl as a wild card.
"I think we can do the same thing here," he said. "I am concerned but not overly concerned.
"It's a new season. It's a different energy right now. These guys are excited. They can't wait to play."
Brown is out
While the offense could be receiving some help, the defense suffered a loss Sunday when linebacker Jatavis Brown went down with an ankle injury. He will miss the postseason.
Hayes Pullard, who replaced Brown after he was hurt on the final play of the first quarter, figures to stay in that position against the Ravens. The Chargers could employ more packages using their defensive backs.
Against Baltimore and mobile quarterback Lamar Jackson in the Week 16 loss, Brown played 51 of 62 defensive snaps and finished with a team-high eight tackles.
"They make you play very disciplined because of their quarterback," Lynn said. "We just have to do a better job this time than we did the first time."
Pullard played 11 snaps on defense against the Ravens in the first meeting. He does provide the Chargers with some experience having started 10 games last season.
"I think he came in and played hard," Lynn said of Pullard on Sunday. "He's a sure tackler. He knows our defense … he helps people around him. He's a good football player."
Minority coaches dwindle again
The numerous firings in the NFL on Sunday and Monday left Lynn as one of only two African-American head coaches. Pittsburgh's Mike Tomlin is the other.
Lynn said as of Monday afternoon he hadn't had the opportunity to reach out to any of the dismissed coaches, explaining that he had been preoccupied with preparing for the Ravens.
He also said he longed for a time when skin color wasn't a topic of discussion in the NFL.
"I'm watching tape on Baltimore, I'm not counting the black players and the white players," Lynn said. "They're just football players to me. I look forward to the time when we just talk about good coaches. Not black coaches, not white coaches. Just coaches."
He also said those in his position understand how the business works and how teams have little patience these days.
"They're going to fire six, seven of us every single year," Lynn said. "Unfortunately, we're evaluated on how fast we can turn it around. I think some of our greatest coaches — Hall of Fame guys — I question if they would last in today's environment.
"That's just the way it is. We know what we signed up for. It happens to coaches every single year. Black, white it doesn't matter.
"I think patience has gotten shorter probably ever since the invention of the microwave."
Twitter: @JeffMillerLAT
---
Get the latest on L.A.'s teams in the daily Sports Report newsletter.
You may occasionally receive promotional content from the Los Angeles Times.