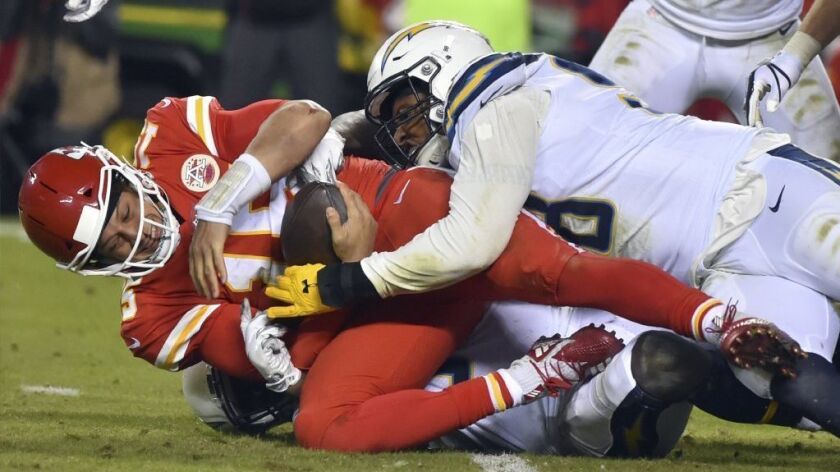 Reporting from baltimore —
This won't be Isaac Rochell's first playoff game for the Chargers.
But it should be the first in which he doesn't play both ways.
His NFL employers are unlikely to use the young defensive lineman as a fullback and a tight end Sunday against Baltimore.
That's what happened when the Eagle's Landing Christian Academy Chargers beat Prince Avenue Christian in 2012 to win the Georgia Class A private schools state championship.
Sunday's quick-turnaround rematch against the Ravens — Baltimore beat the Chargers 22-10 just two weeks ago in Carson — will be Rochell's first playoff appearance since that 33-0 prep victory.
"I anticipate there being a little more adrenaline," said Rochell, who, at 23, is in his second NFL season. "I'm human. I do know it's a playoff game. I know it's more important."
Nearly three-quarters of the players on the Chargers' projected active roster Sunday will be making their professional postseason debuts.
The group includes running back Melvin Gordon, wide receiver Mike Williams and defensive backs Derwin James, Adrian Phillips and Desmond King, whose play this season earned each All-Pro recognition.
That's a lot of inexperience entering a game forecast to be edgy and tight, a game in which even the slightest difference could make the ultimate difference.
Before kickoff, it's impossible to measure how much — or even if at all — this will affect the game.
It also needs to be noted that the Ravens, though more experienced this time of year, also have plenty of first-timers, including Lamar Jackson, who, one day short of his 22nd birthday, is about to become the youngest quarterback to start an NFL postseason game.
"It's important for the guys who have been in it not to make it sound frightening or anything crazy," Philip Rivers said. "I mean, it's what you dream about playing in in the offseason. In spring and during training camp, you're excited about this time."
Rivers will be making his 10th playoff start and trying to even his record at 5-5. He's 37 and the age gap between the two starting quarterbacks Sunday will be the third-largest ever in the NFL playoffs.
Unlike the game last month, the Chargers anticipate having versatile, pace-changing running back Austin Ekeler this time.
In that loss on Dec. 22, they struggled running the ball, extending drives and neutralizing the Ravens' aggressive, downhill defense.
Ekeler, who has been limited in practice because of a groin injury, could be part of the solution to all three problems.
Then again, his most recent playoff appearance also came in high school, in Colorado six years ago, when Eaton High lost in the second round and Ekeler fumbled "like five times" because the game was staged in a snowstorm.
"We've had good energy all year, and I think that's why we've had such a successful regular season," Chargers offensive coordinator Ken Whisenhunt said. "But it's different in the playoffs. It's a new world for some of them."
Experienced in January or not, the Chargers are convinced they've been calloused by overcoming foreboding deficits, worthy opponents and rabid noise to win seven of eight road games this season.
They will enter M&T Bank Stadium and its anticipated insanity knowing they've already won at Seattle, Pittsburgh and Kansas City and certain the citizens of Baltimore can be no more menacing than what they've already encountered.
The Ravens will show up knowing they, too, have won at Pittsburgh and against the Chargers on the road.
They also are aware that only two late fourth-down conversions by Kansas City prevented them from winning at Arrowhead Stadium a month ago.
What's more, Baltimore basically has been in the playoffs for at least a couple weeks now. The Ravens, who ended the regular season on a 6-1 run, needed to win their final two games just to reach this point.
"It's funny," Rivers said. "Two weeks ago, we were the hottest team in football and the front-runners. And now it seems like the scenario is all flipped. Who knows? We'll find out."
We'll also discover how the proximity of the teams' past meeting will influence this matchup, the celebrated adjustments always present in this sport on display so soon.
Baltimore coach John Harbaugh called the situation "almost kind of like a doubleheader." Rivers said it's as if the Chargers and Ravens have been in a "13-day halftime."
Whatever the Chargers concoct, the offense will have to give Rivers and his fellow playmakers more time to make plays than it did two weeks ago.
Rivers was visibly battered after that game, and that's not a reference to the season-worst statistics he compiled in pretty much every significant category.
"They brought the fight to us," Chargers coach Anthony Lynn said. "We've got to do a better job of handling that."
No matter what happens Sunday, all that lack of experience for the Chargers is guaranteed to be gone by day's end.
By treating the franchise's biggest game since January of 2014 as just another date in October, they believe they'll be ready.
"If the approach is the same, the feeling shouldn't be that different," Rochell said. "If you come out here [in practice] and focus on the same things you've been focusing on all year, when the game comes you're not stressed."
Twitter: @JeffMillerLAT
---