Chargers' defense must think quickly to contain running Ravens quarterback Lamar Jackson
Damion Square spent many a practice as a Philadelphia Eagles rookie in 2013 trying to corral one of the NFL's best dual-threat quarterbacks, then-teammate Michael Vick, whom Square described as a "one-of-a-kind talent."
That won't necessarily help prepare the Chargers' defensive lineman for what he will face Saturday night when the Baltimore Ravens and rookie quarterback Lamar Jackson — who combines the power and elusiveness of an elite running back with the speed of a wide receiver — visit StubHub Center.
"These guys are out there playing football and having fun, man," Square said of highly athletic quarterbacks such as Jackson and Vick. "They don't even know what they're about to do, so it's almost impossible for you to try to figure that out."
Jackson will provide a unique challenge for the playoff-bound Chargers (11-3) because he is an NFL anomaly — a quarterback who has almost as many rushing attempts (114) as passing attempts (124) this season and can probably do more damage on the ground than he can through the air.
The 6-foot-2, 212-pound Jackson, a former Louisville standout who won the Heisman Trophy in 2016, replaced the injured Joe Flacco in Week 11 and has led the Ravens (8-6) to four wins in five games, his only loss coming at Kansas City in overtime on Dec. 9.
Jackson has been so effective that when Flacco was ready to return from a hip injury last weekend, the Ravens stuck with Jackson, who completed 14 of 23 passes for 131 yards and a touchdown and rushed 18 times for 95 yards in a 20-12 win over Tampa Bay.
"I haven't seen a quarterback run like this since Tim Tebow in Denver in 2011 when he took them to the playoffs," Chargers coach Anthony Lynn said. "And I think they're running it even more."
The Ravens revamped their offense to accommodate Jackson, switching from a drop-back scheme with the immobile Flacco to a read-option-heavy scheme with a mix of short drops, fly-sweep fakes and shovel passes. They look more like a 1980s-era Big Eight team — think Nebraska or Oklahoma — than an NFL team.
And Jackson, the team's leading rusher with 566 yards this season, is just accurate enough with his short- and medium-range passes that defenses can't totally stack the box against the run.
"That's why preparation this week is going to be critical, because you're playing a team that's really unconventional compared to what we've seen all year," Lynn said. "They're using their quarterback like a running back, and that makes it difficult for your defense. You have to be disciplined and you have to be in your gaps."
The Chargers have faced quarterbacks as elusive and dangerous off-schedule as Jackson — Kansas City's Patrick Mahomes and Seattle's Russell Wilson come to mind — but neither is as explosive as Jackson, who ran a 4.34-second 40-yard dash in college.
"I think between Lamar and Mahomes, they're equally dangerous," Chargers safety Adrian Phillips said. "Mahomes, OK, he can throw it a mile. Lamar can throw it like crazy too, but he can blink and he's running 70 yards.
"So throughout the week we'll have drills that focus on keeping the quarterback in the pocket and not letting him get out. But he's a great athlete. He's gonna get out. We just have to make sure that when he does, we get him on the ground quick."
Slowing Jackson and the Ravens, who rank second in the NFL with an average of 141.9 yards rushing per game, will start with linemen clogging running lanes and second-level defenders such as linebacker Jatavis Brown, slot cornerback Desmond King and Phillips making sound split-second decisions.
"I read the left or right tackle depending on what side I'm on — that's how I know if it's a run or pass," King said. "If they stand straight up, it shows pass. If they fire off the ball, it shows run. I have to read my keys and react to what I feel like it is."
Baltimore's offensive linemen will try to disguise their intentions, and Jackson can throw off defenses with play-action fakes. The Chargers will have to be disciplined in their pass rush, so as not to over-pursue and allow Jackson to escape the pocket.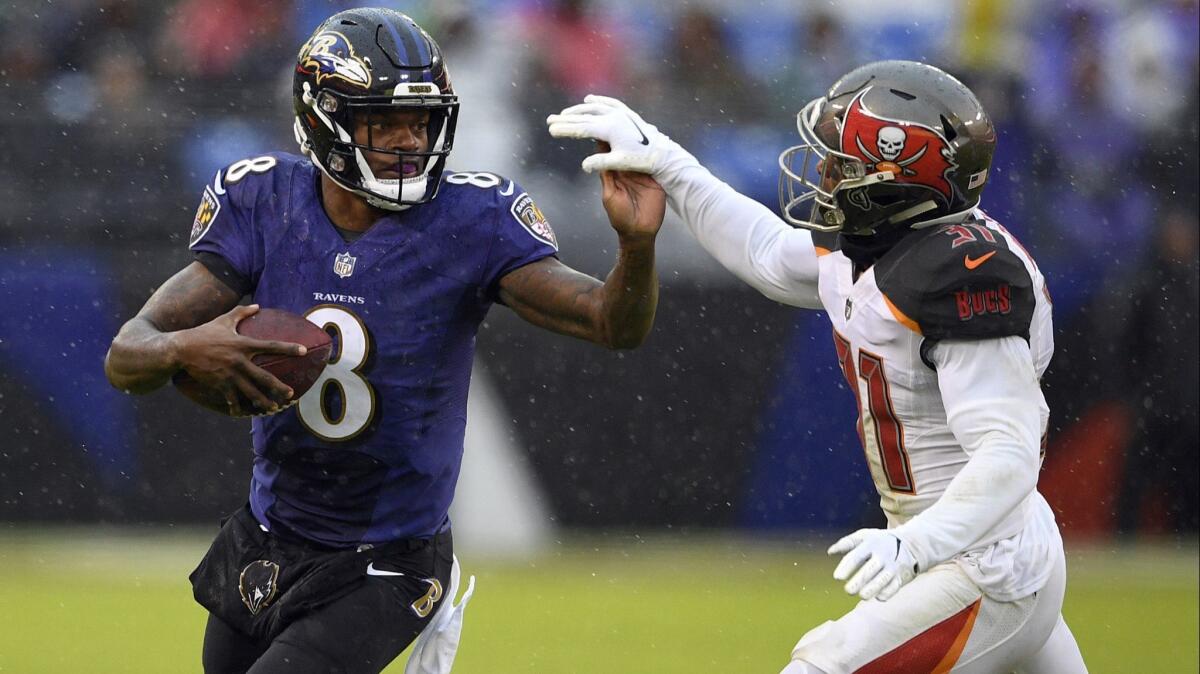 "You have to pay attention to where that guy is located at all times, especially when you're rushing him," Square said. "Rushing lanes are very important. Which side does he like to escape out of the pocket? You have to look at different things on tape and try to draw up the best plan you can to contain him."
A good Chargers offense will help. As effective as the Ravens have been with Jackson, their offense is not a quick-strike unit built to come from behind.
An early deficit could pressure Baltimore to pass more and become more one-dimensional, but that also will be a challenge — the Ravens defense is first in the league in points allowed (18.1) and total yards allowed (290.2).
"They want to keep the ball on the ground and keep the clock moving to manage the game," Phillips said. "Their defense is playing well right now, and if they're able to keep the game close like that, that's what they'll do."
Backup quarterbacks Cardale Jones and Geno Smith will try to simulate Jackson on scout teams this week, but neither is as electrifying with his feet as Jackson.
"We might have to put Trav out there," Phillips joked, referring to speedy wide receiver Travis Benjamin. "It's going to be challenging. It's like playing a college-style offense."
Etc.
Quarterback Philip Rivers and rookie safety Derwin James were among the Chargers' league-leading seven Pro Bowl selections, as announced by the NFL on Tuesday. Rivers was honored for the eighth time. He will be joined on the AFC roster by Chargers center Mike Pouncey (fourth selection), running back Melvin Gordon (second), wide receiver Keenan Allen (second), defensive end Melvin Ingram (second), safety Adrian Phillips (first) and James, a first-round pick in April. The 2019 Pro Bowl will be played in Orlando on Jan. 27, but players from the Super Bowl teams will not participate. Left tackle Russell Okung, cornerback Casey Hayward and fullback Derek Watt were named Pro-Bowl alternates. One noticeable absence from the selections was slot cornerback Desmond King, who has been one of the Chargers' best defenders this season. … Gordon, who missed three games because of a right-knee sprain, and defensive lineman Brandon Mebane, who missed three games to be in Omaha with his wife and ailing newborn daughter, were both full participants in practice Wednesday. Allen (hip), running back Austin Ekeler (neck) and tight end Sean Culkin (back) did not practice.
Get the latest on L.A.'s teams in the daily Sports Report newsletter.
You may occasionally receive promotional content from the Los Angeles Times.