Chargers were hoping to face Nathan Peterman again (five interceptions), but Bills rookie Josh Allen gets the starting nod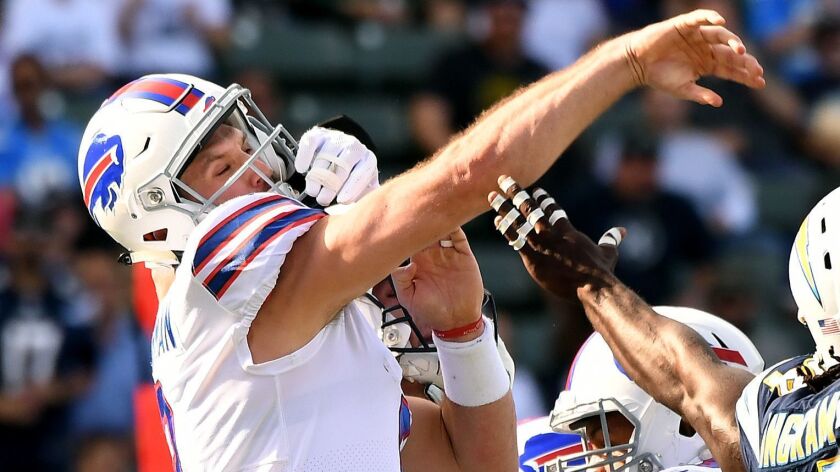 For 31 NFL teams, it was big news that Buffalo's starting quarterback Sunday will be Josh Allen.
But for one team — the Chargers — the bigger news was that it won't be Nathan Peterman.
The Chargers have quite a history with Peterman, even though that history spans only half of a game.
On Nov. 19 last year, the Chargers intercepted Peterman five times and limited him to a passer rating of 17.9 en route to crushing the Bills 54-24 at StubHub Center. Peterman had been given the start ahead of Tyrod Taylor — now a Cleveland Brown. Taylor was reinstated as the starter the next week.
Peterman was pulled after the second quarter and mostly faded into the background for Buffalo until last Sunday, when Peterman started again and had a game that, by some measures, was worse.
His rating was 0.0 before being pulled — this time during the third quarter — as the Bills lost at Baltimore 47-3.
Still, until announcing his decision Wednesday to go with Allen, Bills coach Sean McDermott had left open the possibility of starting Peterman again when the Chargers play at Buffalo this weekend.
The potential rematch promised intrigue given the nightmarish depths of Peterman's performance last fall in Carson.
Making his debut as a starter, he opened by hitting on eight of his first nine pass attempts, four of those completions going to Bills and four to Chargers.
By the time Peterman was benched, the Chargers had a 37-7 lead, a point total that marked the franchise's highest-scoring first half.
After the game, McDermott said he believed it "was the right situation for Nate to come in and play." On Wednesday, McDermott said starting Allen now is "the right move for our team."
So, for the second consecutive season, the Chargers will face the Bills on a day when their quarterback is making his first NFL start.
Allen, 22, was the third quarterback and seventh player drafted overall in April. He played two full seasons at Wyoming, where he built a reputation of having a strong arm and the ability to move.
"He's better than I thought as a runner," said Chargers safety Derwin James, a fellow rookie. "That surprised me a little bit."
Allen relieved Peterman against the Ravens and went six for 15 for 74 yards. He also rushed four times for 26 yards and was sacked three times.
Chargers coach Anthony Lynn noted that Allen began his second series Sunday by running for 11 and 14 yards on consecutive plays.
"It's a little bit of a concern," Lynn said of the rookie's ability to scramble. "Anytime you have to defend a quarterback on the move, it's going to make you play 11 on 11. It's a little bit of a concern."
Chargers linebacker Denzel Perryman said he was impressed by Allen's strength and wasn't just referring to his arm.
Perryman explained that on one play against Baltimore, Allen was able to escape the grasp of Terrell Suggs, the Ravens' 265-pound seven-time Pro Bowl selection.
"Terrell Suggs is a big guy, veteran player, big dude," Perryman said. "That's something we have to prep for. If he starts to run, we gotta gang tackle."
Bosa still out
Defensive end Joey Bosa is not expected to play Sunday because of his left foot injury.
Multiple reports indicated that Bosa traveled to Green Bay to see Dr. Robert Anderson for a second opinion on what has been described as a bone bruise.
He has not practiced since originally hurting the foot in early August. Bosa returned briefly last week but was lost again when he suffered a different injury to the same foot.
The Chargers remain unsure of a timetable for Bosa's return. Lynn has suggested that, given the nature of foot injuries, the problem could linger
The other Chargers who didn't practice were wide receiver Travis Benjamin (foot), right tackle Joe Barksdale (knee) and cornerback Craig Mager (hamstring).
Benjamin was wearing a boot on his right foot during the open session of practice.
Barksdale left the game Sunday during the Chargers' third series. He was on crutches in the locker room Wednesday and said he did not know when he might be able to return. Barksdale did say his injury is not season-ending.
Wide receiver Tyrell Williams (groin) also was on the injury report but was listed as a full participant in practice.
Fitting the Bills
Immediately before being hired by the Chargers, Lynn coached in Buffalo for two seasons. He finished 2016 as the team's interim head coach after Rex Ryan was fired.
"Feel good," Lynn said about returning to upstate New York. "Just another game."
Chargers general manager Tom Telesco is from Buffalo and spent four summers as a training camp intern for the Bills.
---
Get the latest on L.A.'s teams in the daily Sports Report newsletter.
You may occasionally receive promotional content from the Los Angeles Times.