Forrest Lamp keeps his guard up as he slowly tries to work his way into the Chargers' lineup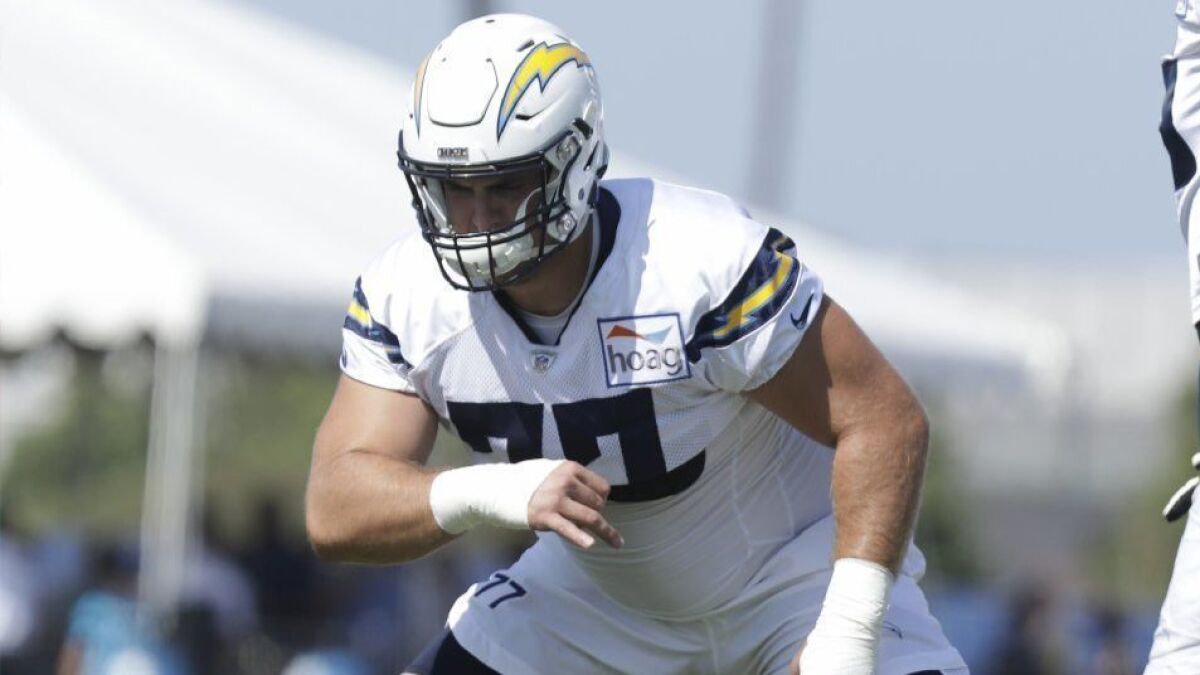 Forrest Lamp was drafted by the Chargers in April of 2017.
He has yet to make his NFL debut, and there's a good reason why.
"There are certain plays in practice where you feel really good," Lamp said Thursday. "Like, 'Oh, dang, this kind of felt like it used to.' Then there are plays that are really bad."
Three days into his first training camp, Lamp tore his right anterior cruciate ligament, ending his rookie season before it had a chance to begin.
In May, he underwent a second surgery — this one arthroscopic — after he felt more pain. That procedure caused him to miss most of the team's offseason program.
Lamp, a second-round pick in 2017, saw his only game action in the Chargers' preseason finale. He has been inactive for the first two regular-season games.
"We've been trying to get Forrest up, but we don't want to put him on the field before he's ready," coach Anthony Lynn said. "He hasn't played in two years. That's made it harder. But he's worked his tail off. He'll be back."
In four years at Western Kentucky, Lamp missed only two games, both because of an ankle injury his senior season.
He entered the 2017 draft as one of the top-rated offensive linemen, particularly among guards, and was projected to compete for a starting job after the Chargers' took him with the 38th overall pick.
Lynn said Lamp is trusting his knee more and moving toward being activated. This week of practice will provide the latest progress report.
"It's just that Forrest was an athletic guard," Lynn said. "He moved a lot and we pulled him in space. He doesn't feel that speed yet. He feels like he's a step behind."
Lamp said he's just trying to improve while waiting for the coaches to OK his return.
"I've always felt I've been a little bit behind," he said. "Just slowly working back into it. It's getting better. Being more consistent is the biggest thing."
Peters praises Rivers
This week, Rams cornerback Marcus Peters was effusive in his praise of Philip Rivers, someone he has intercepted four times.
He said he respected Rivers' competitiveness and fire on the field, going so far as to say he loved the Chargers quarterback.
"I love Philip Rivers," Peters announced. "I love what he does and that's not just trying to be sarcastic because of my play against him. That's just me saying that I love the way he approaches the game … him talking mess is just a competitor part of the game."
Later, Chargers defensive end Melvin Ingram appeared on the NFL Network and was given the opportunity to express his affection for the Rams' quarterback.
He, kindly, declined.
"Jared Goff is a good quarterback," Ingram said. "But, you know, I love my quarterback. That's the only quarterback I love. Let's be clear about that. I ain't in love with no other quarterback. But Jared Goff is definitely a good quarterback."
Watt in cast
Fullback Derek Watt suffered a broken thumb against Buffalo and was limited in practice Thursday. He's attempting to play with a cast on his hand.
Tight end Antonio Gates missed his second consecutive practice because of illness. Wide receiver Travis Benjamin (foot) didn't practice after being a limited participant Wednesday, suggesting he had a setback.
Nwosu at home
Sunday will mark a Coliseum homecoming for Uchenna Nwosu, who played at USC.
The rookie linebacker, who also attended Narbonne High, had a limited role in the Chargers' opener. But he's coming off a three-tackle game that included his first NFL sack in a victory over the Bills.
"He's a high-energy guy," Lynn said. "He hustles. He makes plays from the backside all the time. He's going to be a playmaker in this league. It's just a matter of time."
Etc.
Gates, Rivers, Ingram, Russell Okung and Brandon Mebane were officially named captains for the season Thursday. … Cornerback Casey Hayward on the notion Goff is successful mostly because of the system in which he plays: "People just say scheme-wise, no, he's making throws, like all over the field."
Twitter: @JeffMillerLAT
---
Get the latest on L.A.'s teams in the daily Sports Report newsletter.
You may occasionally receive promotional content from the Los Angeles Times.