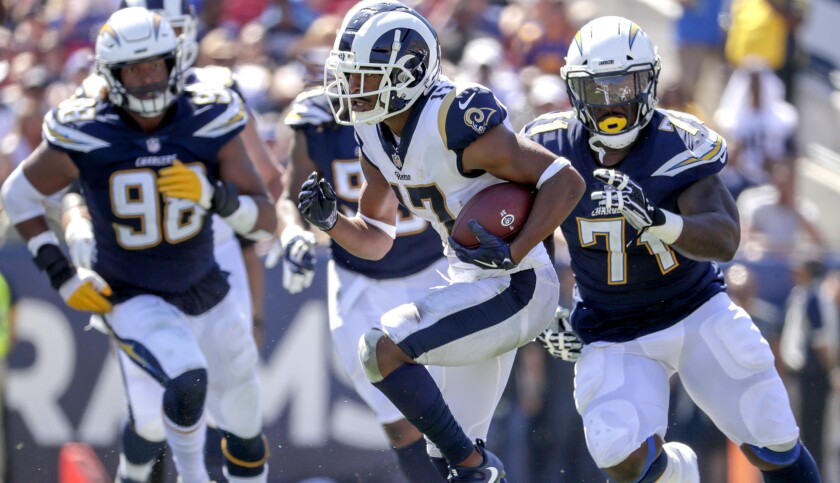 They used a defensive formula last season that allowed them to surrender the third-fewest points in the league while being below average in yards permitted.
Through three games, the 2018 Chargers have been unable to duplicate that performance.
In fact, their defense so far has been more break but don't bend.
New Orleans is the only team that has given up more points than the 93 the Chargers have yielded.
They're also 24th in yards allowed and tied for next-to-last in the ability to stop the opposition on third down.
"We've played that bend-but-don't-break," coach Anthony Lynn said. "Last year we were third in the league in points because we could play that style of defense. It just didn't work out for us [Sunday]."
No, it did not. The Chargers forced the Rams to punt one time in a 35-23 defeat, and that didn't occur until midway through the fourth quarter.
The Rams converted eight of 11 third downs and had a 300-yard passer, a 100-yard rusher and a 100-yard receiver.
It's true that the Chargers' losses have come to two of the more explosive, dynamic offenses in the NFL. But falling to Kansas City and the Rams is hardly comforting to a team that also expects to contend.
"That doesn't matter for us," defensive end Isaac Rochell said. "If we want to win a Super Bowl, it doesn't matter who we're playing."
The most glaring issue has been the absence of Joey Bosa, whose pass rush from the edge makes all 10 of his teammates on defense better.
Bosa has not played yet because of a bone bruise in his left foot, and there's still no timetable for his return.
Rochell, a 2017 seventh-round draft pick, was promoted into Bosa's spot. He has been in on 11 tackles but still has only one career sack, which came last season.
"Isaac played a solid game," Lynn said, referring to Sunday. "But we could use more pass rush out of him, for sure."
Without Bosa, the Chargers are left trying to manufacture quarterback pressure, with more blitzes being the most obvious adjustment.
But against the Rams and their deep threats on the outside, blitzing was not something Lynn considered to be the greatest of options.
"We've done some of that," he said. "Did we do enough [Sunday]? I don't know. We did blitz more Week 2, Week 1. To get something, you gotta give up something. Their weapons at the wide receiver position put us on an island. It's a balancing act right there."
On Sunday, the challenge figures to be a little more manageable. The Chargers will face a 1-2 San Francisco team starting its backup quarterback.
C.J. Beathard is scheduled to replace Jimmy Garoppolo, who has been lost for the season because of a knee injury.
The grandson of former Chargers general manager Bobby Beathard, C.J. started five games as a rookie for the 49ers last year. They went 1-4 and he was sacked 17 times.
The Chargers have seen Beathard only briefly in each of the past two preseasons.
This will mark the third time in four games that the Chargers aren't terribly familiar with the opposing quarterback.
In Week 1, they faced Kansas City's Patrick Mahomes in his second career start. In Week 2, they had Buffalo's Josh Allen in his NFL debut.
Rivers called for holding
In the 15th season of a career bound for the Hall of Fame, Philip Rivers has experienced just about everything the NFL has to offer.
On Sunday, however, he had a career first. He held on an extra point.
Drew Kaser is the Chargers' regular holder but was unavailable after leaving the game for a time in the first half because of a leg injury suffered on a blocked punt.
So Rivers stayed in after Melvin Gordon's 11-yard touchdown run just before the end of the second quarter.
"I've got about five or six in the last 20 years," Rivers joked when asked how often he had practiced holding.
So, when was the last time he held in an actual game?
"1999," Rivers said. "High school. That's my second hold of my life."
Etc.
The Chargers signed running back Detrez Newsome and tight end Vince Mayle to their practice squad. A fourth-round pick in 2015, Mayle appeared in 23 games over the last three seasons with Dallas and Baltimore. ...They also waived cornerback Craig Mager from injured reserve and released tight end Thomas Duarte from the practice squad.
Twitter: @JeffMillerLAT
---