Rivers and Chargers push through jet lag, fatigue as they prep for Titans in London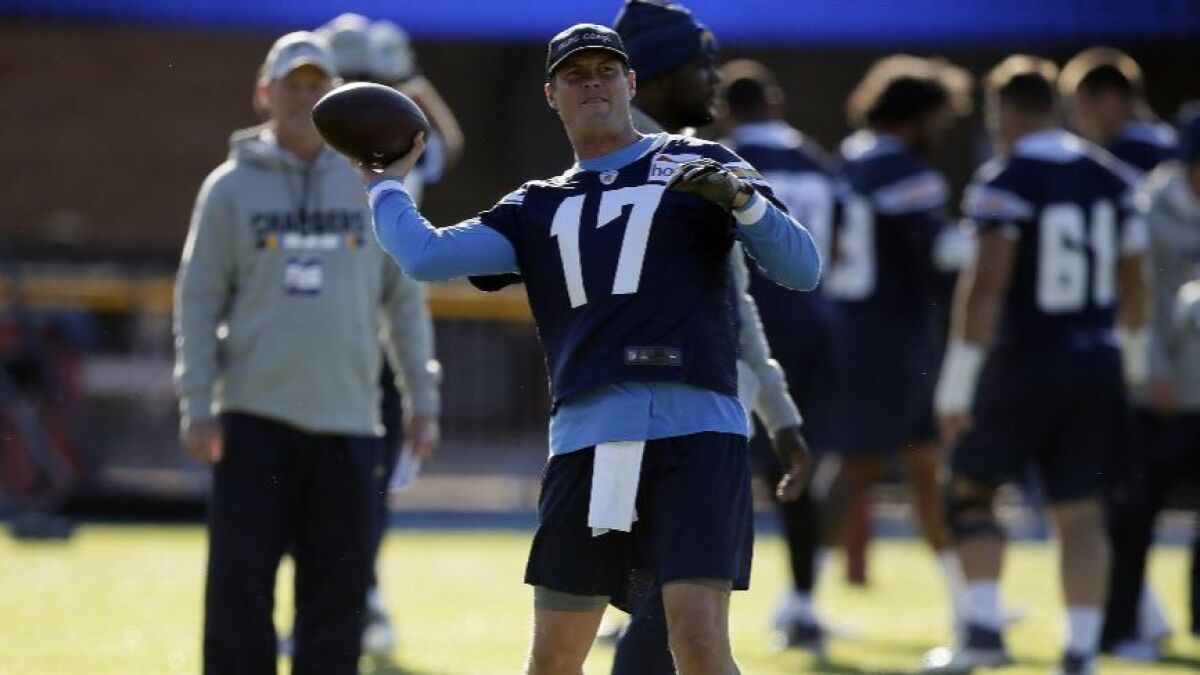 Reporting from LONDON —
No amount of caffeine could ease Philip Rivers' jet lag as he plowed through Friday's practice with the Chargers in advance of Sunday's game against the Tennessee Titans in Wembley Stadium.
The 36-year-old quarterback said he got "a little bit" of sleep on the 7½-hour overnight flight from Cleveland, where the team was stationed since last Sunday's 38-14 victory over the Browns, but it clearly wasn't enough.
The Chargers landed at Heathrow Airport at about 8 a.m. local time and got to their hotel, which is a half-mile from Wembley Stadium, at 9:45 a.m.
They went straight into team meetings, walked to Wembley to dress for practice and were bused to Allianz Park, the Northwest London home of the Saracens rugby club, for a two-hour workout.
By the time Rivers met reporters at about 4 p.m., he was exhausted.
"I've had better nights," Rivers said. "Today was one of those days where I don't think anything can help. It got to the point where that third or fourth cup of coffee wasn't working at all. But I think if we can push through, get to 8-9 p.m. tonight, we should be OK.
"It's just part of it. Tennessee is in the same boat. They got in this morning. You just have to suck it up, make it work for 48 hours, then go on a long trip back."
At least Rivers emerged from the grueling travel in one piece. The same could not be said for another prominent Charger.
Running back Melvin Gordon, who ranks third in the NFL in rushing with 466 yards and six touchdowns on 91 carries and has caught 30 passes for 279 yards and three touchdowns, suffered a minor hamstring injury and was limited in Friday's practice. Gordon is still expected to play on Sunday.
"He's just sore," Chargers coach Anthony Lynn said. "It was a long plane ride, and he probably didn't drink enough water. We were being extra cautious with him. It would have been his third practice [this week] on a turf field, and with his knees and ankles, I don't think that's good for him at all, so we just held him out."
Edge rusher Melvin Ingram was in better spirits than Rivers and in better shape physically than Gordon. He said he slept for the entire flight, felt great after practice and is eagerly anticipating Sunday's game.
"It's dope man, to be out of the country to play football," Ingram said. "Who would have ever thought growing up as a kid that you'd play a game in London? So it's really a blessing to have this experience."
Rivers and tight end Antonio Gates, 38, are the only current Chargers who played in the team's last game in London, a 37-32 loss to New Orleans in 2008. Then, the Chargers played at Buffalo the previous Sunday and flew to London that night.
"We got here early Monday morning," Rivers said, "and that Monday, Tuesday and Wednesday were pretty rough."
Having spent a week in Cleveland, which is five hours behind London time, should ease their transition from Southern California, which is eight hours behind London. Sunday's kickoff is at 2:30 p.m. local time, 6:30 a.m. in California.
"We got acclimated to a three-hour difference, and now we have to make a five-hour transition instead of a big eight-hour transition," Gates said. "Hopefully it serves us well on Sunday."
Injury updates
It appears Chargers rookie Michael Badgley, who was successful on all five of his extra-point tries and a 44-yard field in his NFL debut at Cleveland, will kick again on Sunday in place of Caleb Sturgis (quadriceps injury).
"I think it would be smart going into the bye week to give [Sturgis] another week," Lynn said. "We don't want to rush this. We want to get him healthy."
Wide receiver and punt returner Travis Benjamin (foot) and linebacker Jatavis Brown (groin) will be game-time decisions.
Boots for walking
A television reporter from Copenhagen, obviously aware of Rivers' affinity for Western attire, asked the quarterback if he brought his bolo tie and cowboy boots with him and if he thought his style would catch on in London.
"I don't know about that," Rivers said. "I did not bring the bolo tie. I brought the cowboy boots. I make sure to have those with me on game days. They're the same boots I probably wore in here in 2008, so I've had them that long. They're almost like slippers now, they feel so good."
Follow Mike DiGiovanna on Twitter @MikeDiGiovanna
---
Get the latest on L.A.'s teams in the daily Sports Report newsletter.
You may occasionally receive promotional content from the Los Angeles Times.