Virgil Green says he had to get out of Denver, and has found his happy place with the Chargers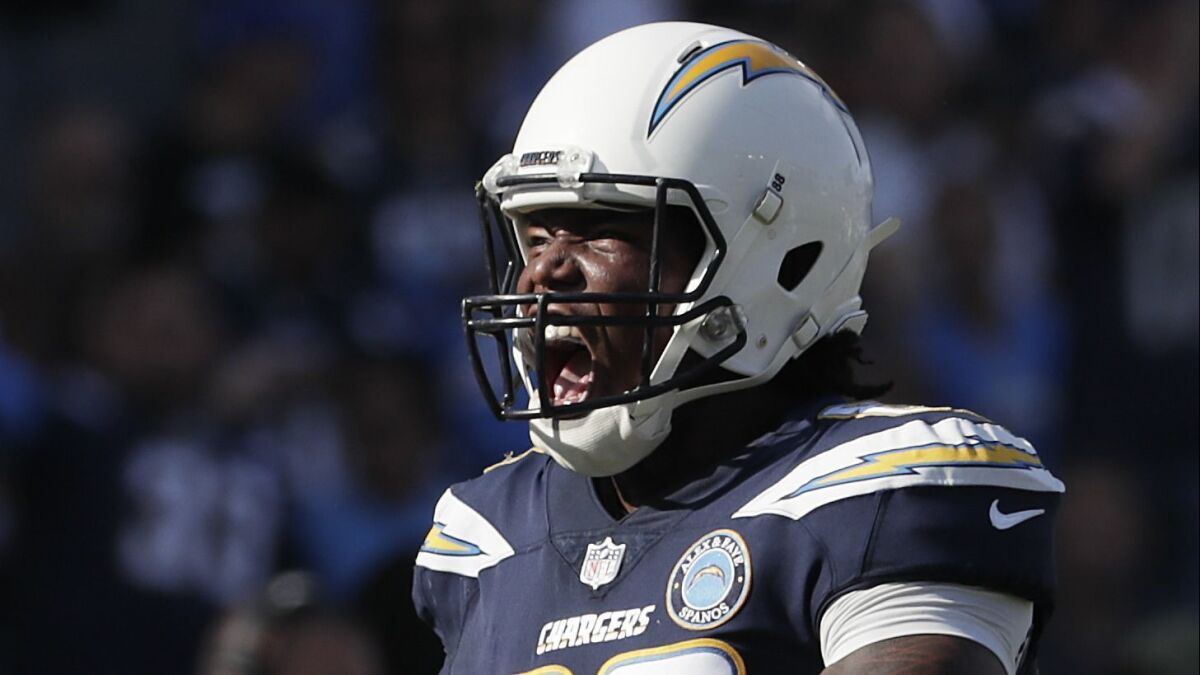 This weekend, Virgil Green will return to Denver.
This season as a whole, he knew he never was going to return there.
"My mind was made up," the Chargers' starting tight end said Thursday. "I knew I wasn't going back to Denver. I knew my time there was up."
After seven seasons with the Broncos, Green signed a three-year deal with the Chargers in March, on the first day of free agency.
He explained that he felt a general indifference from the Denver organization toward the way he played and prepared.
Green also suggested he was typecast by the team as a blocker and rarely was given the opportunity to contribute more.
"I know I can do a lot of things," he said. "I don't have a problem blocking at all. But what I did have issues with there was doing all that dirty work and just not feeling like the respect for the way I played the game was reciprocated."
Green was targeted a career-high 37 times in just 12 games in 2016, the same season in which he caught a career-high 22 passes.
This year with the Chargers, he has been targeted 26 times and has 19 receptions, for 210 yards and one touchdown.
"Nothing against the players there," Green said. "It's nothing against the organization. I have no ill feelings toward them. I just feel like the way I played the game wasn't respected as much as it is here."
As a Charger, Green said his love for football has been rekindled at age 30. He described himself as being as happy as he has been since before the 2015 season.
He also described his final three years in Denver as difficult, particularly from a mental perspective.
"It just wasn't healthy for me mentally to be there anymore," Green said. "I knew I had to get out of there. My wife (Marianne) had to deal with me at home. That wasn't good." He won a Super Bowl with the Broncos following the 2015 season. Green played in Denver with quarterbacks ranging from Peyton Manning to Tim Tebow.
His exit left linebacker Von Miller as the only remaining player from the Broncos' 2011 draft class.
When the Chargers met Denver during Week 11, Green caught two passes for 27 yards, 26 of which came on a first-quarter completion that helped lead to a field goal.
Green was wearing a microphone for the Chargers' production crew that day and, after the catch, was heard asking someone on the sidelines, "It looked sexy, didn't it?"
The Chargers eventually fell to the Broncos 23-22 on a last-second field goal by Brandon McManus. They were called for 14 penalties, committed the game's only two turnovers and repeatedly fell apart on both sides of the ball in the final 18 minutes.
"We lost that game ourselves," Green said. "They are a good team. But, at the end of the day, we beat ourselves that day."
He said the rematch Sunday will be about preparing for the playoffs and not reconnecting with his former teammates.
He also said the game will mean something on a more personal level.
"That was the first go-round," Green said of staging a Broncos reunion. "This time, I'm trying to go at them. I'm really trying to go at them and show them what they had and didn't really use."
Miller recalls comments
The comment was muttered in disgust, the disappointment of losing as time expired still stinging for Keenan Allen.
"They suck," he concluded of the Broncos after the Chargers' loss at StubHub Center in November.
Though barely audible at the time, the two words are still reverberating this week in Denver.
Miller admitted he is using Allen's remark to fuel himself in preparation for Sunday. He also referenced a comment he attributed to Philip Rivers.
"Philip Rivers said, 'We lost three games. We lost to two good teams, and we stubbed our toe with the Broncos,' " Miller explained to reporters in Denver. "For us, it's little stuff like that. Especially for me personally, it's just little stuff like that where it's like, 'OK. We have a second crack at it. Let's see.' I've got another shot. They've got another shot, too. Let's see."
The Pro Bowl linebacker went on praise Rivers, calling him "an MVP in my eyes," "great" and "elite," the two longtime rivals known for having an amicable relationship.
He also praised Allen and made a point to add that the comments from November weren't a big deal in the Denver locker room.
"It's just me personally," Miller said. "Nobody is even talking about it in there. But when I got up here in front of you guys, it's just something that I had on my heart. If I had an opportunity to talk about it again, I was going to let you guys know where my heart was at, and it hasn't changed."
A full dose of Bosa
The Chargers will have an up-to-speed Joey Bosa on Sunday, the defensive end having made his belated 2018 debut against Denver in November.
He missed the first nine games this season because of a foot injury.
"When we saw him a month ago, he just came in on some third downs and made life tough on us," Broncos offensive coordinator Bill Musgrave said. "Now, he's out there full-time, and you can tell he's hitting his stride. We've got to have a good plan for him, so he doesn't completely wreck the game."
Twitter: @JeffMillerLAT
---
Get the latest on L.A.'s teams in the daily Sports Report newsletter.
You may occasionally receive promotional content from the Los Angeles Times.