Chargers know Sunday night matchup isn't just another game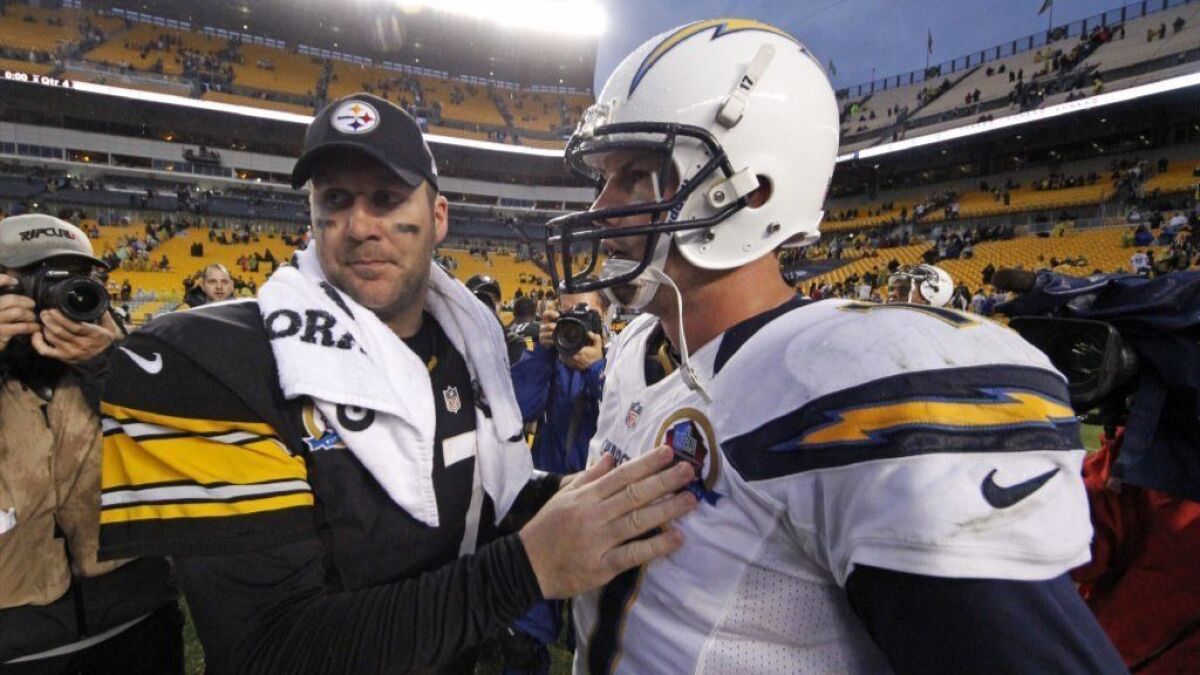 Reporting from pittsburgh —
They will be under the lights and the microscope, these players struggling for attention in their own market about to be showcased nationally.
The Chargers have a chance Sunday night to prove that they belong, that they should be taken seriously, that they are — as a matter of fact — good enough.
"It would be silly to say it's [just] another game," Philip Rivers admitted. "You get excited when you play in these games .… These are the games you grew up watching, know what I mean? I think it's OK to have a little added juice."
The Chargers' quarterback, for one, never has needed added juice. Rivers was so fired up last week that he was spotted screaming at the officials about a call before the offense even had executed its first snap.
And that was at home, in a still-filling intimate StubHub Center, against an Arizona team battling to not be NFL's worst. Three hours later, Rivers was standing helmet-less on the sideline as the subs tidied up a 35-point victory.
Now, it's the Pittsburgh Steelers and all the history that comes wrapped weekly in black and gold. At night. At Heinz Field. In a time slot all their own.
"I think these guys play well when you're loose and confident," Chargers coach Anthony Lynn said. "I don't want guys uptight, thinking about a nationally televised game. I'm not making it out to be that at all, because it's just another game."
It is. And, well, it isn't.
This is just another game in that it's one of 16, the next step in a schedule that maps out every season as a dispassionate list lacking in both perspective and emotion.
But this most certainly isn't just another game in that the Chargers and Steelers just entered December in the middle of the AFC playoff chase, the possibilities over the next several weeks including that fact they could meet again in the first round of those playoffs.
The game also is the latest chance for the Chargers to define their worth during a season still in need of a victory that undeniably demands the attention — and more so the admiration — of the rest of the NFL.
"I guess it's an opportunity to show the world what we've been doing," safety Adrian Phillips said. "But we're just worried about ourselves. We don't really care about what the outside critics have to say .… If [they] talk about us, whatever. If they don't, same thing."
This is a matchup of teams heading in the same direction, at roughly the same velocity. The Chargers have won seven of eight games and the Steelers six of seven.
Both have emerged near the top of the conference because of improving defenses. The Chargers have given up an average of 15.8 points during their streak and the Steelers an average of 19 points during theirs.
Rivers called Pittsburgh's defense "an attacking group." The Steelers lead the NFL with 39 sacks.
He also said playing here means playing in "one of those old-school NFL atmospheres," noting that "some of the most physical games I've been in have been at Pittsburgh."
And he isn't even among the Chargers who will have to deal with all 6-foot-5, 240 pounds of Ben Roethlisberger.
The Steelers quarterback has built a 15-season career on a foundation as solid as his thick lower half.
"We got to get him down," Lynn said. "We got to get pressure on him first .… He can throw with five people hanging on him .… That's his trademark."
Roethlisberger's ability to stay upright will put added pressure on a secondary trying to cover wide receivers Antonio Brown and JuJu Smith-Schuster, among other notable targets.
To understand the relentless challenge of facing this offense, consider that Roethlisberger has attempted 128 more passes this season than Rivers has, and Rivers is having one of his most productive years ever.
"You definitely have to be plastered on your man and stay on them longer than you would normally," cornerback Casey Hayward said. "Even if you think [Roethlisberger] is sacked, sometimes he's not sacked."
No, it won't be easy, not in a place where the Steelers have won nearly 75% of the time since it opened in 2001.
As a franchise, the Chargers are 1-4 at Heinz Field. They've lost six of the past seven times they've played in this city overall.
Running back Austin Ekeler will be making his Heinz Field debut Sunday. His position coach, Alfredo Roberts, has given him the scouting report.
"This stadium actually feels like you guys against everyone else there," Ekeler said. "That's the type of environment you look forward to. That's what gets you excited. I'm excited, for sure."
A little added juice? Might help on a night when the Chargers will be trying to impress only everyone.
Twitter: @JeffMillerLAT
Get the latest on L.A.'s teams in the daily Sports Report newsletter.
You may occasionally receive promotional content from the Los Angeles Times.