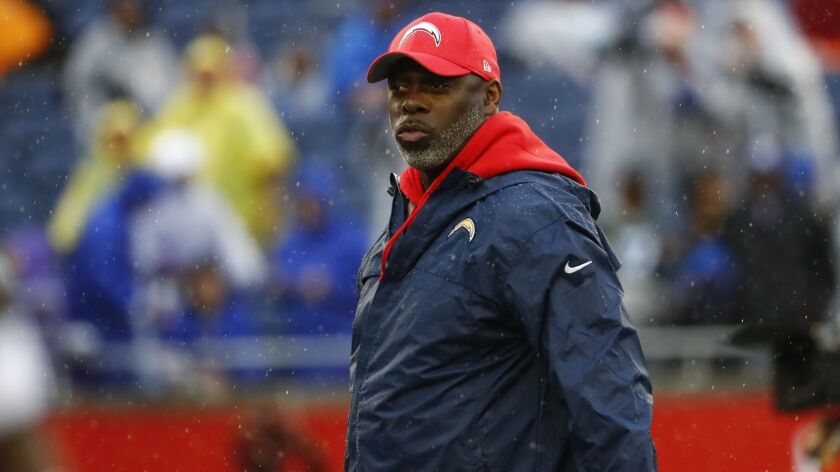 Reporting from phoenix —
He built a winner and a Super Bowl contender and, it turned out, so much more.
In his second season with the Chargers, Anthony Lynn also built a foundation upon which the 59-year-old franchise now stands.
"That's one of the reasons we brought him in," owner Dean Spanos said. "We believed that he could change the culture, just the whole perspective and attitude of the players.
"Every coach is different. I'm not saying the prior coaches were bad. They're all different. We needed something that was unique. We just needed to change the mindset of the players, and I think he did that."
Spanos spoke Monday in a wide-ranging interview at the NFL's annual owners meetings. In particular, he spoke highly of Lynn, who guided the Chargers to a 12-4 season.
The team advanced to the playoffs for the first time since 2013, winning in the first round at Baltimore before losing in New England, one step short of the AFC championship game.
"I'm very pleased with our head coach and the organization and culture he's put together," Spanos said. "I see a difference in our organization from the players' side, the locker room side, which I think is great."
Lynn, 50, signed a four-year contract in January 2017. He's 21-11 in two seasons and finished runner-up to Chicago's Matt Nagy for coach-of-the-year honors.
Spanos recalled sitting with Lynn in the coach's office on the Monday after the Chargers lost to the Ravens 22-10 at home in Week 16. He said Lynn expressed certainty that a rematch would end differently.
Two weeks later, the teams met again on wild-card weekend. As he traveled to Maryland, Spanos kept thinking about that conversation.
"I really didn't know what to expect," he said Monday. "I know Anthony had the confidence to do it. But he went out there and beat them. We played a great game, I think, after what happened two weeks before that."
The next week, the Chargers' season ended in dramatic and unsightly fashion against the Patriots, who opened a 35-7 halftime lead en route to a 41-28 win.
Afterward, several players expressed shock with how they had been dominated, defensive end Melvin Ingram even suggesting the team had accomplished nothing despite making the postseason.
"When we lost to New England, man, we hit a brick wall," Spanos said. "They beat us. They beat us good.
"They're a good team. They're a great team. If we can get to the playoffs next year, I think there's a good chance we might play them again."
Following the season, the Chargers extended the contract of general manager Tom Telesco, as definitive an endorsement as there is for a team executive.
Spanos said the extension was recommended by his son, John, who is the Chargers' president of football operations. He agreed Telesco was deserving of a new deal.
"I'm pleased with the way things are going," Spanos said. "I know we need to do better. I just have confidence that he's the right guy."
Telesco and the Chargers have had a relatively quiet offseason. The Chargers most notably re-signed linebacker Denzel Perryman, safety Adrian Phillips and nose tackle Brandon Mebane. They also signed linebacker Thomas Davis and backup quarterback Tyrod Taylor in free agency. They have $11.6 million in cap space, according to overthecap.com, with more spots to fill.
Spanos emphasized that winning during the season is more important than winning in the offseason.
He also noted that a free agent signed by the Chargers in each of the past three years — cornerback Casey Hayward, left tackle Russell Okung and center Mike Pouncey — became a Pro Bowler.
"We've never been a franchise that's gone out and chased the big-name free agents," Spanos said. "We've done pretty good not doing that. I think Tom — and I know our coach — they believe really strongly in building our franchise through the draft. Just because you go chase a big, marquee free agent doesn't mean you're going to win, either."
The Chargers play one more season in Carson at Dignity Health Sports Park, which was formerly StubHub Center, before they move into the stadium being built in Inglewood.
Spanos said he was confident the team would reach its ticket-selling goals for its new home. He also believes the Chargers — particularly coming off a 12-4 season — are making progress in their new market.
"I'm in L.A. a lot," Spanos said. "I see a lot of different people and meet a lot of different people. In Orange County, wherever I am, it's unbelievable how many come up and tell me they're big-time Chargers fans. You're hearing a lot of that, and that makes me feel good.
"We have a business plan and we have a market plan and we have a plan in place. I can't control the product on the field every year, but I know we're going to try our best to be competitive … we know what the goal is there. It's tough. No guarantees there.
"On the marketing side, the business side, the community side, we're going to be consistent. We have been and we're going to continue down that path. That I can control. That's all you can do. Good product on the field. Ingratiate yourself in the community. And it'll all happen."
Sign up for our daily sports newsletter »
Twitter: @JeffMillerLAT
---