Commentary: Mike McCoy continues to adapt, this time with the Cardinals in Arizona
As the addresses and assignments and playbooks change, Mike McCoy has been forced to be the ultimate adapter.
The former coach of the Chargers, now the offensive coordinator of the Arizona Cardinals, finds himself erasing the last and embracing the next. Again. He's a nimble NFL nomad, bouncing from San Diego to Denver to Arizona in machine-gun succession.
Three seasons. Three teams.
It's been a trying trio of pro football whirlwinds, weathered back-to-back-to-back.
"It's definitely been an interesting couple of years," McCoy said by phone earlier this week as the Cardinals prepared to play the Rams at the Coliseum. "As a head coach, or any coach really, it's a production business. So you understand that getting into it."
McCoy, 46, laments the finish in San Diego — a place his wife still calls home as their son finishes high school. He arrived on the high-scoring heels of a sparkling season as offensive coordinator of the Denver Broncos, who rolled to a dominating division title in the AFC West.
In McCoy's first season with the Chargers in 2013, the team reached the playoffs — the only time in the last eight seasons the franchise qualified for the postseason. A wild-card win over Cincinnati added to the lingering promise.
A playoff miss in 2014, despite another 9-7 record, led to a free fall — 4-12 in 2015, then 5-11 a season later. The run was marked by close misses, debilitating injuries and awful performances on special teams.
McCoy was fired with a record of 27-37, with too many what-ifs to count.
"Through the career, the ups and downs, that's just business," McCoy said. "Things happen for reasons. You don't always understand why. You just go with the flow of things. …
"We didn't have the success at the end there, the last couple years in San Diego, so you move on to the next one."
When asked whether he received a fair shot in San Diego, given the complex tangle of injuries, near misses and distractions related to the dark cloud of relocation, McCoy chose gratitude over ax-grinding.
"I'll say this, I give the staff and the players we had — those guys worked their tails off every single day," he said. "As tough as it was the last two years, I think everybody knows, the way we played, the way the guys showed up every single day, the way they worked, I can't thank all those people enough.
"It was a very tough situation, going through the last two years of the Carson talk and then there was the vote and all that stuff. As players and coaches, we went about our business.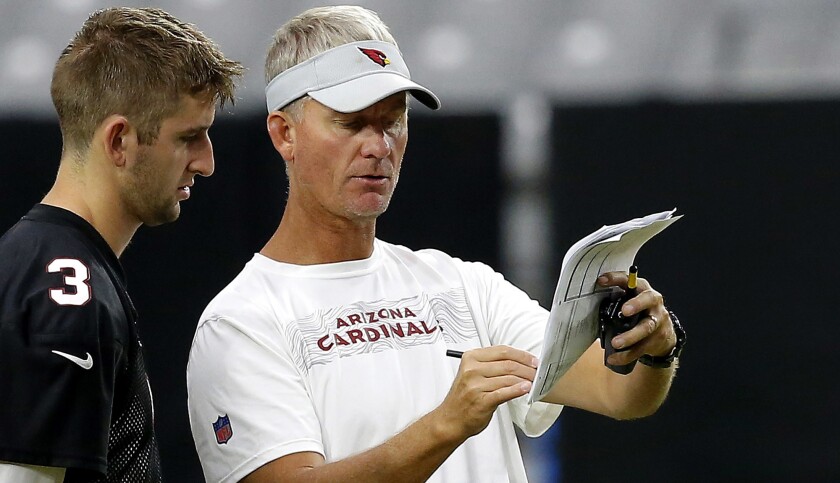 "Unfortunately, we didn't win enough games."
There's little doubt McCoy, a self-described offensive guy, struggled with the learning curve in the other phases of the game during his first gig as head coach. There also are plenty of arguments that McCoy has faced circumstances unlike almost anyone in recent NFL history.
The nonstop chaos of the stadium debate and eventual move to Los Angeles undoubtedly impacted the overall operation in subtle and some less-than-subtle ways. He was fired as offensive coordinator in Denver after 10 games last season because of passing-game criticisms, despite a lack of legitimate passing-game tools.
The Broncos, 3-7 when McCoy departed, lost four of their final six games. No quarterback among the flailing attempts for answers — Trevor Siemian, Brock Osweiler or Paxton Lynch — threw for more than 254 yards in a game. In four of those games, no one finished with more than 200 yards.
For context, Case Keenum opened this season with 329 yards and three touchdowns in a win over Seattle. Keenum owns a career quarterback rating of 85.9. The trio from last season all stand in the 70s.
That's not making excuses, just acknowledging the unique backdrops McCoy faced in his most recent stops.
Of more immediate concern is the offensive egg the Cardinals delivered in Week 1. Arizona fell 24-6 to Washington, accumulating just 213 yards, converting just 12% of third-down opportunities and running just 14 first-half plays with one being a kneel-down.
One game hardly makes an NFL season, but it's clear that McCoy now will be tasked to show what he can do with legitimate tools (David Johnson, Larry Fitzgerald, Sam Bradford) and without off-the-field noise.
"In the NFL, you have to have a short memory," McCoy told media in Arizona. "You go one week at a time."
When time allows, McCoy sneaks a peek at the Chargers. He considers Philip Rivers a friend and sees him periodically in the offseason, since their families live in the same neighborhood.
McCoy texted congratulations and support to Antonio Gates when he recently re-signed with the Chargers.
If there's ill will, McCoy clearly left it in San Diego, too.
"I've actually got a picture of Philip up in my office, walking out of the locker room," McCoy said. "The big phrase in the locker room [in the photo] was 'Hard, Tough and Together.' Those are two of the best to ever play the game.
"The best thing about those two guys, they're even better people. What they do to help their teammates be successful is second to none. The type of guys they are, they have a burning desire to be great, which is why they are."
Does McCoy want to be a head coach again, knowing the land mines of special teams and special circumstances?
"I would love to be a head coach again, but I'm very happy with where I'm at right now," he said.
So for now, the shuffling continues. It's another city, another playbook and another opportunity. Come Sunday at the Coliseum, it's another game.
This season more than perhaps any other, the league will find out what this NFL nomad's got.
Bryce Miller is a columnist for the San Diego Union-Tribune.
---
Get the latest on L.A.'s teams in the daily Sports Report newsletter.
You may occasionally receive promotional content from the Los Angeles Times.